Drake could be key witness in blockbuster case about Australian casino
Hip-hop superstar Drake and representatives from Everton FC could be asked to give evidence in a blockbuster court case brought against the young Australian-based founders of cryptocurrency casino Stake.com.
Drake has been the lead ambassador for the Melbourne-headquartered online casino that was set up by Ed Craven and Bijan Tehrani in 2018 and has grown into one of the world's largest online casinos.
This masthead revealed this year that Craven and Tehrani had been hit with a claim for $US500 million ($716 million) in New York courts by Christopher Freeman, who claims to be a former business partner of Craven and Tehrani and worked on an earlier casino site, called Primedice, set up by the duo. Freeman claims he was cut out of the business when they decided to set up Stake.com in Australia.
Stake.com operates a popular suite of online casino games and a very successful sports betting business, but unlike regular online casinos, punters can only bet using cryptocurrency, rather than fiat cash. Stake.com has no relationship with local share trading start-up Stake.
Freeman filed his claim after an investigation by this masthead in 2021 unmasked Craven and Tehrani as the founders. Since the media investigation, 27-year-old Craven has been dubbed the country's youngest ever self-made billionaire by The Australian Financial Review's annual Young Rich List. (Tehrani, 29, is a US citizen and precluded from the list but is also estimated to be worth more than $1 billion.) The Coffs Harbour-raised Craven recently splashed some of that cash, breaking the Melbourne house price record in 2022 with his purchase of a Toorak home for $80 million soon after picking up another home in the neighbourhood for $38.5 million.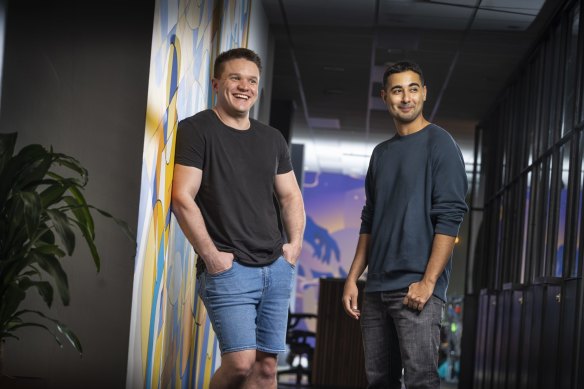 Over the past 12 months, Stake.com's marketing activities have drawn increased attention in the US and the United Kingdom, where the group is the lead jersey sponsor for EPL team Everton. Stake.com has taken a creative approach to marketing its products, including the use of ambassadors and sponsorships in the UK and US, which unlike Australia, have stricter limits on gambling advertising. It also recently set up Stake.us which allows customers in US states where online gambling is legal to play on the site.
Freeman recently expanded his claim against Stake.com and its founders to allege that Stake.com is actively courting US customers through high-profile events in America.
"Despite a prohibition on cryptocurrency gambling in the US, Craven and Tehrani target customers in the US, including in New York State, by marketing Stake.com through its Stake.us subsidiary website and through various direct marketing efforts," Freeman's updated claim alleges.
"Stake uses United States-based individuals to attempt to lure players into playing games on Stake.com."
The updated claim also includes fresh allegations that Stake's brand was promoted to attendees at an unofficial after-party for the launch of the film Amsterdam in September in New York – after the initial claim was filed.
"Stake threw a highly publicised party in New York City hosted by Stake.com partner Drake to celebrate the premiere of the star-studded film Amsterdam, in which Drake is believed to be an investor," the claim states.
"Guests included Amsterdam stars Margot Robbie and Rami Malek, actor Leonardo DiCaprio, numerous music stars and social media influencers – who were invited to play Stake-branded poker at the event and were given Stake-branded gift bags." The event was written up in New York Post's Page Six gossip column.
A spokesman for Stake.com in Australia said references to Stake.com hosting the Amsterdam event were incorrect. "Any suggestion that either Drake or Stake hosted a gambling event at a movie premiere is simply not true."
Sources aware of the event said that Drake was likely to have provided "swag" bags to attendees as part of his ambassador role, but Stake.com had no active role in the event, and that the company believed no gambling took place at the event.
The spokesman said that Stake.com expected Freeman's claim to be dismissed in the US.
"As we have previously stated, the complaint brought by Chris Freeman contains many statements that are false and misleading. To be clear, Chris Freeman has never been involved with the Stake business and has never been a shareholder."
Everton, which is named as a potential witness in the case but has not been formally served with any court documents, declined to comment.
Source: Thanks smh.com