Qantas passengers commend crew after rare engine issue led to mayday call
Passengers on board a Qantas flight from New Zealand were unaware their pilot had issued a mayday call until after the plane had landed safely at Sydney Airport among a throng of emergency services and airline personnel.
Flight QF144 from Auckland, a twin-jet Boeing 737-838, landed at Sydney Airport just before 3.30pm on Wednesday after suffering from a rare engine failure.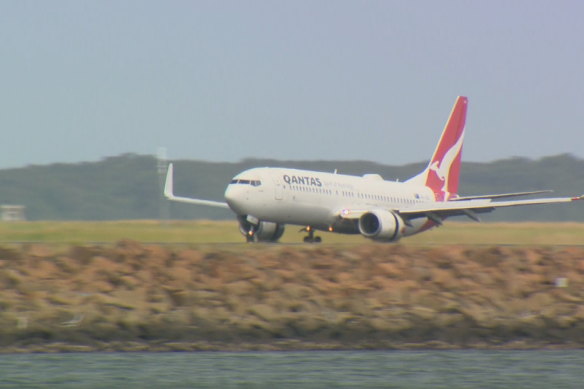 Passengers said they felt a "slight shudder" as the engine stopped over the Tasman Sea and were notified of a "slight malfunction", but were not told about the mayday call until the plane landed.
"We didn't realise it was the whole engine [that had] gone," said passenger Simone Schmidt.
"The pilot was really, really good, just brilliant" she continued, adding they were warned there would be emergency services on the tarmac upon landing.
Passenger Layla Kasem said she was unfazed by the announcement and commended the pilots and crew.
"My husband is a pilot so I hear these kinds of stories all the time. I think they handled it really great," she said upon disembarking.
A Qantas spokesperson said the aircraft experienced an issue with one of its two engines about an hour from Sydney and issued a mayday alert – otherwise known as "squawking 7700" – in line with standard procedures.
"While in flight, engine shutdowns are rare, and would naturally be concerning for passengers, our pilots are trained to manage them safely and aircraft are designed to fly for an extended period on one engine," the spokesperson said.
Mayday is the word used by aviators to signal a life-threatening emergency. The mayday alert was downgraded to a PAN (possible assistance needed) which alerts the relevant airspace authorities to an abnormal situation so that the aircraft can be prioritised for landing but indicates a significantly less severe situation.
Qantas' check and safety captain and president of the airline's pilots union Anthony Lucas said engine failures are "incredibly rare".
"Engine failures are almost a once-in-career type event, but it's not something pilots lose sleep over because they are highly skilled and regularly review how to cope with what to do in the event of an issue."
Lucas said the Qantas crew should be commended for their professionalism and said the airline should prioritise their welfare now the plane had landed safely.
"We will share more information about this incident once the aircraft is on the ground and has been assessed by our engineers," a Qantas spokesperson said.
Boeing 737s can fly safely with a single engine. The aircraft known as VE-XZB has been in operation for 10 years and seats 174 passengers. The airline's engineers will now examine the aircraft.
A Sydney Airport spokesperson said the airport notified Fire and Rescue, NSW Police and NSW Ambulance as a precautionary measure. The aircraft was met by emergency services upon landing.
Source: Thanks smh.com