AGL misses chance for a superhero reset
After scouring the globe to find a chief executive to lead AGL into an era of fast-tracked energy transition, the board landed on the bloke who had already been filling in, Damien Nicks.
The interim chief financial officer was also given the role permanently.
So, what happened to the big opportunity to "refresh" management?
The appointment seems like something of an anti-climax, given the expectation that a superhero climate transition expert was being sought to navigate the massive move towards cutting emissions in a relatively short period.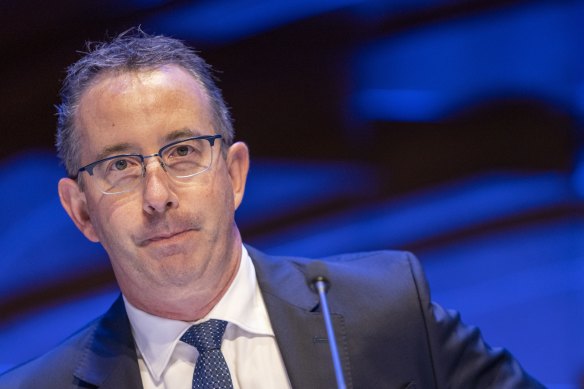 There has been so much bad blood between the board of AGL and its shareholders, an infusion of new blood would have reset the mood and unified support for management of the country's largest emitter.
The board didn't reveal how many contenders had applied for the position, but had acknowledged that Nicks put his hat in the ring.
The appointment seems like something of an anti-climax, given the expectation that a superhero climate transition expert was being sought.
Nicks will take on what could only be considered one of the most difficult jobs in corporate Australia – for which he will be (relatively) modestly compensated with a base salary of $1.4 million, plus short and long-term incentive rights based on performance.
And who will he really report to?
Technically, he will follow the broader road map drawn up by the board of directors.
But the events of the past year have demonstrated that AGL's largest shareholder, billionaire activist Mike Cannon-Brookes, has used his muscle to upend the company's strategy and governance.
Whether Cannon-Brookes' private investment company Grok Ventures supported the appointment is not known, nor is it known whether he nominated a different person.
There was no congratulatory statement from Grok on Thursday but nor did it register disappointment.
But the AGL board voted unanimously for Nicks.
Given four of the directors were nominated by Grok and were voted in by shareholders late last year, Cannon-Brookes would have little room to argue Nicks' elevation from interim chief executive to take the role permanently.
AGL chairman Patricia McKenzie recommended only one of the four nominees be elected to the board but shareholders sided with Grok.
At the time there was much ado about the board acting in concert going forward and the appointment of Nicks is a clear demonstration of this.
It's hard to know whether board members are now in unison on all aspects of strategy.
The Grok-approved new board members supported an even faster timetable for transition to lower emissions than the climate report incumbent directors had put before and was approved by shareholders.
Nicks and McKenzie had also previously been supporters of the group's demerger strategy, which was successfully torpedoed by Grok.
Under that demerger plan, the electricity retailer planned to split into a retail energy provider, AGL Australia, and a new coal-focused generator, Accel Energy.
That said, Nicks is behind the company's new strategy to keep the company together and fast track emissions reductions.
"The board has been particularly impressed by Damien's leadership of the business, including his role in championing AGL's new strategy and his commitment, vision and fresh approach to accelerate the energy transition and to deliver value for AGL's customers and position AGL for future growth," it said in a statement on Thursday.
It appears that after a year of flux, the board was happy to land with the appointment of a chief executive who has a safe pair of hands.
Ultimately, he will be judged on how he handles the difficult job of transition, the current challenges presented by the gas market and his ability to juggle the governance politics inside AGL.
It would be a tough call for any chief executive.
The Business Briefing newsletter delivers major stories, exclusive coverage and expert opinion. Sign up to get it every weekday morning.
Source: Thanks smh.com