Geoff Wilson's fund swims amid market sinkage but readies for worse
It's been a challenging year according to Wilson Asset Management founder and chairman, Geoff Wilson, but the veteran sharemarket investor is readying for worse in 2023.
In an announcement to the ASX on Monday, Wilson's large-cap investment fund, WAM Leaders, said its portfolio increased 8.8 per cent, during the half year to December and over the calendar year in 2022, outperforming the S&P/ASX 200 Accumulation Index by 9.9 per cent.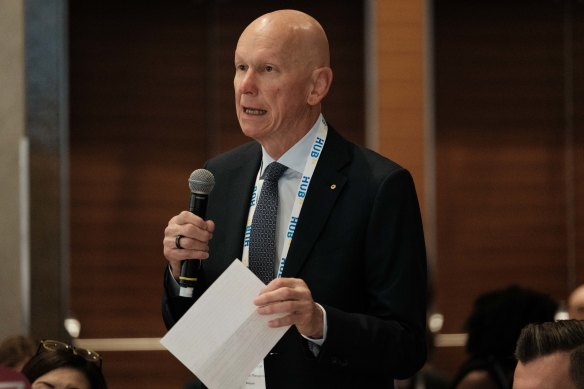 The company declared a record interim dividend of 4.5 cents per share, representing a 12.5 per cent increase from FY2022, but shares in the company were down 0.3 per cent at the open. The dividends are fully franked.
Despite the fund's positive performance, Wilson said he expected there would be further downside to come for the local share market with many top stocks still overvalued.
"There's been significant headwinds including rising interest rates as a result of inflation," he said. "But I'm hesitant to call the bottom of the market because company valuations were very high due to low interest rates 18 months ago. Since then, the Australian market hasn't fallen to the extent it has in 1987 or during the GFC."
WAM Leaders' portfolio manager Matthew Haupt said that the second half of 2022 was an especially volatile period, but that it adopted a defensive strategy and gained from anticipating China's reopening.
"In volatile periods, we stay away from the discretionary end of the spectrum and invest in more stable, defensive companies like Woolworths, Coles and Telstra," he said. "In November and December, we saw a pickup in optimism around China, so we positioned ahead of their change in policy through iron ore stocks like BHP and Rio Tinto."
Despite projecting a global slowdown this year, Haupt said the company was looking to add more risk to the portfolio.
"The second quarter of this calendar year is going to get quite tough because all the leading indicators we look at for the economy look really bad globally," he said. "A slowdown is coming, but we're looking to open up to more cyclical elements this year and expose it to more of the discretionary retailers and home builders."
For the time being, however, Haupt said it was too early to begin that process.
"The stock market is a bit too optimistic at the moment," he said. "But we'll be watching sector performance within the market, as well as manufacturing and purchasing managers' index data."
Anticipating a winding down of interest rates this year, Haupt said the company's portfolio was allocated towards defensive companies likely to benefit from lower borrowing costs.
"We started positioning early for a pause in rate hikes, investing in companies like Transurban, APA Group and Atlas Arteria," he said. "We also put a lot into gold equities, which have done really well for us in the first part of this year."
Source: Thanks smh.com