ASX lifts on Tuesday, boosted by real estate, tech and Wall Street
Welcome to your five-minute recap of the trading day so far and how the experts see it.
The numbers: The Australian sharemarket built on its gains earlier in the day, lifted by real estate and tech stocks as well as a solid rally on Wall Street overnight.
The S&P/ASX 200 finished Tuesday's session up 0.4 per cent or 33.1 points to 7490.4 points at the close.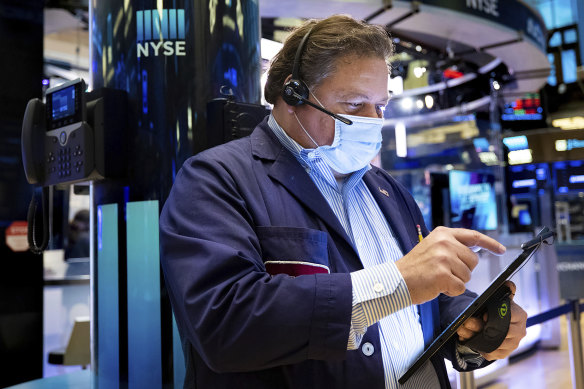 The lifters: Breville Group led the pack all day, finishing up 8 per cent higher, followed by Afterpay owner Block at 6 per cent and Liontown Resources at 5.1 per cent.
The laggards: Telix Pharmaceuticals wound up at the bottom of the bourse, down 3.5 per cent, followed by Imugene and Cochlear, which slipped 3.2 per cent and 2.5 per cent respectively. Qantas found itself in the ASX200's bottom five, sliding 2.3 per cent. The airline has been forced to reassure passengers and investors after suffering five turnbacks in the span of a week.
The lowdown: Though the Australian sharemarket finished Tuesday's session in the green, the lift hasn't been as strong as what Wall Street saw overnight.
"All the job cuts in the US tech sector seem to have been positively received. That's part of the reason why markets were strong last night," said VanEck Australia deputy head of investments & capital markets Jamie Hannah.
"That hasn't flowed into our market in any great way."
Meanwhile, the big four banks all suffered on Tuesday after a note from Macquarie, titled "The last (upgrade) Jedi", spoke unfavourably about the banks' outlook for the year.
"While we see scope for another (likely last) earnings upgrade, the outlook beyond that appears more challenging. We believe the longer-term leverage to higher rates is overstated and do not see banks as a good inflation hedge," the note read.
CBA, ANZ, NAB and Westpac all finished in the red, down 0.5 per cent, 1.2 per cent, 0.5 per cent and 1 per cent respectively. Macquarie Group finished 1.3 per cent higher.
BlackRock Investment Institute thinks global sharemarkets are too optimistic about China's economic reopening and haven't factored in the downturn to come.
"We see near-term risks tilted against developed market stocks, with earnings growth forecasts not fully reflecting the recessions ahead," said BlackRock Investment Institute boss Jean Bolvin.
On the topic of recession, Zip Co co-founder Peter Gray believes the buy now, pay later (BNPL) company can be resilient if the United States goes into one, after the embattled fintech reported that the number of bad debts it was recording had fallen dramatically. The company has lost 15.6 per cent of its share price value today.
Meanwhile, Myer investors have sent the department store's share price up 5.3 per cent after chief executive John King said the company recorded the best sales it has seen in the first five months of a financial year since records started in 2004.
Index heavyweight BHP finished Tuesday 0.6 per cent higher after it struck a new deal to explore for copper in Serbia as it accelerates efforts to boost its exposure to metals that will be vital to building electric cars and green energy technology.
Overnight,the S&P 500 closed 1.2 per cent higher, led by tech companies in a widespread rally. The Dow Jones added 0.8 per cent and the tech-heavy Nasdaq composite jumped by 2 per cent. The ASX added 0.1 per cent on Monday.
Tweet of the day:
Offshore environment regulator NOPSEMA directed Santos on January 13 to engage independent experts to assess if there are any sites along the pipeline route that may have spiritual or cultural importance to Indigenous people and then if necessary adjust its plans.
with AP
The Market Recap newsletter is a wrap of the day's trading. Get it each weekday afternoon.
Source: Thanks smh.com