Zip co-founder says it should be 'recession proof' as bad debts fall
Zip Co co-founder Peter Gray has argued the buy now, pay later (BNPL) company can be resilient if the United States goes into recession, after the embattled fintech reported that the number of bad debts it was recording had fallen dramatically.
In a quarterly update on Tuesday, Zip said it crucial US business had posted a "very strong seasonal performance" in the three months to December, and it was making progress in its mission to make sustainable profits.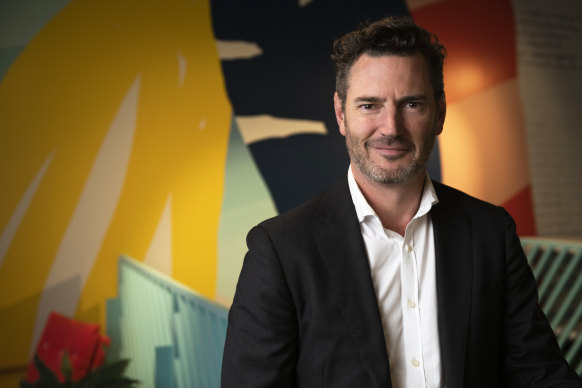 Amid market worries about the potential for a US recession, Gray argued the turnaround in its bad loans showed that Zip could be resilient to changes in economic conditions, including a potential recession.
"I think arguably, the US is very close to that scenario now, and the results that we're delivering prove the strength and resilience of the model. I think we're really well-placed, I look forward to continued sustainable growth and profit over the next six to nine months, and we'll demonstrate the power of Zip and the power of the model through an economic downturn," Gray said.
"Zip should be recession-proof."
Zip, the second-biggest local BNPL business behind Afterpay, faced intense in pressure in 2022 as its share price collapsed by up to 95 per cent from its peak, amid a wider plunge in valuations of loss-making technology businesses.
The company, which provides short-term consumer loans, responded by slashing costs, closing overseas businesses, tightening lending, and setting out a plan to move into profitability in the first half of 2024.
On Tuesday, Zip argued it was making progress, as it posted 12 per cent revenue growth, and sharply lower bad debts in the US, a critical market.
Zip said its preferred measure of cash earnings before tax, depreciation and amortisation (EBTDA) in the US were positive in November and December, and it was on track for his metric to be "positive on a sustainable basis" from the end of this financial year.
Bad debts (unpaid instalments), which had blown out last year, contracted to 1.07 per cent of total transaction value in the US, from 2.36 per cent in the September quarter.
Zip's total revenue rose 12 per cent to $188 million compared with the same quarter a year earlier. The fintech said it had available cash of $78.5 million, which it thought would be sufficient to support the company until it made positive EBTDA.
Zip shares were down 7.8 per cent to 76c in late morning trade, but the stock has risen by 37 per cent so far in 2023 amid speculation that interest rates are getting closer to peaking.
Zip shares, which are known for their volatility, are still about 75 per cent lower than they were this time last year.
Source: Thanks smh.com