ASX closes lower as market frets inflation figures
Welcome to your five-minute recap of the trading day so far and how the experts see it.
The numbers:
The Australian sharemarket has closed lower after a choppy day as inflation hit a peak of 7.8 per cent, its highest since 1990, making more interest rate rises likely.
The S&P/ASX200 dropped 22.10, or 0.30 per cent, close at 7,468.30.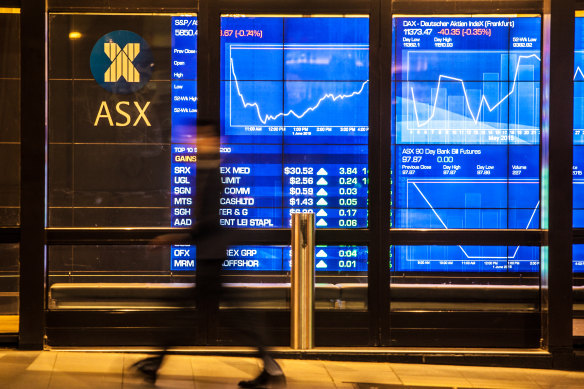 The lifters: James Hardie Industries was among the best-performing stocks all day, finishing up 2.61 per cent higher, Cochlear had a slight bump towards the close to finish at 1.28 per cent.
The laggards: The bottom performing stocks included Evolution Mining Limited, which fell 5.87 per cent and Yancoal Australia Limited which dipped 3.7 per cent.
The lowdown: According to The Bureau of Statistics findings, pricier domestic holidays, overseas travel and rising electric prices contributed to a record 7.8 per cent inflation, giving way to the Australian share market dipping into the red.
"There's a lot of uncertainty in markets this week," said market analyst Jessica Amir from Saxo Markets.
"Now we've got a further than expected inflationary read in Australia. But at the end of the week, we get the Federal Reserve, which is the US which is the US Bank," Amir said. "So, markets at the moment are in a bit of hunkering down mode."
Meanwhile, oil and gas giant Woodside slid 1.17 per cent. The energy giant's revenues fell 12 per cent on the back of a fall in oil prices but announced it had surpassed its production guidance for 2022 after increasing output to record levels.
CBA and NAB led the big four banks with the banks gaining 0.72 per cent and 0.45 per cent respectively. Westpac inched up 0.08 per cent, while ANZ dipped 0.08 per cent.
BHP fell 0.95 per cent while Rio Tinto dropped 0.74 per cent, while Fortescue edged 0.13 per cent lower at the close.
Overnight, Wall Street's major stock indexes closed mixed, as more big companies delivered their financial results for the last three months of 2022 amid lingering concerns about a potential recession.
The S&P 500 slipped less than 0.1 per cent, its second loss in three trading days. The Dow Jones Industrial Average rose 0.3 per cent and the Nasdaq composite fell 0.3 per cent. Small company stocks also lost ground, with the Russell 2000 shedding 0.3 per cent.
Tweet of the day:
Quote of the day:
"Our expectation and our hope is that inflation has now peaked, but it will still be higher than we'd like for longer than we'd like even on the other side of the peak in inflation," Treasurer Jim Chalmers said on Wednesday.
"Even as inflation moderates, the pressures coming at us from around the world will continue to be felt around the kitchen tables of our country."
You may have missed:
Logistics software giant Wisetech Global has opened 2023 with a new acquisition, buying transport management system software company Envase Technologies for $US230 million. The purchase is the group's largest to date.
with AP
The Market Recap newsletter is a wrap of the day's trading. Get it each weekday afternoon.
Source: Thanks smh.com