ASX set to slip as Wall Street drifts lower
Stocks drifted between gains and losses in morning trading on Wall Street as more big companies deliver their latest financial results and updates amid lingering concerns about a potential recession.
The S&P 500 fell 0.2 per cent as of 12:51 p.m. Eastern. The Dow Jones Industrial Average rose 13 points, or less than 0.1 per cent, to 33,642 and the Nasdaq fell 0.2 per cent. The Australian sharemarket is set to slide, with futures pointing to a fall of 15 points, or 0.2 per cent, at the open. The ASX added 0.4 per cent on Tuesday.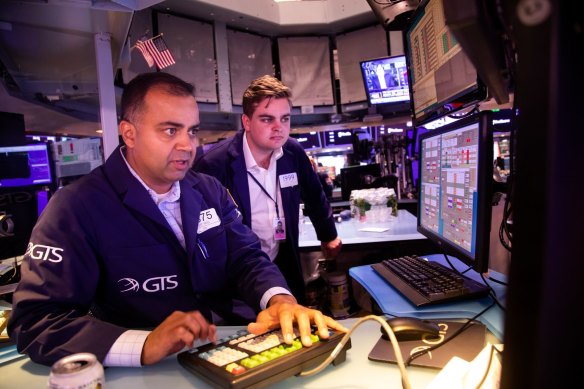 The decline for major indexes marks a reversal from a rally on Monday. Stocks have been volatile as investors try to get a better sense of how inflation is impacting the economy, the potential for a recession and whether the Federal Reserve can ease up on its aggressive interest rate increases.
The latest batch of earnings show that companies continue to struggle with the effects of inflation on consumers and supply chains.
Post-it notes and industrial coatings maker 3M fell 5.4 per cent after reporting weak fourth-quarter earnings and announcing job cuts. It is the latest company to announce layoffs as consumers get squeezed by inflation and worries grow about a bigger pullback in spending and a possible recession.
Union Pacific fell 2.6 per cent after reporting disappointing earnings and revenue.
Software and technology giant Microsoft will report its results after the market closes Tuesday.
US crude oil prices fell 1.2 per cent.
Trading in more than a dozen companies was temporarily halted on the New York Stock Exchange after an apparent technical issue caused wide swings in their stock prices right as the market opened. Shares in Morgan Stanley, Wells Fargo, AT&T and other companies moved sharply at the open, triggering a halt in trading. The prices corrected after trading resumed. The NYSE says it is investigating the "reported issues" and all systems are now operational.
Markets have been swinging between hope and caution as investors watch to see if the Fed will adjust its inflation-fighting strategy. The central bank has already pulled its key overnight rate up to a range of 4.25 per cent to 4.5 per cent from virtually zero early last year.
The Fed will announce its next rate increase on Feb. 1 and traders expect a quarter-point raise, which would mark a softening of the central bank's pace.
Long-term bond yields fell. The yield on the 10-year Treasury, which influences mortgage rates, fell to 3.49 per cent from 3.52 per cent late on Monday.
Wall Street will get a few economic updates this week that could provide more insight into inflation's impact.
The government will release gross domestic product data for the fourth-quarter on Thursday. Economists expect less than 1 per cent of growth, following 1.9 per cent growth in the third quarter and a contraction during the first half of 2022.
Investors will get more updates on personal spending and income on Friday.
Markets in Europe were mostly mixed.
A preliminary reading for manufacturing in Japan remained steady in January at its lowest level in over two years, with exports declining faster. Tokyo's Nikkei 225 index gained 1.5 per cent. Many regional markets in Asia were closed for the Lunar New Year.
Source: Thanks smh.com