'Not optimal for shareholders': Murdoch cans proposed Fox-News Corp merger
Rupert Murdoch has dissolved a committee that was assessing a potential merger of broadcasting business Fox Corp and its publishing entity News Corp, deciding a tie-up was not in the best interest of shareholders.
News Corp chief executive Robert Thomson wrote to staff on Wednesday to inform them of the decision by Murdoch and his son Lachlan Murdoch, to stop an assessment of a potential merger by an independent committee.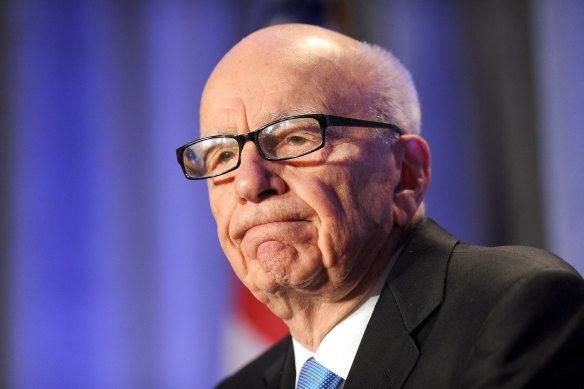 "The News Corp Board, following the receipt of a letter by Rupert Murdoch, has dissolved the committee of independent directors," Thomson said. "The letter indicated that Rupert and Lachlan Murdoch have determined that a combination of the two companies is not optimal for shareholders of News Corp and FOX at this time."
Fox Corp released a similar statement.
The withdrawal from Murdoch comes three months after News Corp announced it had set up a special board committee of independent directors to assess a deal that would combine Fox Corporation, which runs the cable TV network and wagering company FoxBet, with the traditional publishing and real-estate assets including The Wall Street Journal, The Times and The Australian.
News Corp and Fox Corp have been separate entities since 2013 and both have changed dramatically since the split almost a decade ago. Fox sold most of its entertainment assets to Walt Disney Co in a $US71 billion ($114.5 billion) and is largely focused on broadcasting and cable television, led by the Fox News Channel. News Corp has diversified into new areas, such as online real estate services.
Uniting the two businesses would have given the Murdochs a broader portfolio of opportunities in which to invest. It would have also consolidated power for Rupert's son Lachlan, who is News Corp's co-chairman. He is also executive chairman and chief executive officer of Fox.
More to come
Source: Thanks smh.com