Woodside warns drilling for more gas 'hard to justify' due to government intervention
Energy giant Woodside has warned that it will struggle to justify exploring for more gas off the Victorian coastline and can't yet resume east-coast gas sales talks for 2024 amid ongoing uncertainty about the federal government's gas market intervention.
Woodside chief executive Meg O'Neill on Wednesday said the company had been eager to invest in more offshore exploration activities since acquiring BHP's 50 per cent stake in the Gippsland Basin operations in 2021, but has been forced to reconsider its long-term intentions.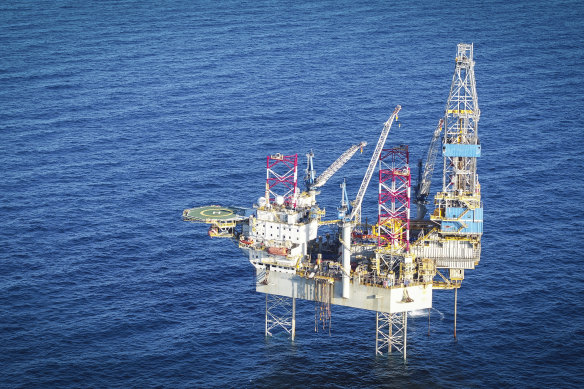 "With exploration, you take a fair amount of commercial risk well ahead of any sales," O'Neill said. "It's very difficult to justify taking that risk when you have uncertainty around the price that you can get for your product."
The comments add to questions about the longevity of gas output from the offshore fields in Bass Strait, which Woodside owns with ExxonMobil and provide about 20 per cent of the eastern seaboard's annual gas demand, but are rapidly declining.
The Albanese government last month passed emergency laws capping the price of domestic gas at $12 a gigajoule for the next 12 months and is developing a mandatory code of conduct to require producers to sell gas at "reasonable" prices to local retailers and industrial users beyond this year.
The intervention has been welcomed by large manufacturers, which have been struggling to absorb skyrocketing costs putting their factories at risk of closure. However, the move has been met with strong resistance from gas producers, who warn the regulations will put at risk crucial investments to develop longer-term local gas supplies to prevent fuel shortages in coming years.
Earlier this week, Adelaide-based gas company Cooper Energy said it had to review the timing of its plans to sanction an offshore gas project in the Otway Basin, known as OP3D, which was set to supply utilities giant AGL with up to 10 petajoules of gas a year from 2025. The company had previously planned to make an investment decision within the next six months.
"The federal government's gas market intervention legislation, introduced in late December, and in particular the associated proposed mandatory code of conduct, are expected to impact the timeframe for OP3D decisions," Cooper Energy said.
While Australia is one of the world's top shippers of LNG, most of it is produced in the nation's north and is sold on long-term contracts to buyers in China, Japan and Korea. The Australian Energy Market Operator (AEMO) has issued warnings about winter gas-supply "scarcity risks" emerging in southern states during high winter demand periods as output from legacy offshore fields dries up.
Meanwhile, the federal government remains locked in talks with gas producers over the details of a mandatory code of conduct for the industry and the requirement for "reasonable" terms. Of particular concern is the government's insistence on using the "cost-plus" model to determine the reasonable price, which factors in the cost of gas production plus a profit margin. Producers, however, argue they also need to pay for exploration and development of new gas fields on top of the cost of production.
Shell and Woodside, two of the biggest gas producers on the eastern seaboard, last month hit pause on plans to offer new large-scale gas contracts to local retailers or heavy industry as they assessed the legal ramifications of the federal government's price controls. If gas producers breach the rules, they will be fined $50 million or three times the value of the company's profit from the deal — whichever is the higher amount.
Shell's Queensland-based gas company QGC on Monday notified customers it was again accepting bids for 8 petajoules of wholesale gas supply for 2023.
Woodside has already completed its domestic gas contracting for 2023, but on Wednesday said it remained in talks with the national consumer watchdog and still needed greater clarity about the regulations before it could offer any domestic gas sales agreements for 2024.
"Everything that we have for 2023 we are selling into the market today … the challenge with executing contracts for future periods is they will be subject to rules which are not clearly defined at this point in time," O'Neill said. "We need greater clarity on how the rules will affect the whole value chain to ensure we comply with those rules and do our best to meet our customers' needs and also meet the expectations of our shareholders."
A spokesperson for acting federal Resources Minister Catherine King said Shell's decision to resume bids showed the government's price caps were working. The government said it was consulting with the Australian Petroleum Production and Exploration Association (APPEA) and gas producers to implement the code of conduct.
However, APPEA, which represents large gas producers, said the government's market interventions were deterring investment in bringing on new gas supply.
"The continued uncertainty over the operation and administration of the government's proposed mandatory Code of Conduct and permanent regulation of gas prices is hampering investment, and will ultimately leave Australian households and manufacturing worse off," APPEA chief executive Samantha McCulloch.
Source: Thanks smh.com