Tesla profit jumps, vows to accelerate cost-cutting measures
By
Dana Hull

,

Sean O'Kane

and

Graham Starr
Tesla reported better-than expected profits in the latest quarter, signalling strength as it faces growing questions about carbuyer demand for its all-electric vehicle lineup.
The Austin, Texas-based company reported adjusted earnings of $US1.19 a share, besting the $US1.12 a share average of analysts' compiled by Bloomberg. The EV market leader said it would increase output "as quickly as possible" — in line with previous guidance for average annual growth of 50 per cent over multiple years.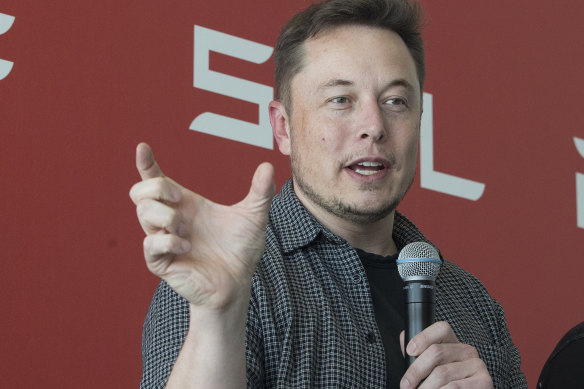 However, Tesla said it's on track to deliver about 1.8 million vehicles this year, which would represent a production jump of about 37 per cent.
Tesla says production may grow faster or slower in some years, depending on a number of unspecified factors. It also warned of an uncertain economic environment, especially with interest rates rising.
"In the near term, we are accelerating our cost reduction roadmap and driving towards higher production rates, while staying focused on executing against the next phase of our roadmap," it said in a statement to shareholders.
The stock rose 5.5 per cent in extended trading in New York.
Tesla chief Elon Musk said during a conference call with investors that 2022 was challenging for the company but that it was its "best year ever on every level".
The automaker has become something of a bellwether for the global auto market as its deliveries grow and much of the industry shifts toward making battery-powered vehicles. It now has four auto plants on three continents, including its newest plant in Austin. The company has said its factories had the capacity to build more than 1.9 million vehicles annually.
Tesla roughly doubled its production capacity in 2022, and increased its output each quarter during the year. Its annualised production estimate for the fourth quarter was a new record, and near the company's total production capacity for the first time.
Tesla confirmed it's still on track to start building the long-awaited Cybertruck in Austin later this year. It will discuss more details of its next-generation vehicle platform at an investor day on March 1.
During a Twitter Spaces conversation last month, chief executive officer Elon Musk predicted a serious recession and warned consumers will cut back on big-ticket purchases. Tesla then slashed prices across its lineup this month.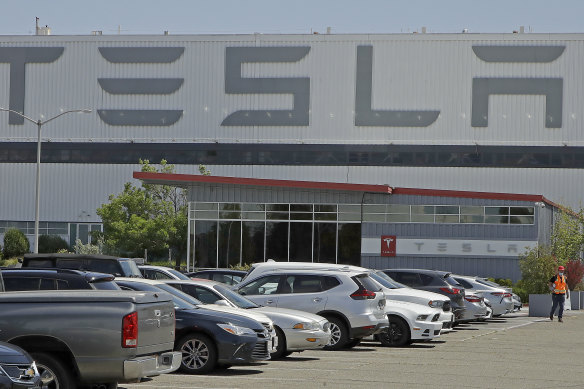 Tesla's fourth-quarter revenue was $US24.3 billion ($34.2 billion), slightly topping market expectations. Gross automotive margins, however, were 25.9 per cent, below analysts' average estimate of 28.4 per cent — a sign of potential concern for investors following a recent round of price reductions. In the year-earlier period, the gross automotive margin was 30.6 per cent.
Regulatory credits
Income from the sale of regulatory credits — used by other automakers to offset greenhouse gas emissions — came to $US467 million, up from $US286 million in the prior quarter and $US314 million a year ago. Tesla has said it expects such revenue to shrink over time as competitors launch more EVs to comply with emissions regulations and meet growing demand.
Musk's move to fund his $US44 billion Twitter acquisition in part by selling shares of Tesla has weighed on the stock, which has fallen 53 per cent over the past 12 months.
Tesla saw its second straight quarterly drop in customer deposits — down to $US1.06 billion — after hitting an all-time high of $US1.1 billion exiting the second quarter in 2022.
The number of Supercharging stations grew to 4,678 — up from 3,476 a year earlier. Tesla owns and operates its own charging networking, which sets it apart from the vast majority of carmakers.
Bloomberg
The Market Recap newsletter is a wrap of the day's trading. Get it each weekday afternoon.
Source: Thanks smh.com