Wall Street wobbles on weaker profits
Wall Street is weakening on worries about corporate profits following a mixed set of earnings reports and forecasts from Microsoft and others.
The S&P 500 was 0.5 per cent lower in midday trading after being down by nearly 2 per cent earlier in the morning. It's on pace for a second step down after reaching its highest level in seven weeks on Monday. The Dow Jones Industrial Average was down 0.2 per cent and the Nasdaq composite was 0.7 per cent lower. The Australian sharemarket is closed on Thursday for the Australia Day holiday.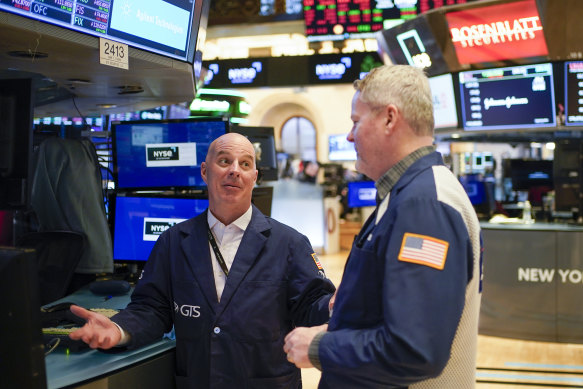 Microsoft was helping to lead the way lower with a 1 per cent drop after it gave a forecast for upcoming results that fell short of some analysts' expectations. They pointed in particular to expectations for slowing growth in its Azure cloud business.
Microsoft is one of Wall Street's dominant stocks because it's one of the largest, which gives its stock movements more sway over the S&P 500 than others. Not only that, analysts say Microsoft offers one of the best windows into the strength of corporate spending because of how many businesses use its software and services.
Other stocks in the cloud-computing industry also fell following Microsoft's forecast. Snowflake lost 4.1 per cent and Amazon fell 1.4 per cent.
Worries are rising that corporate profits are set to shrink broadly because of an economy bending under the weight of hikes to interest rates and still-high inflation. Analysts are forecasting S&P 500 companies over the next couple of weeks will report their first drop in quarterly earnings per share since 2020, when the pandemic was crushing the economy.
Intuitive Surgical fell 5.1 per cent, and Nasdaq, the company behind the Nasdaq Stock Market, fell 7.4 per cent after both reported weaker results than analysts expected.
Texas Instruments fell 1.5 per cent despite reporting stronger profit and revenue than expected. Markets were more interested in the company's forecast for the first three months of 2023. Company officials said they're expecting continued weakening in demand across all its markets outside of automotive.
On the winning side was AT&T, which rose 5.2 per cent after reporting stronger profit than forecast.
Other big tech-oriented companies are scheduled to report their results after trading closes for the day, including Tesla and IBM.
The level of cash and profit that companies produce is one of the main levers that set stock prices on Wall Street. The other big one depends largely on interest rates, and there's still a wide disconnect between what investors and the Federal Reserve see as coming later this year.
Nearly everyone is expecting the Fed to raise its key overnight interest rate by 0.25 percentage points on Feb. 1. That would be another downshift in the size of the Fed's rate hikes, down from 0.50 points last month and four straight increases of 0.75 points earlier. A slowdown in inflation since a summertime peak is raising hopes for the Fed to apply less additional pressure on the economy.
Many investors expect inflation to keep cooling, and they're betting on the Fed to actually begin cutting interest rates toward the end of this year. The Federal Reserve, meanwhile, has been adamant that it won't. It says it wants to keep rates high at least through the end of the year to ensure high inflation is truly stamped out.
Higher rates hurt the economy by making it more expensive for businesses and households to borrow. They also hurt prices for stocks and other investments.
The yield on the 10-year Treasury, which helps set rates for mortgages and other economy-dictating loans, rose to 3.47 per cent from 3.46 per cent late Tuesday. The two-year yield, which moves more on expectations for the Fed, fell to 4.15 per cent from 4.21 per cent.
In stock markets overseas, India's Sensex lost 1.2 per cent after a prominent short-selling firm, Hindenburg Research, accused the Adani Group conglomerate of stock manipulation and accounting fraud. Adani was founded by one of the world's richest men, and the group's chief financial officer called the report "a malicious combination of selective misinformation and stale, baseless and discredited allegations that have been tested and rejected by India's highest courts."
Elsewhere, European stocks were modestly lower. Japanese and South Korean stocks rose, while Chinese markets remained closed in observance of holidays.
AP
Source: Thanks smh.com