'Prices should come down': Emirates boss eyes lower ticket prices as airlines boost capacity
Emirates president Tim Clark has said Australian travellers can expect ticket prices to fall later this year as inflation subsides and airlines boost capacity, but it remains unclear whether they will return to pre-pandemic levels amid surging demand for flights.
The Dubai-based airline announced it will increase its Sydney and Melbourne services, as well as a restart services between Christchurch, New Zealand and Sydney route on Monday.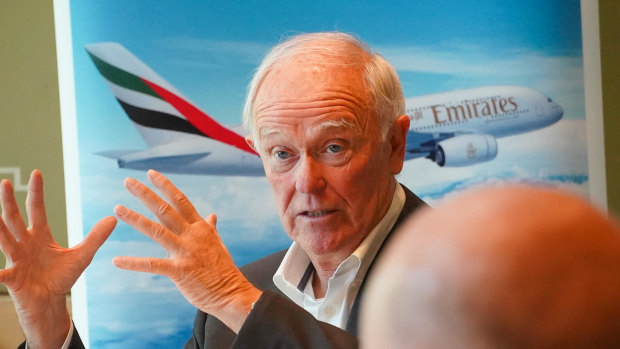 "As cost pressures start to fall, and we are already seeing evidence of that, inflation is starting to fall, interest rates will come down at the end of the year, and as the supply chains gets itself into good shape prices will fall and then logically prices should come down," he said. "Whether they'll go down to pre-pandemic, I don't know, but I can see adjustments coming through".
However, while ticket prices are expected to fall as inflation lowers and the industry comes to an 'equilibrium' , Clark said demand for travel at current prices, which are above historic levels, remains strong.
"The demand for travel [after the pandemic] has been very strong, particularly out of places like Australia, but the interesting thing is they [passengers] are prepared to pay and fill not only higher aeroplanes but at the new price levels," he said.
"So, that's an interesting one for us because one wonders whether we were doing the right thing in the old days, or what would be the effect of all this on how we price our products in the future."
"I want a fair margin for the business [and] to do the right thing by the consumers give them a fair price which allows all those things to fall into place."
Clark said the opening of the Chinese market will speed up the aviation industry's pandemic recovery.
"When the Chinese market is allowed to fly again to the level that he could, then you've got a couple of 100 million people that are going to be on the go, many of whom will come here [Australia], and then we'll go to Europe, America," he said.
"The airline industry is actually finding itself in a very robust profitable situation."
By the end of March the daily service from Melbourne to Emirates' Dubai hub via Singapore will increase from two to three daily services. More than 55,000 passengers per week will be able to travel to and from Australia's main cities by mid-year.
Clark also said Darwin could be a possible flight route for Emirates in the future.
"I keep telling my guys you need to look at Darwin more seriously," he said.
"With the A350-900 I think we've got the makings of a very good aeroplane to serve markets like Darwin. It's not as strong or robust as Sydney, Melbourne and Brisbane, but there is movement now I think we need to look at how we would get there and what would we do with that operation," he said.
Source: Thanks smh.com