Adani publishes 413-page response to accusations as he suffers $28b wipeout
By
Anders Melin

,

P R Sanjai

and

Sidhartha Shukla
Indian billionaire Gautam Adani's group published a 413-page rebuttal to allegations of fraud by short seller Hindenburg Research that has erased billions from the value of his flagship firm.
Some 65 of the 88 questions have been addressed in Adani's public disclosures and the conduct of the American short seller "is nothing short of a calculated securities fraud under applicable law," Adani Group said in a statement. It reiterated it will "exercise our rights to pursue remedies to safeguard our stakeholders before all appropriate authorities." Adani is seeking to calm investors before the conglomerate completes a crucial $US2.5 billion ($3.5 billion) shale sale.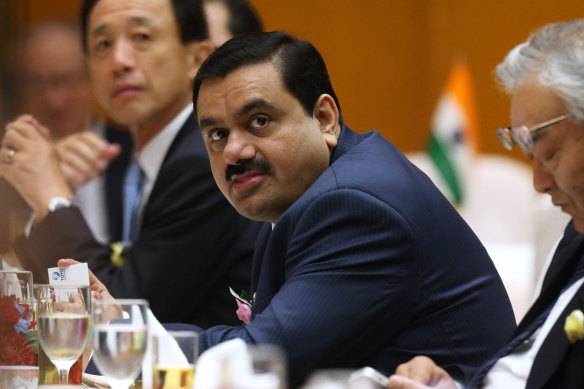 Adani had initially appeared to weather the biggest broadside yet to his sprawling empire after the accusations from Hindenburg last Wednesday, heading into a holiday in India as the world's fourth-richest person and dismissing a short-seller report as "stale" and "baseless."
But then Indian markets reopened on Friday and it quickly became apparent that Hindenburg Research, a tiny New York firm, had pierced the defences of the mighty Adani Group, a corporate giant half a world away.
Bonds and shares of the various Adani entities fell. Then fell some more. In the end, units like Adani Green Energy and Adani Total Gas plunged by the daily 20 per cent limit, delivering punishing losses after years of world-beating gains.
In just over six hours of trading in Mumbai, the group lost more than $US50 billion in market value, costing Adani in excess of $US20 billion ($28 billion), or about one-fifth of his total fortune, according to the Bloomberg Billionaires Index. It was his biggest wealth wipeout ever and the steepest market-fuelled drop in history for anyone in Asia since Bloomberg started tracking the fortunes of the world's richest a decade ago — a shocking blow to a man who in recent years rocketed up the ladder of the world's super-rich at a seemingly unstoppable pace.
As for Adani himself, even after Friday's loss — the fourth-largest market-driven drop in the history of the Bloomberg wealth index — the 60-year-old commands a net worth of $US92.7 billion. He's fallen below Bill Gates and Warren Buffett to the seventh-richest person on the globe.
Sunday's lengthy rebuttal comes in the last leg of the follow-on offer by Adani, which received overall subscriptions of 1 per cent on Friday. While investors in Indian public offerings typically wait until the last day of the sale to place bids, there were concerns that Hindenburg's attack on the country's richest man would sour sentiment.
"This is not merely an unwarranted attack on any specific company but a calculated attack on India, the independence, integrity and quality of Indian institutions, and the growth story and ambition of India," Adani said in its response.
Hindenburg had published a 100-page report on the eve of Adani's share sale opening, alleging that its two-year investigation found "brazen stock manipulation and accounting fraud." It also called out the conglomerate's "substantial debt." The firm, which said it has taken a short position in Adani's companies through US-traded bonds and non-Indian-traded derivatives, declined to share details of the trade when reached by Bloomberg News.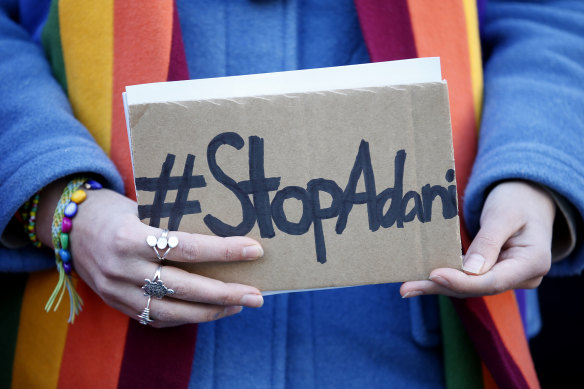 The dramatic saga has prompted more questions. What's next? How might this impact the group's ongoing share sale? How will regulators in India and globally react? But also — perhaps more importantly — it has put a spotlight on how one of India's most powerful family-built conglomerates is owned, operated and bankrolled.
"The volatility in Indian stock markets created by the report is of great concern and has led to unwanted anguish for Indian citizens," Adani's top lawyer said Thursday in a statement, which called out Hindenburg's missive as mischievous, unresearched and unsubstantiated. Hindenburg, in turn, shot back that Adani has "resorted to bluster and threats."
Taking on Adani
Adani Group is the biggest target yet for Nathan Anderson, the man behind Hindenburg who earned Wall Street's attention with takedowns of electric-vehicle makers Nikola and Lordstown Motors Corp. It's a sprawling web of businesses that includes port and airport operators, coal mining and trading, natural gas, media and cement, with its expansion plans closely aligned to the development and economic goals of Indian Prime Minister Narendra Modi.
The battle has sharply divided global investors. Many Indian analysts say the group won't face a severe domestic fallout because its fortunes and strategy are tied to Modi's. Others see Adani Group's rebuttal as insufficient, with billionaire Bill Ackman likening it to the response he got from Herbalife, which he said on Twitter "remains a pyramid scheme."
Hindenburg alleged in a report Wednesday that its two-year investigation found the Adani Group "engaged in a brazen stock manipulation and accounting fraud scheme over the course of decades." It called out the conglomerate's "substantial debt," which includes pledging shares for loans; that several of its key leaders are Adani family members; that Gautam's brother Vinod "manages a vast labyrinth of offshore shell entities" that move billions into Adani companies without required disclosure; and that its auditor "hardly seems capable of complex audit work."
The firm said it's shorting Adani Group through US traded bonds and non-Indian-traded derivatives, and that its report "relates solely to the valuation of securities traded outside of India." It said it "would welcome" legal action in the US.
The more pressing concern is the $US2.5 billion share sale by his flagship firm, Adani Enterprises, which is meant to fund capital expenditures and to pay down the debt of its various units.
The transaction, India's biggest ever primary follow-on public offering, is meant to draw in a mix of institutions, retail investors and high-net-worth individuals. It had already attracted anchor investors including Abu Dhabi Investment Authority, State Bank Of India Employees Pension Fund and Life Insurance Corp. of India before the Hindenburg report.
Adani Enterprises ended Friday 11 per cent below the floor price of the share sale, which closes on January 31.
Source: Thanks smh.com