Banks can handle the fixed rate cliff, says APRA
Banking regulator John Lonsdale says the wave of expiring fixed rate loans this year will be difficult for some borrowers, but the banking system will be resilient in the face of economic uncertainty and a falling housing market.
Lonsdale, who became chairman of the Australian Prudential Regulation Authority (APRA) in October, replacing Wayne Byres, said on Monday the regulator was prepared for "pockets of stress" in 2023, and it had told banks to identify borrowers who might be vulnerable to rising rates.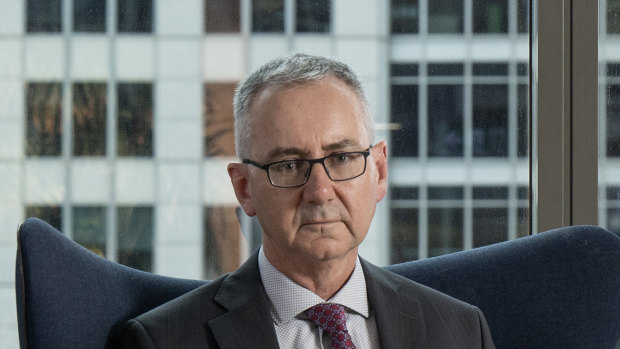 But despite the risks caused by rising interest rates, slowing growth, falling house prices, and geopolitical uncertainty, Lonsdale said Australia's lenders were in strong financial shape and would weather these threats.
"Yes, people will roll off some low-rate fixed-rate mortgages onto higher interest rate mortgages. That will be difficult for some people, that's unfortunate, that will be very difficult.
"But in aggregate there are surpluses that have been built up in the system for individuals, and certainly in the banking system. And we are saying to banks: You need to prepare for this, and you need to be identifying customers that might be impacted," he said.
In a wide-ranging discussion, Lonsdale also flagged cyber resilience as one of APRA's top supervision priorities for the year ahead.
Yes, people will roll off some low-rate fixed-rate mortgages onto higher interest rate mortgages. That will be difficult for some people, that's unfortunate, that will be very difficult.

Australian Prudential Regulation Authority chairman John Lonsdale.
A key issue for banks this year is the so called "fixed-rate cliff" – a bulge of borrowers on fixed-rate loans with ultra-low rates that will revert to sharply higher variable rates this year.
As a result of eight consecutive rate rises last year, many borrowers who locked in fixed rates in 2020 and 2021 face sudden rate rises of 3 percentage points or more when their fixed terms expire. The trend is expected to peak in the second half of this year.
While he acknowledged the trend would be tough on some customers, Lonsdale said the banking system had been stress tested for a decline in the property market. He also pointed to previous work to tighten bank lending standards and build up larger capital buffers.
"The system is strong, the system is stable and it is very resilient across a range of financial metrics, whether you're talking about capital, liquidity, credit, operational risk, they are in good shape."
APRA oversees the stability of the banking, insurance and superannuation industries – it is tasked with protecting the interests of depositors, insurance customers, and super fund members.
The regulator has long warned of the risks posed by cyberattacks, and after last year's major hacks of Medibank Private and Optus, cyber resilience will be a top priority this year.
The Reserve Bank has previously said a successful cyberattack on a major financial institution is "almost inevitable," and Lonsdale said APRA had been talking about cyber risks "ad nauseum" for years. Even so, APRA believes there is still a need for improvement, especially when data processes have been outsourced to businesses not supervised by APRA.
"There needs to be better control testing, board oversight needs to improve, sometimes we see inadequate asset management, and we also see insufficient testing of response plans," Lonsdale said.
Other priorities for APRA in 2023 include climate change risks in the financial sector; maintaining the pressure on super funds over performance; and an ongoing focus on "risk culture."
In the cryptocurrency sector, which is getting close attention from regulators globally and domestically, Lonsdale said APRA's message to the banks remained one that urged caution: "If you're a regulated engaging in these activities, be careful," he said.
The RBA has also played down the risks from the fixed rate "cliff" to the banking system and economy, with deputy Michele Bullock last year saying borrowers with "extremely low" fixed rate loans had probably built up savings.
JP Morgan economists said in January they thought rate rises from last year would take a bigger bite out of household income than the coming re-setting of fixed rates.
The Market Recap newsletter is a wrap of the day's trading. Get it each weekday afternoon.
Source: Thanks smh.com