Lynas prepares for worst-case as Malaysian government mulls licence
Lynas Rare Earths chief executive Amanda Lacaze, says the group is prepared for every scenario as the Malaysian government decides whether the $8 billion company will be allowed to continue its contentious operations in the country beyond July this year.
A decision is expected by March 2 on two separate issues: Whether Lynas' Malaysian licence will be renewed, and separately, whether conditions on the license issued in 2020 will remain – including a condition that cracking and leaching will be moved to the processing operation currently being set up in Western Australia.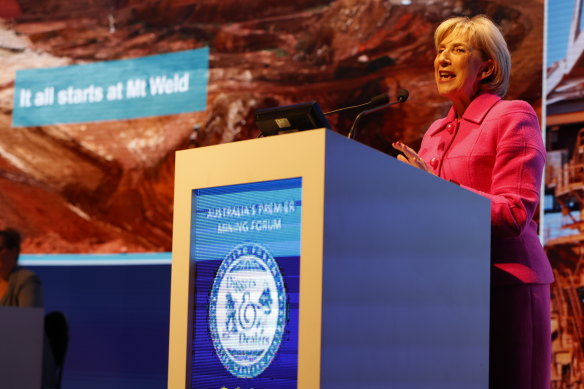 "We've got a number of scenarios, and we're preparing ourselves for all of them," Lacaze told analysts and investors on a conference call for its December quarter result.
"The best possible scenario is one where we're running two facilities, which gives us a straight uplift in throughput, right through to one where we are required to close down one facility and operate the other," she said.
"It will be clear long before the first of July which of those we will be required to execute."
She did not repeat assurances from last year that the new plant in Kalgoorlie will be operational by July.
The issue for Lynas has been the low level radioactive material generated from the cracking and leaching of rare earths, which is currently done in Malaysia, and has attracted significant protest and political controversy despite a clean bill of health for Lynas from regulators.
A green light will be a significant win for Lynas as demand for rare earths ramps up – particularly from rising electric vehicle sales.
The Australian-listed miner extracts rare earth ores – 17 elements crucial to the manufacture of many hi-tech products such as mobile phones, electric cars and wind turbines – from a mine near Perth, and sends the materials to its only processing facility in Malaysia.
On Monday, Lynas reported that its December quarter production ramped back up to normal levels following what Lacaze described as the catastrophic failure of water supply to its Malaysian plant in the September quarter.
Sales revenue rose to $232.7 million for the quarter, compared to $163.8 million for the September quarter, and production of the rare earth ore 4457 tonnes, compared to 3500 for the prior period.
The company reported that prices for its main product, neodymium and praseodymium (NdPr), started rising again in December in the lead up to Lunar New Year this month, but said future price trends will depend on China's economic recovery.
Lynas said it remains focused on increasing production as its customers forecast strong demand in calendar year 2023.
"The market continues to be very buoyant," Lacaze said.
The strong quarterly report gave the stock a boost, rising as much as 7 per cent to $9.71 on Monday.
The Market Recap newsletter is a wrap of the day's trading. Get it each weekday afternoon.
Source: Thanks smh.com