Pointsbet cash burn accelerates despite record winnings
Gambling group Pointsbet's cash burn accelerated in the December quarter even as it boosted the money it made on customers' bets by more than a third and extended its partnership with American mass-media company NBCUniversal.
In an investor presentation on Tuesday morning, the Melbourne-born company said its total net win – the profits made from customers' losing bets minus money paid out to customers with winning bets – jumped to $103.4 million in the three months to December 31, up 34 per cent from a year ago.
But its cash burn widened to $75.7 million, from a negative cash flow of $60.7 million in the September quarter, which was attributed to marketing costs and lower profit margins, with a large part of its turnover coming from sports bets as opposed to higher-margin racing bets.
Shares in the $450 million company slumped 12.4 per cent to $1.48 a share as of 1pm AEDT.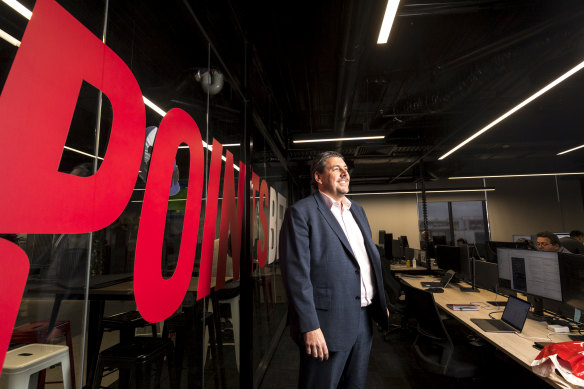 Looking at its winnings, Pointsbet posted a record US total net win of $40.6 million, up 68 per cent on the previous corresponding period, and a record Australia net win of $57.7 million, up 9 per cent. Its online casino offering iGaming also reached a record net win of $15.2 million, up 183 per cent.
Group chief executive Sam Swanell said the improvement in winnings was driven by a return on years of investment in the United States, now its biggest market.
"We're now live in 14 states, plus Ontario and Canada, and we really feel that the work we've put in over the last couple of years in the US market as a new entrant is starting to pay off," he said.
Pointsbet, which launched in the US in January 2019, defended the marketing and sales cost of its expansion last year after recording its second straight year of losses in August. The business increased spending on sales and marketing from $54.7 million in the September quarter to $67.5 million in the December quarter.
But Swanell said the company's marketing expenses in the US would decline to about $US90 million this year, down from $US118 million in the previous financial year, after extending its existing partnership with NBCUniversal by two years to August 2027 and stretching its committed marketing expenditure for the remaining two years of the original agreement over now four years.
Pointsbet confirmed it was in preliminary discussions about potentially selling its Australian business to News-Corp backed wagering startup Betr in December, but declined to provide further comment on Tuesday morning.
The Market Recap newsletter is a wrap of the day's trading. Get it each weekday afternoon.
Source: Thanks smh.com