'Somebody has to pay': What to do about surging insurance costs?
After a disastrous year of flooding for Eastern Australia, soaring insurance premiums mean more people in disaster-prone areas are facing the grim reality that they cannot afford to protect their biggest asset.
Julia Davis, policy and communications officer at the Financial Rights Legal Centre, says there are cases in flood-ravaged Lismore where the annual cost of home insurance jumped from about $1400 a year to $15,000 a year, once flood cover was included. The cost is even higher, at $25,000, for home and contents insurance.
"The prices are astronomical," Davis says. "We get calls from people whose insurance has doubled or tripled."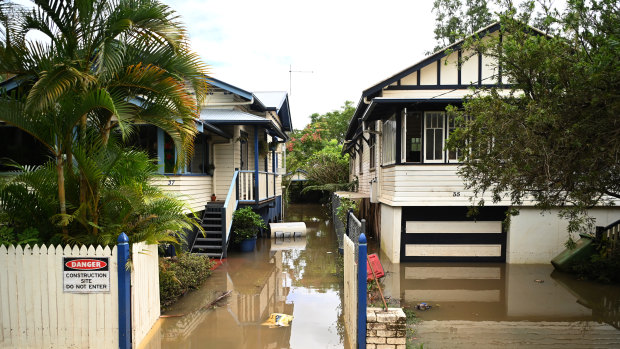 Experts predict this type of bill shock will get worse, as extreme weather events become more common due to climate change. Those who tend to be the most affected are low-income earners, who can least afford to shell out thousands of dollars on their home insurance.
Governments, insurance companies and consumer groups agree that insurance affordability is a serious problem, but there is far less agreement on what to do about it.
Insurers are wary about the taxpayer taking on a bigger role as an insurer, such as by expanding the $10 billion federal government reinsurance pool that cuts premium costs for cyclone-prone areas in Northern Australia. Yet industry experts maintain that for insurance affordability to be truly addressed, a major shake-up is needed.
'Who is going to pay?'
Surging premiums were a feature of the insurance market last year. ASX-listed giants Suncorp, Insurance Australia Group and QBE all warned of hefty price rises, as they seek to pass on disaster claim costs that have repeatedly exceeded their budgets, at a time when building costs have rocketed.
The sums involved are enormous. The Insurance Council of Australia says the cost of claims from storms and floods since January 2020 is $12.3 billion, and the flooding disaster of February-March this year was the most expensive in Australian history, overtaking a 1999 hailstorm that battered Sydney.
Insurance executives argue that the key to dealing with rapid premium price rises is risk mitigation – changing how and where we build homes to limit the costs of natural disasters, especially floods.
Suncorp, for example, reversed a decision to stop covering the Queensland town of Roma in 2013 when the government built a levee to protect the town, and promised sharply lower premiums once it was constructed.
But others maintain that stronger forms of government intervention are needed in insurance markets.
Actuary John Trowbridge, a consultant and former APRA member, says mitigation measures, such as flood levees, are a medium to long-term response, but they are unlikely to reduce premiums in the short term. Instead, he believes some sort of insurance pooling arrangement is needed to put downward pressure on costs
"The underlying question is, who is going to pay? Somebody has to pay if there are properties to be insured and the policyholder cannot afford to pay a premium," Trowbridge says.
"Either the taxpayers pay, or the rest of the insured population pays. Until something of that nature can be determined, there is nowhere to go."
Insurance pooled funds are working overseas. In the UK, for example, insurers pay an annual levy to a flood reinsurance pool and charge their customers an average of about £10 each. The pool is designed to reduce the cost of flood cover. However, Trowbridge says that it took years to get that system up and running, and any such arrangements here would require support from both state and federal governments.
"It becomes a major political, economic and social question – the costs of these floods have been that high," Trowbridge says.
Some argue the federal government's $10 billion cyclone reinsurance pool – only available to cyclone-prone areas in northern Australia – could be a template for flood cover action. The Australian Consumers Insurance Lobby, for example, has argued such a scheme could bring down insurance costs across the country.
Yet there is debate about how much the scheme would save consumers. While the Morrison government promised premium "discounts" of up to 46 per cent for Northern Australians facing the sharpest insurance cost increases, Labor's Financial Services Minister Stephen Jones has since said premiums would not decrease by anything like that amount.
Actuary Sharanjit Paddam, from Finity Consulting, argues that pools would not make insurance costs in high-risk areas affordable. "It might change a $20,000 premium to being a $15,000 premium. That's still unaffordable," he says.
'Urgent' need for tax reform
A more effective way of bringing down premiums, Paddam says, would be to change the way taxes are charged on insurance. Insurance executives are in firm agreement, with the Insurance Council of Australia taking aim at the NSW government's charge of an emergency services levy on insurance policies.
Fiona Thompson, Suncorp's group executive for people, culture and advocacy, told a market briefing in November that Australia's taxing of insurance was in urgent need of reform. "At a time of increased risk and a changing climate, we should not be adding 20 to 40 per cent to a home insurance premium in taxes and charges," she said.
"And because of the way in which the taxes are applied, the higher a person's risk, the higher the premium, and the more tax they pay. And we know there is a direct correlation between a higher risk and a lower socio-economic status. So, when we talk about addressing insurance affordability and climate change, the tax system should enable not hinder insurance coverage."
'Extreme solutions'
The industry's other big demand is for greater focus on resilience – more investment in community infrastructure such as flood levees, upgrades to building standards, or in extreme circumstances, relocating entire communities to higher ground. However, some experts argue there are limits to what can be achieved by through flood mitigation.
Insurance lawyer John Berrill, who worked with former APRA official Trowbridge on a 2011 federal government review of disaster insurance, says mitigation can help, but it is no silver bullet.
"There's no doubt that governments have got to look to intervene in the market through reinsurance pools and those sorts of arrangements," says Berrill, principal of law firm Berrill & Watson. He says there are plenty of precedents for intervention: the federal government administers a terrorism insurance scheme, for example, while workers' compensation has heavy government involvement.
"The government has a lot of skin in the game here because to the extent that people don't take out insurance, they fall back on the government," Berrill says.
Similarly, Julia Davis, from the Financial Rights Legal Centre, also points to the many ways in which governments already intervene in insurance markets. She argues for a solution she says is "pretty socialist" – for government to pay subsidies for vulnerable people in high-risk areas. This would need to be designed carefully, she says, so it didn't apply to newly built homes, and so the subsidies did not prop up insurance company profits.
"Facing down the next 20 to 30 years of insurance in a changing climate, we are going to have to consider some extreme solutions," she says.
Regulators, meanwhile, acknowledge there is a problem.
APRA member Helen Rowell told a November insurance event that the regulator was engaging with the Australian Securities and Investments Commission, Treasury, the Insurance Council of Australia and other stakeholders. Their goal is to better understand the problem and what can be done about it.
It's fair to say they will have their work cut out.
Source: Thanks smh.com