Macquarie profits jump as it gains from energy volatility
Volatile energy and commodity markets have beefed up Macquarie Group's profits for the nine months to December, offsetting the weaker earnings in the investment heavyweight's flagship asset management arm.
In a trading update on Tuesday, Macquarie said its commodities and global markets business had enjoyed a bumper December quarter, with net profit after tax for the period landing "slightly" higher than the same nine-month period a year earlier – which included a record December quarter in 2021.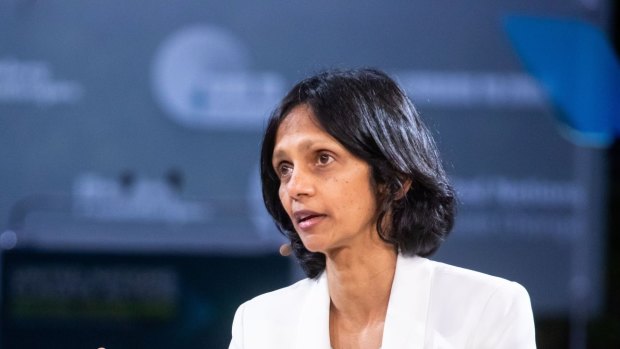 Macquarie, which reports on March financial year, did not disclose its actual profits for the quarter.
"Varied market conditions have resulted in a good quarter for the group reflecting the diversity of our activities," chief executive Shemara Wikramanayake said in a statement.
Macquarie indicated its asset management division had made a "substantially" smaller profit contribution in the financial year to date, and this was mainly because it had benefited from more green asset sales in the prior year.
In contrast, Macquarie said its commodities and global markets division had posted "exceptionally strong results," mainly because it benefited from "unusually volatile market conditions" in the gas, electricity and oil markets.
Macquarie said its banking and financial services division, which houses its domestic retail bank, had posted "continued growth," with deposits rising 8 per cent to $125.7 billion, and mortgages rising 4 per cent to $105.4 billion.
In the investment banking unit Macquarie Capital, fee revenue was "significantly down" compared to the December quarter of 2021.
Macquarie said it continued to have a cautious stance, with a conservative approach to capital and funding that would allow the bank to respond to the market environment.
Source: Thanks smh.com