The good oil: Cobram Estate boss wants to see non-olive oil brands disappear
If Cobram Estate co-CEO Leandro Ravetti had his way, edible oils made from anything other than olives wouldn't exist.
"Canola, sunflower, corn, soybean, cottonseed – virtually any other oil in the supermarket, including refined oil – is heavily processed. They use high heat to refine them, they actually add chemicals to them," Ravetti says.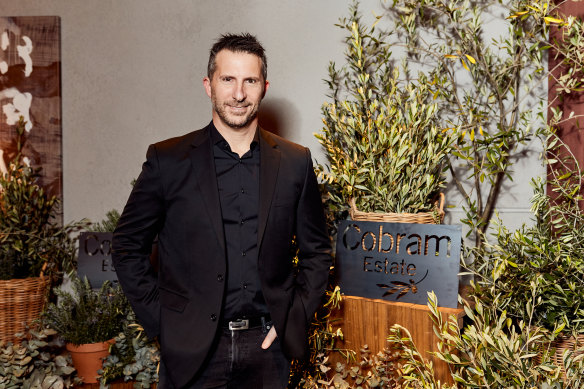 "Essentially what you're getting is almost a lubricant, with some negatives – some level of transfats, other chemicals … Things that are not good for your body. But you're also not getting all the good things that you should be having, like squalane, phytosterol, polyphenol, all the natural antioxidants," he goes on.
"The [difference] between one and the other is huge. But the point is, consumers don't know that."
Ravetti insists he's not specifically spruiking Cobram Estate, but is instead championing the entire extra virgin olive oil sector and its health benefits. The brand is Australia's largest olive oil maker, responsible for 72 per cent of Australia's annual production; since being founded in 1998, Cobram Estate and its other label Red Island have become the dominant brands in supermarkets, accounting for 36 per cent of total olive oil sales.
It's not enough for Ravetti, who has high expectations for this year. He's hoping the looming economic downturn will prompt more home cooking, boosting demand for olive oil, and is also expecting a good olive crop when harvesting season rolls around in winter.
From the perspective of the joint chief executive (or as he calls himself, "the oil guy", while co-CEO Sam Beaton is "the numbers guy"), the company is facing a dual challenge of growing in a maturing market and convincing investors it's a good buy.
"Like with oil in the supermarket, buying shares also requires a level of education," he said.
Cobram Estate has already done most of the heavy lifting in introducing olive oil to Australian diets. In the early 2000s, when Cobram was just a fledgling company, Australians consumed just 1 litre of olive oil per person per year. That's since doubled, but Ravetti would like to see this figure much higher, matching that of Mediterranean countries like Spain and Italy, some of the world's biggest olive oil guzzlers at 14 and 11 litres, respectively.
"There's no reason why the entire consumption of olive oil shouldn't be extra virgin olive oil," he says
But Cobram may be nearing the ceiling of market saturation Down Under. Around 60 per cent of Aussies still use oil that isn't extra-virgin olive oil (which Ravetti is at pains to explain is different from "pure" or "light" olive oil, both of which aren't descriptors of quality but marketing terms).
Customers either don't know or don't care that extra virgin olive oil contains nutrients and molecules that have scientifically proven health benefits like reducing cholesterol, inflammation, and cancer and heart disease. Even though the company's more affordable second-tier brand, Red Island, has experienced significant growth in the past 12 to 18 months, Ravetti would prefer consumers choose Cobram Estate on quality.
"The challenge is trying to find new and more innovative ways to reach the consumer in a way that we are actually happy with," he said. "There are consumers, by the large amount, that don't perceive the value, so they don't understand why [they] would spend more on this."
So to continue growing, Cobram Estate has now set its sights on making extra virgin olive oil appealing to Americans. When Ravetti and the team surveyed the market – where consumption was at 1 litre per capita – it looked much like Australia in the 2000s.
"So why don't we actually do what we have done and replicate that story? But the main difference is the market in America is actually nine times bigger, so potentially the reward was going to be much higher," he says. Since planting olive crops in California in 2015, Cobram has grown to nearly the number one olive oil producer in the state.
Ravetti is looking forward to October and November, which he expects to yield a harvest in the US that will be twice the size on last year, meaning a stronger presence and better brand recognition in the region. "We believe [the US] is almost like a 'blue sky' opportunity; Australia is the more mature, reliable business, the US is really where significant growth could keep coming."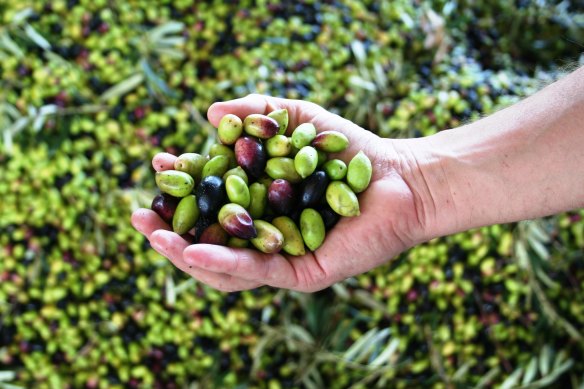 Closer to home, Ravetti and Beaton have some ways to go making olive oil an appealing investment. Since listing on the ASX in August 2021, Cobram Estate Olives' share price has drooped from $1.90 to around $1.35.
Ravetti says new shareholders, which swelled eightfold from about 500 to 4000 since listing, may not fully appreciate the nuances of an olive oil business. Olive oil crops have the peculiarity of cycling between 'on' and 'off' years every two years, meaning like-for-like yearly comparisons on financial statements aren't the best measure of growth.
Ravetti also resists comparisons of Cobram Estate to other horticulture or agriculture businesses like Select Harvest. A peer analysis by Ord Minnett placed Cobram in the same group of companies as the likes of Bega, Treasury Wine, and Select Harvest. But Cobram Estate isn't exposed to fluctuations in factors like currencies (though that may change as the US business grows) or global commodity prices, or value chain issues as a fully vertically integrated business.
"I think the challenge is, we probably didn't have the time to educate [Cobram's newer investors] in the same way," he said. "Understanding the value of the company is not that simple."
The Business Briefing newsletter delivers major stories, exclusive coverage and expert opinion. Sign up to get it every weekday morning.
Source: Thanks smh.com