Friendless Star alone in a war zone
Star Entertainment Group is operating in a war zone with a slim arsenal at its disposal and no allies to speak of. The NSW government has made clamping down on gaming a main plank of the March election and the hapless casino operator is quickly becoming its whipping horse.
The NSW treasury has outlined a significant rise in the tax on Star's pokies and that impost is on top of the tens of millions of dollars the casino operator is spending on regulatory remediation. With Crown Sydney opening its doors last year, Star has also lost its state monopoly.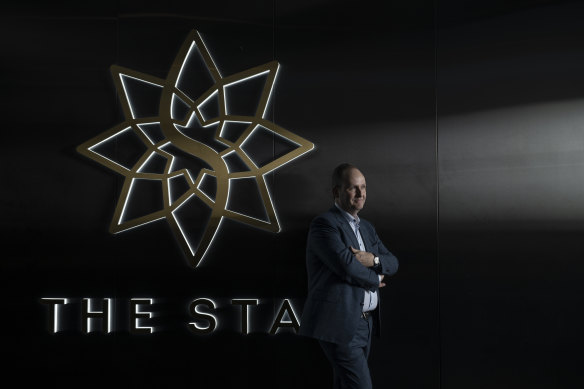 To further deepen Star's woes, the Chinese tourism on which Australian casinos rely to boost their revenue is yet to return, and the domestic revenue generated by Star Sydney in the half year to December is down 13 per cent from pre-COVID levels.
This combination of ailments has left The Star fighting for its financial future, with its chief executive, Robbie Cooke, warning of the potential for "an urgent review of Star Sydney's operating model and assets".
It isn't broke, but the company will need to wipe off up to $1.6 billion from the value of its Sydney licence. Putting this into perspective, the market capitalisation of the entire Star group is only $1.5 billion.
Star has already been fined $100 million by the casino regulator, while the financial intelligence agency AUSTRAC has launched a legal action which will likely be settled with a sizable price tag for Star, and three different shareholder class actions have been announced.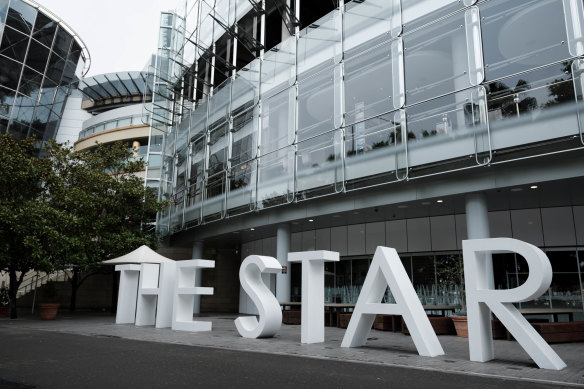 On Monday, the company provided a peep into its profit outlook for 2023 financial year – and it was pretty ugly. Although it shouldn't have come as a huge surprise to investors, the reaction was swift and unambiguous – the stock fell more than 21 per cent by lunchtime.
The prospective imposition of a much higher rate of tax on Star Sydney's poker machines (and a smallish increase on the tables tax rate) is the main culprit, but its immediate earnings outlook has also been clobbered by additional $40 million in annual remediation costs in 2023.
Shareholders often underestimate the damage that governments can impose on highly regulated companies that trash their social licence. The community has been fed a steady diet of Star's behavioural wrongdoings ranging from dealing with Asian crime-linked junkets to allegedly misleading its bank and a river of failures around governance and risk.
Star has become worse than friendless – beating it up now provides positive electoral capital for governments and is cheered by sections of the community concerned about the perils of problem gambling and appalled about alleged casino dealings with junket groups linked to organised crime.
Star told investors on Monday that the balance sheet damage ranged between $400 million and $1.6 billion, and that the worst-case scenario would become a reality if tax changes already proposed by the NSW government were legislated.
In providing this range, Star appears to be hopeful that NSW treasurer Matt Kean will step back from the December-announced tax slug (which would mean the top tax on Star pokies increases from the current rate of 32 per cent to 60.67 per cent.)
"We are engaged in constructive discussions with the NSW government in relation to the proposed casino duty rate changes," the casino group said on Monday.
'Beating up Star now provides positive electoral capital for governments and is cheered by sections of the community concerned about the perils of problem gambling.'
While both sides are talking, it's hard to believe the odds are in Star's favour. The government doesn't want to be seen to be doing Star any favours plus it stands to gain about $360 million in additional revenue out of the changes.
The Queensland and NSW governments have allowed Star to retain its casino licence despite being found unsuitable by two independent inquiries.
The casino group will argue that the increased tax payable will tilt the playing field in favour of pubs and clubs that pay 37.5 per cent on pokies. True though that may be, the clubs and pubs are a far more effective lobby group.
Star has only one lever to pull and that would be a threat to cut staff. The urgent review of its operating model and assets is particularly vague. Assuming it isn't looking at the nuclear option of selling the Pyrmont casino, there are not too many assets to jettison to raise money – other than a car park. But the higher tax rate will put the casino under pressure to cut costs as a means to improve returns for shareholders.
The Business Briefing newsletter delivers major stories, exclusive coverage and expert opinion. Sign up to get it every weekday morning.
Source: Thanks smh.com