White Lotus, A Star is Born and Miley Cyrus: How Senator Sarah Henderson entertains herself
Welcome to Quick Q – Monday Media's weekly series dedicated to finding out more about the personalities that matter most in the media landscape.
Each week, The Sydney Morning Herald and The Age asks figures across corporate media, business, sport, federal politics, radio, television and culture to answer questions about their lives, careers, hobbies and news habits.
This week's conversation is with Sarah Henderson, former journalist and opposition communications spokesperson. She is currently the opposition spokesperson for education.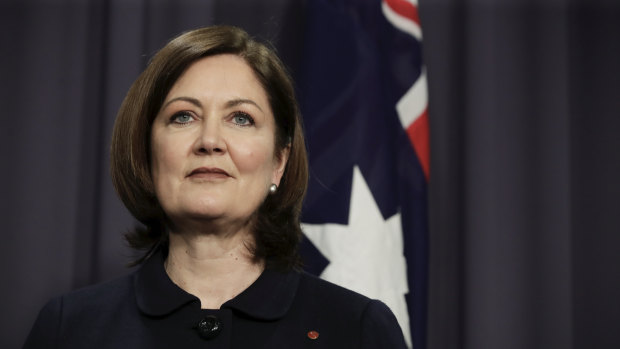 How did you get your big break?
I left school and joined Channel 7 Melbourne as a 17-year-old cadet reporter, but it was under the most tragic of circumstances, just weeks after the newsroom's helicopter crashed killing five people including the camera crew and a young reporter. I continue to honour all those who work on the frontline to bring us the news.
What are daily news media habits?
In this 24/7 online world, I read and watch as much as I can, day and night.
Which living person do you most admire?
The selfless quiet achievers who do so much for their community without the accolades.
Your guilty streaming pleasure
I've just finished watching White Lotus on Binge. I can't wait for the next series of Morning Wars on AppleTV+.
Which phrase do you overuse?
"That's a disgrace" because there are so many disgraceful decisions being made by the Albanese government.
What did you want to do when you grew up?
In grade 6, inspired by my father who was such a caring and hard-working local solicitor, I wanted to be a magistrate.
What was your first job?
As above.
Facebook or Instagram?
Global social media companies including Meta, which owns Facebook and Instagram, must do so much more to protect Australians from online harm, so I am afraid I can't endorse either platform.
Recommend a podcast…
The Rest is History.
What's one vice you wish you could give up?
Not getting enough sleep, an occupational hazard!
The song that's always on high rotation?
Currently, it's Verve's Bittersweet Symphony in a battle with Miley Cyrus' Flowers.
What are you reading?
Warren Mundine's In Black and White.
Favourite movie of the past decade?
A Star is Born (the third remake with Lady Gaga and Bradley Cooper).
Top of your sporting bucket list?
Another Geelong Cats grand final win in 2023.
What's the best piece of advice you've ever received?
Faced with an ABC producer who would scream obscenities through my earpiece when I was live on air presenting the 7.30 Report, my father encouraged me to always stand up for what is right and just. This advice holds me in good stead every single day.
What are the three things you couldn't live without?
Family, family and family.
Source: Thanks smh.com