ASX set to open lower with Wall Street on track to extend losing streak
US stocks are drifting lower, threatening to lengthen Wall Street's longest losing streak since December.
The S&P 500 was 0.3 per cent lower in early-afternoon trading after wiping out a morning gain. It's on pace for a fifth-straight drop. The Dow Jones was down 0.5 per cent, while the Nasdaq composite was 0.3 per cent lower. The Australian sharemarket is set to retreat, with futures at 4.51am AEDT pointing to a fall of 24 points, or 0.3 per cent, at the open. The ASX lost 0.4 per cent on Thursday.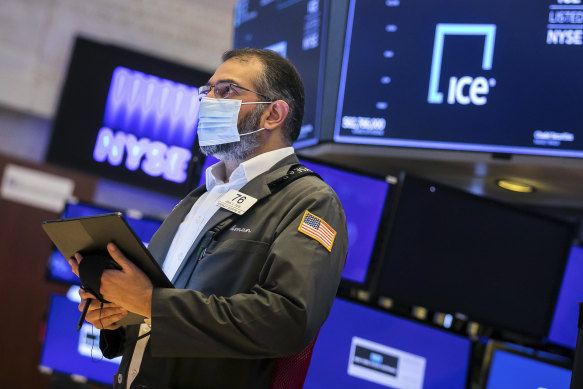 After leaping in January, stocks have slammed into a wall this month on worries that inflation isn't cooling as quickly or as smoothly as hoped. A lengthening list of reports have shown the economy is in stronger shape than expected. While that's raised hopes about avoiding a recession in the near term, it's also forced a recalibration in forecasts on Wall Street for how high the Federal Reserve will take interest rates and then how long it will keep them there.
High rates raise the risk of a recession later on because they slow the economy in hopes of stamping out high inflation. They also drag on prices for investments.
The latest economic data released on Thursday also suggested an economy with enough strength to encourage the Fed to keep up its campaign on rates. The fear is that a strong economy could feed into upward pressure on inflation.
Fewer workers applied for unemployment benefits last week than expected, another indication that the job market remains resilient despite the fastest increase in rates in decades.
A separate report said the US economy's growth was likely a touch weaker in the last three months of 2022 than earlier estimated. But it still grew at a 2.7 per cent annual rate.
Sam Stovall, chief investment strategist at CFRA Research, said stronger economic data going back to this month's jobs report pushed him to add one more rate hike to his forecast before the Fed takes a pause. He also pushed out how long he thinks it will take the S&P 500 to get to his target level of 4,575. Instead of thinking it could happen by the end of this year, he thinks it could be 12 months from now.
"The bond market has been pretty pessimistic right from the start, assuming that inflation would be higher for longer, that we do have the likelihood of a recession," Stovall said.
"Our belief is that it probably won't be a repeat of the Great Recession. In terms of timing, it could actually be fairly similar to the recession of 2001. It could end up being fairly short and happens 14 months after the start of the bear market" for stocks.
Wall Street's heightened expectations for the Fed have been most evident in the bond market, where Treasury yields have shot higher this month. They were easing a bit on Thursday.
The yield on the 10-year Treasury, which helps set rates for mortgages and other important loans, dipped to 3.90 per cent from 3.93 per cent late Wednesday.
Earlier this week, it topped 3.95 per cent as it raced toward its highest level since November.
That put particular pressure on tech companies and other high-growth stocks, which are seen as some of the most vulnerable to higher rates.
They were holding up a bit better Thursday after Nvidia reported better results for the latest quarter than expected. Its shares jumped 13.1 per cent after it also gave a forecast for upcoming revenue that topped some analysts' expectations. It cited recovering strength in video gaming and demand for artificial intelligence products.
On the losing end of Wall Street was Moderna, whose shares slid 8 per cent after it reported its fourth-quarter profit tumbled 70 per cent as COVID-19 vaccine sales fell and the drugmaker caught up on a royalty payment.
Domino's Pizza dropped 12.4 per cent despite reporting stronger profit than expected. Its revenue fell short of forecasts, and it lowered the top and bottom ends of its forecasted range for global sales growth in the next two to three years.
Lordstown Motors tumbled 14.6 per cent to $US1.05 after it said it's temporarily halting production and deliveries of its Endurance electric pickup due to performance and quality issues with certain components.
AP
The Market Recap newsletter is a wrap of the day's trading. Get it each weekday afternoon.
Source: Thanks smh.com