'Extreme convenience': Delivery, data and the future of grocery
Hate the chore of your weekly grocery shop? Picture this.
It's Saturday morning and, between the rush of weekend errands, you open the app of your go-to supermarket. The retailer has been waiting for you to log on and is ready with a shopping list, having predicted what you'll need for the week, and added it to your virtual trolley.
You hit one button to check out, and after being reminded of any coming special occasions (need a birthday cake this week?), you're done. Later that day, you tell the store you're about to swing by with one more click in the app and your bags are in your car boot the minute you pull up.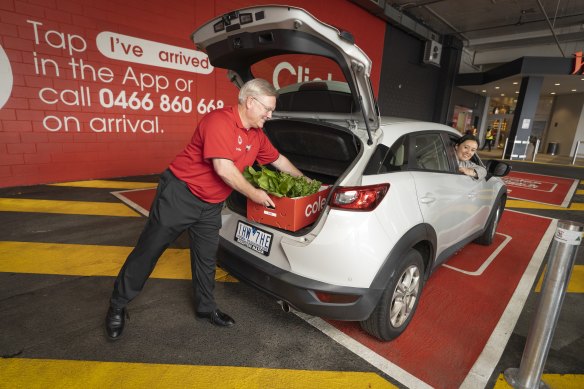 Prefer to go in store? Minimise the time you'll spend playing trolley dodgem cars with other shoppers by planning your run first, logging on to work out what the best value ingredients are for each recipe you're planning that week. If you'd like, pick the most nutritionally sound foods by tracking the exact health value of each item.
If you've interacted with a grocery store lately, you'll know the scenes described above fall short of reality – but they may not be far away.
It's been five years since Amazon first launched its cashierless grocery outlet, Amazon Go, to the public, opening our imagination to the idea of the grocery store of the future, where you never have to interact with a soul.
'[Where] it's all on the app and your list is just downloaded, dynamic to you with the predictive ability to know what [products] you've used – that future is not far away.'

Brad Banducci, Woolworths chief
And despite the rise of the self-serve checkout, the idea that the grocery store of the future boils down to robot stores without staff, or purely online delivery, is holding less and less weight.
"There is no doubt Australian people still like shopping in supermarkets," Coles boss Steven Cain said this week.
Instead, the investments that major grocery operators are making in Australia and overseas point to a future where data and delivery tech blur the lines between in-store and online shopping, making it easier for your food to get to you without you having to think about it.
After three years of supersized e-commerce growth thanks to the pandemic, online grocery sales are stabilising. At Woolworths, e-commerce food sales declined by 7.5 per cent in the six months to December, while at Coles they were down 6.6 per cent.
Nobody believes the digital rush is over yet, though. The return to regular trading conditions has instead given stores the breathing room to roll out their longer-term investments in the digital space.
Asked what the most significant change to grocery shopping will be in the next five to 10 years, Woolworths boss Brad Banducci has two words: "extreme convenience".
The current focus is on making sure customers receive identical service whether they're in the shop, getting groceries placed in their car or on their doorstep. A world where grocery apps play a bigger role in guiding your shopping, and predicting what you need, might not be too far off, he says.
"[Where] it's all on the app and your list is just downloaded, dynamic to you with the predictive ability to know what [products] you've used – that future is not far away."
Here come the bots
Robots are moving into the warehouse at Coles, and boss Steven Cain is upbeat about how they will improve the group's home delivery service.
"I'm hoping it's good," he said of the customer experience that's expected from the retailer's new automated home delivery fulfilment centres in Sydney and Melbourne, "because I'm going to be one of [the customers]."
It's been four years since Coles first announced a deal with British online grocery business Ocado to establish warehouses, run mostly by robots, to service the home-delivery market. Those plans are now inching towards completion.
The company said this week that the Victorian centre was set to ramp up from the middle of the 2024 financial year, with NSW not far behind.
Once up and running, the idea is these sites will help to erase the lingering annoyances of grocery delivery.
"It cures the biggest pain point in home shopping today, which is, 'Did I get everything I ordered, and was it on time?' It's supposed to be a convenience offering, but it's not very convenient, say, if a key product doesn't turn up," Cain said.
The model is also designed to address the pain that comes from not knowing exactly how fresh produce will be when it lands on your doorstep, and how long until it expires.
"The idea over time is [there is] an extended range versus what you can get in a normal supermarket, delivered in full, on time with a guaranteed 'fresh life' on some of the key products, like meat," Cain said.
The past year has marked the demise of grocery shopping apps which, during the COVID era, promised to bring you food in as little as a quarter of an hour.
The major supermarkets aren't buying into the idea that delivery can happen that quickly, but they do appreciate that immediacy and reliability is what shoppers want.
"It's more 'same day' – people want it and want it now," Banducci said, noting that fast turnaround for grocery pick-up and delivery must become even easier for customers.
Despite an overall decline in online grocery delivery sales last half, some Woolies initiatives are growing, such as its Delivery Unlimited subscription, which offers deliveries on same or next-day orders for a monthly fee.
The company's paid subscribers grew 48.2 per cent in the six months to December.
And while instant deliveries might be a stretch, Woolies is promising it can do some jobs in less than 60 minutes – its Metro60 offer has expanded over the past year with a promise of being able to deliver to customers in metro Melbourne, Sydney and Brisbane certain items within the hour.
Knowing the product, knowing the customer
Shoppers of the future are set to know more about their food than ever before, while retailers hope to know more about their customers in a bid to more accurately meet their needs.
"In five years' time, there won't be anything you won't be able to find out about what you're eating, where it came from, and how green it is, what the health components are," Cain said.
Chinese retail giant Alibaba has been a pioneer in this space, building supermarkets designed to be used with an app. Shoppers can scan fresh produce, such as lobsters, to find out where it came from or direct them to other products such as a bottle of wine that would complement a purchase.
In Australian supermarkets, Banducci says there's room for retailers to offer more solutions for shoppers, anticipating what they'll need for recipes and making it easier for them to pick up ingredients in-store.
"That classic, old Australian dish, the spaghetti bol' – you still have to walk up and down to find the pasta here, the sauce there. That will become much, much easier," he said.
Meanwhile, the rise of grocery loyalty programs is giving retailers a greater window into how you shop, and what deals you might be interested in.
Coles and Wesfarmers' Flybuys program and Woolworths' Everyday Rewards memberships now cover millions of households across Australia, and operators are increasingly using past shopping data to work out individual promotions for customers.
Both programs now send personalised specials and deals to their members regularly, using shopping data to anticipate a customer's needs and interests.
"We combine information about how, when and where you like to shop, the products you buy, whether you prefer in-store or online shopping, and more," Everyday Rewards tells its users, highlighting that it can send offers based on a member's favourite or most frequently bought items.
"We may recommend items related to what you or others with similar interests would usually buy, and if you engage, we may send you similar offers again."
Steven Cain told analysts at an earnings briefing this week that the personalised approach was a winner. He said Coles had introduced Flybuys member pricing on some items recently, as well as putting a focus on individually tailored offers, which in turn was driving greater use of the loyalty program.
"It's never been more important from a customer perspective," he said.
Source: Thanks smh.com