Hotel industry bracing for busy time amid $2.2b of sales
Hotel investors are booking in large deals with sales of prominent properties reaching $2.14 billion in 2022 – the second-highest transaction volume on record and there is significant additional equity capital still on the sidelines.
One of the larger deals is the upcoming sale of the property that is the home to the popular InterContinental Double Bay in Sydney's upmarket eastern suburbs.
It is being sold by CBRE and Colliers on behalf of joint venture owners Fridcorp and Piety Group. Built in 1991 and originally launched as The Ritz-Carlton, the Bates Smart-designed 140-room hotel has been managed by IHG Hotels & Resorts for the past eight years.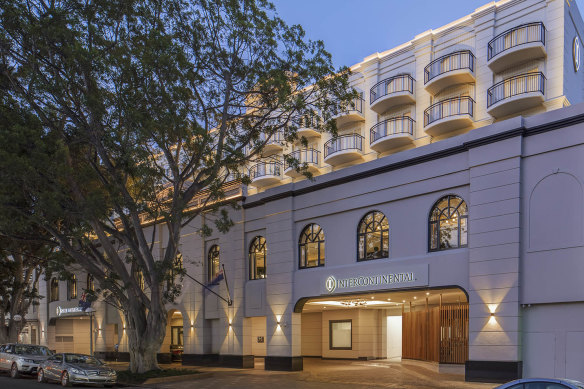 The sale comes as the hotel sector was one of the hardest hit by the global pandemic when all were forced to close or be used as quarantine stations.
But with the re-opening of the world, it's bounced back and is now one of the busiest segments of the economy.
CBRE's Australian head of hotels research Ally McDade said, an expected stabilising of conditions as the year unfolds should see capital markets benefit from greater investor certainty.
"While a high inflation and interest rate environment will place upward pressure on yields and IRR (internal rate of return) expectations, improving tourism demand fundamentals and impressive performance indicators are likely to cushion any impact of higher credit-funding costs," McDade said.
Last year's hotel sales tally tracked 53 transactions valued at over $10 million – a record number of deals, which was 39 per cent above the 10-year average.
That momentum has continued into 2023 with the recent sale of the first Australian Waldorf Astoria hotel to mining billionaires Nicola and Andrew Forrest's private Tattarang property company's Fiveight. CBRE jointly negotiated the Sydney transaction, setting a new Australian record for a single-asset hotel sale.
The global head of Real Assets Research at MSCI, David Green-Morgan, said of the total sales across the Asia Pacific, worth about $3.4 billion, metropolitan markets accounted for 75 per cent of total volume.
He said international travel has been difficult for the past few years and so domestic travel surged, particularly to regional locations as a result investors took advantage of this trend and increased their allocations to regional hotels.
CBRE's report also tracks the demand drivers and development outlook for the Australian hotel sector.
CBRE regional director, hotel valuations, Troy Craig added that even with a recovery in Australians departing for overseas, domestic travel continues to drive the Australian tourism industry.
Domestic travel nights are now at or surpassing pre-pandemic levels in Queensland, South Australia, Western Australia and Tasmania and spending in these states is up about 40 per cent on pre-pandemic levels.
"This is benefitting Australia's gateway cities of Sydney and Melbourne, which recorded the strongest year-on-year growth rates, in relation to both average daily rate (ADR) and occupancies aided by a recovery in corporate travel and international travel," Craig said.
CBRE is forecasting that ADR growth will moderate over 2023, although Craig said most city markets were still expected to post gains as operators maintain strong rate policies in favour of returning to pre-pandemic occupancy levels.
Source: Thanks smh.com