Billionaires, trucks and newspapers: Behind the Twiggy, Stokes stoush
Andrew 'Twiggy' Forrest is fed up. This is probably the only fact that isn't disputed about the high-profile fight between the Perth billionaire and media mogul Kerry Stokes, which became public in mid-February when Forrest aired his grievances in a video to staff.
"You know me well enough to know that I do not pull my punches," the Fortescue Metals Group (FMG) executive chairman said in the video. "Everyone loves positive disruption and improvement in technology and in society, except perhaps when it happens to them. This, I believe, is the case and what has inspired the biased inaccurate reporting of The West."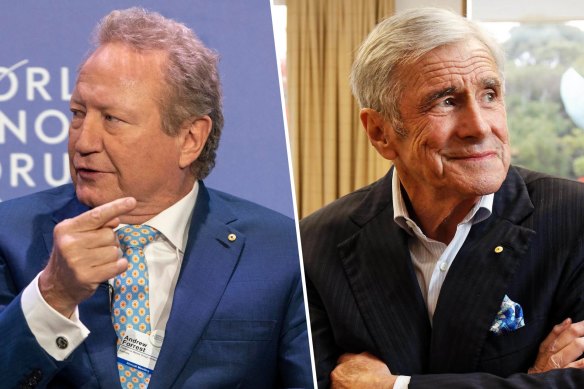 Needless to say, the video was leaked almost immediately. If Forrest is to be believed, the war began in June when he signed a deal to sell "emissions-free" Liebherr trucks used in mining and construction. Stokes, who controls conglomerate Seven Group Holdings, also happens to be the WA dealer for rival truck company Caterpillar.
Others think tensions rose over a disagreement in December, which led to the collapse of an East Perth power station joint venture. Then there are those inside The West who claim the increased coverage and criticism of Forrest was sparked by the exit of one of Perth's most high-profile figures, Andrew Hagger, a former NAB executive who ran Forrest's philanthropic arm, Minderoo Foundation, and his family office, Tattarang. His departure, which came months after the departure of FMG chief operating officer Greg Lilleyman's exit, lead The West Australian's editor-in-chief Anthony De Ceglie to scrutinise Fortescue's business operations.
Ultimately, it doesn't matter what started it. The more pressing issue is Forrest's accusation that Stokes – whose Seven Group controls Channel 7 and The West – used his newspapers to discredit Fortescue for personal gain. It's hard to think of a higher-profile Rich Lister fight, one that is, thanks to a letter of complaint from FMG to Communications Minister Michelle Rowland, also officially on the government's radar.
Stokes casts a long shadow in WA: as well as owning much of the commercial media in the state, he controls a bunch of regional newspaper assets. His other business interests – equipment hire business Coates, Caterpillar dealer WesTrac, and lighting towers and pumps supplier Allight and Sykes – are tied to WA's massive resources industry.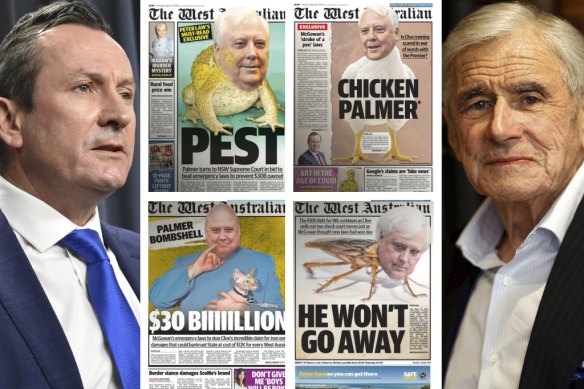 He is also friendly with key politicians. When TV personality Basil Zempilas, who began a long career with Seven as a reporter back in 1994, decided to run for mayor of Perth, an endorsement by The West ran on page one. A defamation case last March revealed the mutual admiration shared by West Australian Premier Mark McGowan and Stokes.
The texts reveal the premier gave Stokes a heads-up that Labor was introducing legislation to block billionaire Clive Palmer's compensation claim over a stalled Pilbara iron ore project (it was sent a minute before the law was introduced on August 11, 2020). A series of West Australian front pages in subsequent days depicted Palmer as the fictional character Dr Evil, as well as a cane toad and a cockroach.
"Mark, well done," Stokes texted. "I think no one else could have achieved that legislation in the speed you did. Reckon the insect heads should make a Telethon sales item. People are with you!" McGowan thanked Stokes and described the front pages as "marvellous".
And for much of 2020, The West flattered McGowan and his government, even depicting him as a superhero dubbed 'Captain Westralia' after the budget that year.
For his part, Seven Group chief executive Ryan Stokes, who is Kerry Stokes' son, said there was no editorial interference in Seven West Media, including The West. He also denies that the feud has anything to do with Forrest's decision to buy alternative trucks (others inside Seven say there is no feud at all).
De Ceglie told ABC program Media Watch two weeks ago: "Everyone is focusing on the individual billionaires versus billionaire aspect … but in reality we have a massive $69 billion mining company upset because it doesn't like the reporting of facts or news. Fortescue Metals Group is behaving in the manner that should be a concern to anyone who … believes in journalism without fear or favour."
Forrest's core argument is one of bias. Proving that is difficult and subjective. The answer isn't as simple as what stories ran or how many appeared over a certain period (those numbers aren't anything unusual). It is more likely to lie in what stories never appeared, which ones were buried in the back pages of the print edition, and the behind-the-scenes relationship between journalists and Forrest's communication advisers.
But none of this can be analysed without important context: De Ceglie is known for going hard on issues that matter to him (his journalists won a Walkley for a previous investigation into sexual harassment and assault in WA mines). The articles needed to also consider the financial performance of FMG, and the events or exits that have taken place over the period.
So, did Forrest have a fair point?
The West published 49 articles predominantly focused on Forrest between June 2022 (when he signed the deal with Liebherr) and mid-February, when the video was released. Between December 2022 and mid-February (when Forrest claimed the dispute ramped up), The West published 20 articles. That's an average of about 5 stories per month between June and December, and an average of about eight in the period between December and mid-February.
The Australian Financial Review and The Australian published 16 articles in that same period, while The Sydney Morning Herald published eight about Forrest and his businesses. Obviously, a West Australian-focused publication would devote more attention to Forrest than the others whose audiences are concentrated on the east coast (his company employs about 20,000 in the state).
While the numbers aren't particularly unusual, the content is different.
Analysis of the articles that appeared in The West between December and February shows most of them cast Forrest or his businesses in a negative light. A number of stories – specifically those with a focus on overseas projects – were not covered by other publications including The Australian Financial Review, The Australian, or this masthead.
There was merit to a number of these stories – specifically the abrupt exit of FMG's chief financial officer, Ian Wells, the collapse of an agreement between Mike Cannon-Brookes and Forrest over Sun Cable, and a financial results story, most of which were covered by newspaper rivals. A major sexual harassment case where FMG was charged with failing to supply documents related to 34 cases and mass redundancies at Fortescue was also newsworthy, particularly given The West's broader coverage of sexual assault allegations at West Australian mine sites over the past few years.
A story about Forrest's investment in the troubled cosmetics business BWX was brought into the news pages of The West. Forrest's investment in BWX is 1 per cent of his total investment portfolio. The interest in the failure of BWX is a story worth reporting, but is it more important than the largest green energy transaction in Australian history? Apparently so. A piece about Forrest's $4 billion acquisition of CWP Renewables ran on page 47 of The West Australian, but ran on page one of The Australian Financial Review and The Sydney Morning Herald and led The Australian's business section.
The West Australian isn't a business publication. Yet it ran a story about a memorandum of understanding on page one. A story which The West was told had been reported previously about FFI abandoning green energy plans in Afghanistan, which alleged hypocrisy in Forrest's work on reducing slavery, was on page two on Christmas Eve. Forrest's "people problem" also ran on page one and the sexual harassment case also did – but used the words "sex assault charges" (which FMG says was factually inaccurate). The West's results coverage ran on page one and pages eight and nine, but BHP and Rio's results coverage ran on pages 37 and 23 respectively.
And what wasn't covered? An article that ran in The Australian about Forrest's philanthropic arm calling for a plastic tax, or Forrest's investment in an AI tech firm, which ran in the Australian Financial Review.
Forrest's team claimed there were other issues too: tight deadlines, a refusal to change the facts, and a decision not to run a letter to the editor, which Fortescue sent in response to an editorial defending news coverage (The West said it did not make the print deadline).
The West declined to comment beyond the statement provided to the ABC. But privately, it won't deny it has been critical of Forrest. It argues the stories are based on merit and are in the public interest because one of Australia's richest people deserves scrutiny. It's worth pointing out that Forrest also took no issue with Stokes' other media asset, Seven Network, and its coverage.
News reporting is not simple. On any given day, an editor will have a different view on what is important or takes priority over another story. They will also commission stories from reporters based on ideas. Placement of these stories is usually decided by a group of editors that meet in newsrooms to discuss the day's topics.
A refusal to work with Fortescue or correct errors (which Forrest claims and De Ceglie denies) would be a more worrying sign there is merit to Fortescue's argument. The tricky part is that The West Australian is its own adjudicator on complaints – it is not a member of the Press Council – so only it decides whether a complaint is valid.
Irrespective of his thesis, the concentration of media ownership in Western Australia – and whether it ultimately determines coverage – is of interest. But will Forrest's complaints change media ownership or future coverage? That's very unlikely.
The Business Briefing newsletter delivers major stories, exclusive coverage and expert opinion. Sign up to get it every weekday morning.
Source: Thanks smh.com