Rio's digs deep for copper to power green energy technologies
Oyu Tolgoi, Mongolia: Mining giant Rio Tinto is muscling itself into a position of global dominance in copper production, a key base metal in the world's transition to green energy, as it ramps up output from its enormous Oyu Tolgoi copper mine in Mongolia's remote Gobi Desert.
The Anglo-Australian miner is pressing ahead with underground extraction, sinking kilometre-deep shafts into the Mongolian desert to mine the huge amounts of copper needed to satisfy demand for green energy technologies as nations rush decarbonise their economies.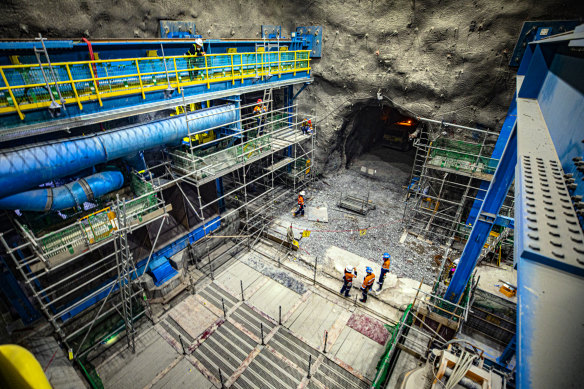 After settling its long-running differences with the Mongolian government, the miner on Monday began increasing production of copper concentrate from underground ore bodies at Oyu Tolgoi, a milestone that will eventually reach peak production of the critical mineral with 500,000 tonnes a year, making it one of the world's largest copper mines.
"We are starting underground production 1.3 kilometres beneath the remote Gobi Desert from an ore body that will be critical for global copper production and Mongolia's ongoing economic development," Rio boss Jakob Stausholm said.
Rio has been extracting gold and copper from the mine's open-cut operations since 2012, but is now proceeding with the more technically challenging task of extracting the mineral from deep underground, unlocking the most valuable part of the mine.
Rio's underground prospect has been beset by a series of long delays and cost blowouts since construction began in 2019, compounded by a long-running dispute with the Mongolian government that ended last year when Rio waived a $US2.4 billion ($3.6 billion) in debt owed by the government. The mine's expansion was first anticipated to cost $US5.3 billion but is now forecast at $US6.92 billion.
'You cannot address climate change without having at least three buckets of materials. One is copper.'

Jakob Stausholm, Rio chief executive
Since taking control of the mining giant two years ago, Stausholm has made expanding the mine's underground operations a key priority. "It has been two years of negotiations. The first year was about resetting the relationship with the government," he said.
The miner will dig below some of the highest grade ore using "block-carving" techniques, collecting the falling mineral which is then transported by conveyor to the surface for processing. Oyu Tolgoi is expected to produce about 500,000 tonnes of copper a year on average from 2028 to 2036 from its open pit and underground mines. Copper is a key base metal for the global transition to a low-carbon economy, critical for electrification and clean energy infrastructure. Rio's mine will provide enough of the metal to produce about 6 million electric vehicles annually.
Turning on the mine's underground capacity follows the company settling its $US3.1 billion acquisition of Canadian-based Turquoise Hill, which had a stake in the mine, in December last year, simplifying its ownership and strengthening its copper portfolio. Rio now holds a 66 per cent direct interest. The remaining 34 per cent is owned by the Mongolian government through Erdenes Oyu Tolgoi.
Stausholm said the mine would eventually produce about 2 per cent of global copper output. Current production is running at 130,000 tonnes a year.
"You cannot address climate change without having at least three buckets of materials. One is copper, the other is aluminium, and the third is battery materials," he said.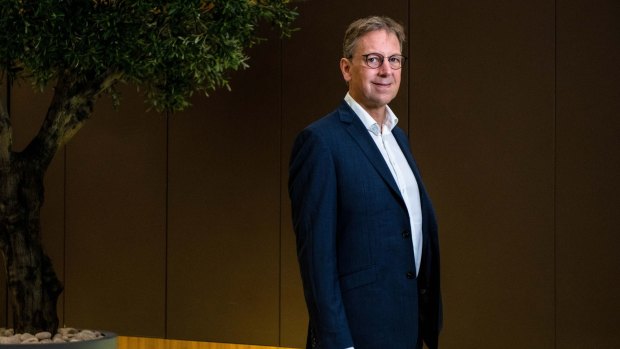 The mine's huge energy needs, equivalent to about a quarter of Mongolia's production capacity, are dependent on electricity and diesel from neighbouring China. Stausholm said he did not consider the mine's dependence on energy from China a major risk.
The Asian economic powerhouse consumes more than half of global copper output. "We have been in difficult locations for a long period of time," he said. "We have a very big business into China. Mongolia is geographically very close to China, and that's where we are selling the copper concentrate," he said.
Rio's purchase of power from China may be offset in the future by an agreement to source energy from the Mongolian grid, but Stausholm said Rio was also intent on expanding renewable energy generation for the mine.
"We have not built a coal-fired power plant and that means that there is optionality, and we are exploring that closely with the government," he said.
Oyu Tolgoi's expansion is seen as one of Rio's most important growth projects. It's a key plank in the mining giant's ambition to diversify away from iron ore and push deeper into minerals that will be increasingly needed in a low-carbon economy, such as copper and lithium.
The reporter travelled to Mongolia as a guest of Rio Tinto.
The Market Recap newsletter is a wrap of the day's trading. Get it each weekday afternoon.
Source: Thanks smh.com