$81 billion Credit Suisse bailout stems ASX losses
Here's your five-minute guide to the trading day and how the experts saw it.
The Australian sharemarket managed to claw back some of its losses after plunging at the open on Thursday as a fresh banking crisis – this time at global giant Credit Suisse – sent jitters across the global banking sector.
The numbers:
After sinking more than 2 per cent this morning and wiping more than $40 billion from the index, the S&P/ASX 200 closed down 1.5 per cent, or 103.4 points, to 6965.5 points, weighed down primarily by energy and materials stocks.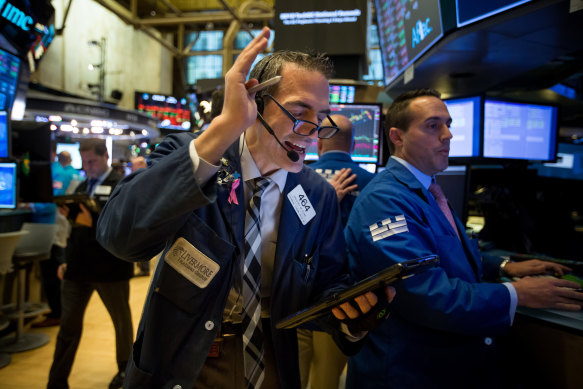 The lifters:
Liontown Resources was the day's greatest gainer, rising 4.5 per cent, followed by gold miner St Barbara and Auckland International Airport (AIA), up 4.4 per cent and 2.8 per cent respectively. Healthcare stocks were the lone bright spot on the bourse today, with the sector up by 1.5 per cent.
The laggards:
Intellectual property services company IPH was the biggest loser, sinking 10.6 per cent, with Fletcher Building and Coronado Global Resources also at the bottom of the pack, down 7.4 per cent and 7.1 per cent respectively.
Other than healthcare and communication services (which lifted 0.4 per cent), every sector of the ASX2 00 finished in the red. Each of the four banks declined, with Commonwealth Bank sliding 0.1 per cent, NAB down 1.7 per cent, Westpac losing 2.1 per cent and ANZ declining 2.5 per cent.
The lowdown:
The latest concerns around Swiss investment banking giant Credit Suisse following the collapse of Silicon Valley Bank last Friday and general uncertainty about interest rate rises have made investors uncertain, keeping volatility lingering in global markets, said SG Hiscock & Company portfolio manager Hamish Tadgell.
"It is not surprising given the aggressive and co-ordinated tightening we have seen over the last 18 months that we are starting to see some things break," he said.
Long-brewing troubles at Credit Suisse exploded into a full-blown crisis overnight as its stock and bonds cratered and some of the world's biggest banks raced to shield their finances from the potential fallout. It added to concerns driven by the second- and third-largest bank failures in US history that occurred over the past week.
"Events such as those in the US can quickly undermine confidence and be very dangerous. Swift regulatory action and oversight like we have seen is critical in managing potential contagion risk and confidence. It is also an important alarm to the risks and vulnerabilities when financial conditions and credit spreads change as quickly as they have," said Tadgell.
"The risk something more serious breaks in raising rates versus the risk of not getting on top of inflation is an increasing dilemma for central banks."
Market heavyweight BHP weighed the bourse down, sliding 4.8 per cent to $43.39 amid news the world's largest miner could face a $65 million damages bill if it loses a London class action lawsuit over its role in the deadly collapse of a Brazilian dam.
Financial services firm Latitude entered a trading halt after revealing a cyberattack had led it to believe 328,000 customers' identification documents had been stolen from a service provider used by the company.
Investors in Qantas didn't appear pleased with its move to extended the expiry date on $800 million in unused flight credits for a third time. Customers had until the end of the year to use up the travel credits, but this has now been extended to the end of 2024 so long as the trip is booked by December 31, 2023. Qantas' share price finished down 1.9 per cent.
On Wall Street overnight, the S&P 500 closed 0.7 per cent lower after earlier shedding 2 per cent, while markets in Europe fell sharply as shares of Switzerland's Credit Suisse tumbled to a record low. The Dow Jones lost 0.9 per cent and the Nasdaq gained 0.1 per cent.
Credit Suisse has been fighting troubles for years, including losses it took from the 2021 collapse of investment firm Archegos Capital. Its shares in Switzerland tanked by more than 25 per cent after reports that its top shareholder won't pump more money into its investment.
Quote of the day:
"The answer is absolutely not, for many reasons outside the simplest reason, which is regulatory and statutory," said chairman of the Saudi National Bank Ammar Al Khudairy – the largest Credit Suisse investor – who triggered a crisis after being asked if it would tip more money into the bank.
Tweet of the day:
You might have missed:
Star Entertainment Group's leadership has secured a bit of breathing room after completing an $800 million capital raising from retail and institutional shareholders in the face of a bleak outlook for the country's second-biggest casino group.
The wagering giant announced on Thursday it had raised $203 million from retail shareholders at $1.20 a share, after securing $595 million from institutional shareholders earlier this month.
The Market Recap newsletter is a wrap of the day's trading. Get it each weekday afternoon.
Source: Thanks smh.com