US giants put together $45b rescue package for small bank
By
Gillian Tan

,

Hannah Levitt

,

Sridhar Natarajan

and

Saleha Mohsin
The US's biggest banks agreed to deposit $US30 billion ($45 billion) with First Republic Bank in an effort to stem the turmoil that's sent depositors fleeing from regional banks and shaken the country's financial system.
JPMorgan Chase & Co., Bank of America, Citigroup and Wells Fargo & Co. will contribute $US5 billion of uninsured deposits each, while Goldman Sachs Group and Morgan Stanley will kick in $US2.5 billion apiece, according to a statement on Thursday. Other banks will deposit smaller amounts.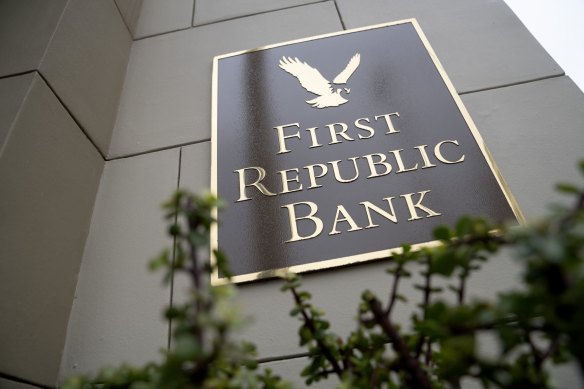 "This action by America's largest banks reflects their confidence in First Republic and in banks of all sizes," the banks said in the statement. The consortium cited the outflows of uninsured deposits at a small number of banks following the collapse of Silicon Valley Bank and Signature Bank.
First Republic has been exploring strategic options including a possible sale, Bloomberg News reported late Wednesday. The lender's shares have plummeted in the aftermath of regulators' seizure of fellow regional lenders Silicon Valley Bank and Signature Bank over the past week.
"This show of support by a group of large banks is most welcome, and demonstrates the resilience of the banking system," US Treasury Secretary Janet Yellen, Federal Reserve Board Chair Jerome Powell, Federal Deposit Insurance Corp. Chairman Martin Gruenberg and Acting Comptroller of the Currency Michael Hsu said in a joint statement.
Also contributing deposits are PNC Financial Services Group Inc., Bank of New York Mellon Corp, Truist Financial Corp., US Bancorp and State Street Corp., which will each put in $US1 billion.
"This unprecedented private sector collaboration is a powerful step to bolster liquidity and reflects our confidence in the critical role of regional banks in our economy and across the communities we serve," Truist chief executive officer Bill Rogers said in an emailed statement.
Shares of First Republic swung wildly on Thursday, plunging as much as 36 per cent early in the day, then surging as much as 28 per cent midday after details of the emerging plan were first reported. The stock closed up 10 per cent and then slipped in extended New York trading after the bank announced it was suspending its dividend.
First Republic, which specialises in private banking and has built up a wealth-management franchise with some $US271 billion in assets, has made an effort to differentiate itself from SVB Financial Group's Silicon Valley Bank. Unlike SVB, which counted startups and venture firms among its biggest clients, First Republic said that no sector represents more than 9 per cent of total business deposits.
Silicon Valley Bank collapsed into FDIC receivership Friday after its customer base of tech startups grew concerned and pulled deposits.
First Republic Chairman Jim Herbert and CEO Mike Roffler said in a statement that the banks' "collective support strengthens our liquidity position, reflects the ongoing quality of our business, and is a vote of confidence for First Republic and the entire US banking system."
As of Wednesday, First Republic had a cash position of about $US34 billion, not including the deposits from the banks. The deposits have an initial term of 120 days at market rates, First Republic said. Since close of business on March 9, First Republic has increased short-term borrowings from the Federal Home Loan Bank by $US10 billion at a rate of 5.09 per cent, the company said.
First Republic said it's "focused on reducing its borrowings and evaluating the composition and size of its balance sheet," and will suspend its stock dividend while it recovers.
First Republic has been working with JPMorgan as it tackles its challenges. On Sunday, the same day Signature Bank was taken over by regulators, First Republic said it "further enhanced and diversified its financial position" by securing additional liquidity from the Federal Reserve and JPMorgan.
"The effort by the federal government to bring together the banking sector, including US Bank, speaks to the strength of the overall financial system," said a spokesman for the Minneapolis-based lender.
Bloomberg
Source: Thanks smh.com