Bitcoin has bounced amid market turmoil
Cryptocurrencies such as Bitcoin have been unexpected winners amidst the tumult that has kneecapped the traditional finance sector.
Bitcoin's value has rebounded more than 50 per cent this year following a dire 2022 where the cryptocurrency sector was hit by risk aversion, rising interests rates, and the collapse of crypto exchange FTX.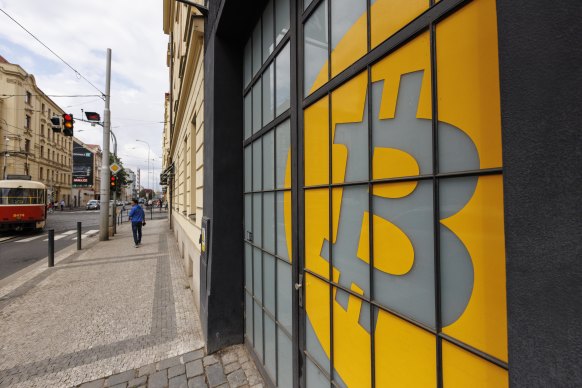 eToro analyst Josh Gilbert, said Bitcoin has gained 55 per cent this year making it one of the best performing asset classes.
While the failure of Silicon Valley Bank, Signature Bank and Silvergate – as well concerns about Credit Suisse – rattled global markets, Bitcoin, has defied the odds. It rose from $US20,101 on the Friday before the bank failures to more than $US27,000 this weekend.
"If investors feel uneasy about centralised banking systems, they will turn to decentralised assets such as Bitcoin or ethereum. Whilst banks faced issues, Bitcoin did its thing, settling transactions in seconds, and allowing investors access to their capital at any point," Gilbert said.
Others have also warmed to the theme.
"An environment where higher interest rates after a period of hyper-low interest rates are creating bank runs is about as perfect a Bitcoin use-case as one can think," Stephane Ouellette, chief executive of Canadian trading platform FRNT Financial, told Bloomberg.
Still, the currency is trading at less than half of what it was a year ago. And is well down on the $US64,000 levels it reached in 2021.
Gilbert said that the rise in investor appetite for crypto was being driven by an increasingly benign outlook for interest rates, following the recent banking chaos.
"Inflation and interest rate expectations continue to fall, a positive for risk assets such as Bitcoin. The inflation fight isn't done, but it is moving in the right direction, and investors recognise an opportunity with Bitcoin, given the asset was so heavily depleted last year."
Keith Parker, the UBS global and US equity strategy head, sees it as part of a broader theme with the 50 basis point fall in the 10-year US Treasury yield having a positive impact on yield sensitive assets, not just crypto. "You've seen gold amongst the best performing assets over the last week and a half, and gold is very sensitive to yields and real yields," he said.
"The potential resilience in crypto can be extrapolated to those similar characteristics of sensitivity to real yields that have come down quite a bit. What we've [also] seen play out underneath the surface is just a massive rotation out of economically sensitive sectors, and into more defensive, and tech, and growth, sectors."
Investors have also announced plans to raise $US100 million for a Bitcoin-focused fund focusing on fresh opportunities in the blighted sector. With scandals like FTX continuing to rock the crypto market, distressed assets are a big part of the appeal for what has been dubbed The Bitcoin Opportunity Fund.
The new fund has been looking at buying up debt belonging to publicly listed Bitcoin miners that have been trading for "pennies on the dollar," one of the funds managing partners, James Lavish, said.
The Business Briefing newsletter delivers major stories, exclusive coverage and expert opinion. Sign up to get it every weekday morning.
Source: Thanks smh.com