Wesfarmers takes a shine to carbon storage
Wesfarmers' retail businesses – Bunnings, Kmart and Officeworks – may be relying on renewable power to hit net zero by 2030, but the conglomerate's low-profile chemical business is banking on carbon capture and storage technology to reach the same goal by 2050.
The core of the Wesfarmers Chemicals, Energy & Fertilisers (WesCEF) business is a plant in the Kwinana industrial area south of Perth that turns gas into ammonia to make fertiliser, explosives and chemicals to process gold and nickel.
The business posted $3 billion of revenue and earnings before tax of $540 million last financial year – more than any other Wesfarmers division apart from its retail powerhouse Bunnings.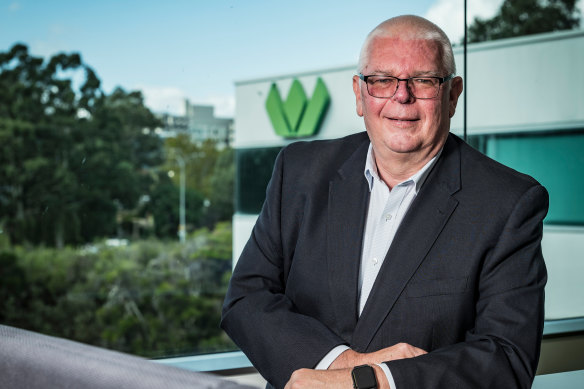 WesCEF managing director Ian Hansen said he has to import 300,000 tonnes of ammonia a year to supplement the 270,000 tonnes a year produced in Kwinana. Supply chain interruptions and soaring commodity prices have made bringing production in-house more attractive, but it would come at a cost to Wesfarmers' carbon emissions.
A planned second ammonia plant would emit 540,000 tonnes a year of carbon pollution, adding to WesCEF's current footprint of 800,000 tonnes a year, which makes up about 60 per cent of the conglomerate's current emissions.
Whether that is a good or bad thing depends on how carbon is accounted for.
Most companies focus on scope 1 emissions directly from their activities and scope 2 emissions from power purchases. Companies have less control over their scope 3 emissions associated with the goods they buy and the use of the products they sell.
"It really doesn't change the global balance of carbon dioxide in the short term because all we're doing is switching from scope 3 to scope 1," Hansen said of the proposed expansion.
The proposed investment, which is due to be decided in late 2024, actually could be a net benefit as its more modern technology is likely to be less emission-intensive than the plants selling ammonia to WesCEF now.
Emissions from the existing ammonia plant have already been cut by about 700,000 tonnes of CO2 equivalent a year by catalysts that turn nitrous oxide – the third-most important greenhouse gas after carbon dioxide and methane – into harmless nitrogen and oxygen.
"Carbon capture and storage is probably the most obvious answer to dealing with carbon dioxide emissions," Hansen said.
The chemical reaction to produce ammonia produces most of the emissions, and this pure stream of carbon dioxide is easier to capture and store than carbon dioxide from burning fossil fuels.
WesCEF's product would be classified as blue ammonia if a significant amount of its emissions are dealt with by CCS.
Hansen said WesCEF is discussing with other industries in Kwinana pooling their emissions to support a pipeline to a carbon storage site.
The favoured location is Dongara, 350 kilometres north of Perth, where WesCEF and Mitsui are investigating carbon storage in depleted gas fields operated by Mitsui as well as building an ammonia plant together.
Hansen said alternatives to burying the CO2 in old gas fields, such as mineral carbonation, where the pollutant chemically combines with rocks, are under consideration.
"We don't want to pre-empt technological changes over the next three to five years by committing to just a single course of action," he said.
Whether customers are willing to pay a premium for lower-emission blue ammonia and products made from it will factor into Wesfarmers' decision on investing in a second ammonia plant.
The problem of understanding a market that is yet to exist is shared by Andrew Forrest's Fortescue, which promotes the emissions-free alternative of green ammonia made from water and renewable energy.
"What we are doing is we're trying to set ourselves up so we have a fundamentally robust project including a pathway to net zero," Hansen said.
The Business Briefing newsletter delivers major stories, exclusive coverage and expert opinion. Sign up to get it every weekday morning.
Source: Thanks smh.com