Scandals put Downer EDI at risk of break-up
When Aidan Cox, a project engineer, sat in the witness box at a NSW Independent Commission Against Corruption hearing this past week, he dobbed in one of the country's most boring but civically important listed companies, Downer EDI, for having a corruption problem.
And not just a low-level corruption problem but one that in his opinion was "systemic".
Cox, a subcontractor, is one of about a dozen individuals, including at least six former Downer staff, who have been accused by the ICAC of either rigging contracts, inflating bids, fraud, bribery and kickbacks. Those accusations relate to a range of rail maintenance contracts that were awarded by the NSW government to Downer (and by Downer to subcontractors).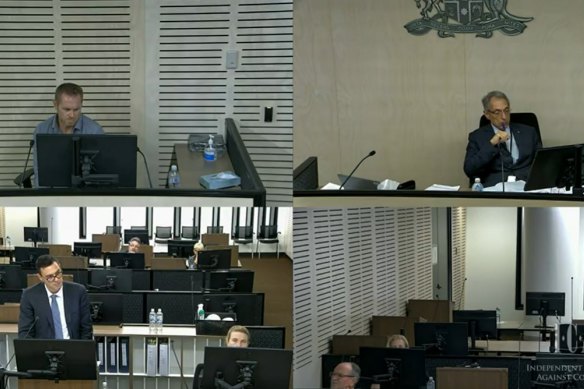 The ICAC investigation as it has unpicked these contracts has, within a few weeks, laid bare a culture of complacency and poor corporate governance at Downer, where the company failed to identify the shady behaviour going on under some of its top executives' noses.
"One of the biggest factors in allowing fraud and corruption to occur in companies is either poor controls or lack of oversight of those controls," says Chris Watson, a partner in Grant Thorton's forensic consulting team.
In some examples, ICAC outlined where subcontractors had lined their pockets by inflating the price for work on a number of the government contracts awarded to Downer, while the company lost money on them.
That Downer lost money on some contracts, while subcontractors made money, should concern shareholders who might want to question Downer's management about it at the next annual meeting, if there is one. The company's poor earnings and weak share price performance has sparked speculation that it could be ripe for a break-up by private equity.
In the past three months, Downer has issued two profit downgrades, and its shares have lost almost half their value in a year, reducing its market cap to $2.3 billion.
The decline in Downer's shares began well before the ICAC hearings commenced this month.
Last December, Downer revealed it had "accounting irregularities" in one of its power maintenance contracts and this may have led it to overstate its profits by as much as $40 million.
It prompted Fitch to place the company's ratings outlook on a negative watch, which placed further pressure on Downer's shares.
In Downer's annual report, investors were warned of the risk to any adjustment to the company's rating. "Where the credit rating is lowered or placed on negative watch, customers and suppliers may be less willing to contract with the group. Furthermore, banks and other lending institutions may demand more stringent terms [including increased pricing, reduced tenors and lower facility limits] on all financing facilities, to reflect the weaker credit risk profile."
In a statement, the company said that it "remains in compliance with all financial covenants". At the end of December, Downer's net debt to EBITDA ratio was at 2.3 times, which sits within the company's target range of 2-2.5 times, and anything below three times is generally considered ok. This ratio of leverage is a measure that shows how many years it would take for a company to pay back its debt. When asked about its interest cover ratio, which measures how easily a company can pay interest on its outstanding debt, Downer declined to comment other than to say it was meeting its financial covenants.
'One of the biggest factors in allowing fraud and corruption to occur in companies is either poor controls or lack of oversight of those controls.'

Chris Watson, partner Grant Thornton
By February, Downer had a report from an external investigation into the accounting irregularities relating to the power contract, which revealed that the overstatement of profits between April 2020 and June 2022, was $22.2 million rather than the $40 million feared. In a statement to the ASX on February 27, the management and board said: "Downer is confident that the misreporting was specific to the contract and not replicated elsewhere."
In other words, an isolated incident.
But it wasn't. By early March, ICAC had revealed that there were problems in rail maintenance contracts from 2014 and 2020 involving the company. A Downer spokesman said the company only learnt of the ICAC investigation and operation on March 1, before it was made public the following day.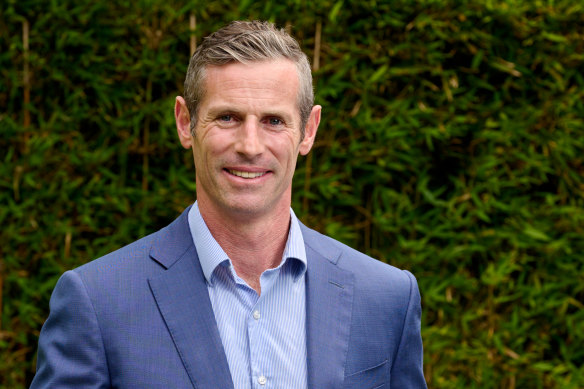 With more scandals emerging, Downer shareholders began demanding significant change at the top of the company, which led to the retirement of the chairman, the resignation of the chief financial officer and the departure of another two board directors. Some mid-level staff who were the subject of the ICAC investigation also exited.
Downer's chief executive, Grant Fenn, who held that role for 12-and-a-half years, had already flagged his retirement in December, and then stepped down in February. He was succeeded by the company's chief operating officer, Peter Tompkins, who is now embarking on a turnaround and cost-cutting program.
Tompkins was Downer's company secretary and general counsel when the company settled a class action in 2016 brought by shareholders concerning the group's disastrous $3 billion Waratah train project for the NSW government.
The class action brought in the Supreme Court of Victoria heard that Downer knew a blow-out of costs and delays had put the project 12 months behind schedule and $117 million over budget more than a year before telling the market of its troubles with the contract.
---
Downer employs 33,000 people across Australia and New Zealand, and does mundane work that is important to most people's daily lives. It has three divisions: transport, utilities and facilities, which in the event of a takeover would most likely be split up and sold off.
The transport division is contracted by local, state and federal governments to do work that includes maintaining more than 50,000 kilometres of roads for governments here and in New Zealand, by doing jobs such as resurfacing and fixing potholes. Downer also manufactures train cars, maintains them, and also looks after the tracks and facilities at platforms from ramps, lifts, fences, and even landscaping.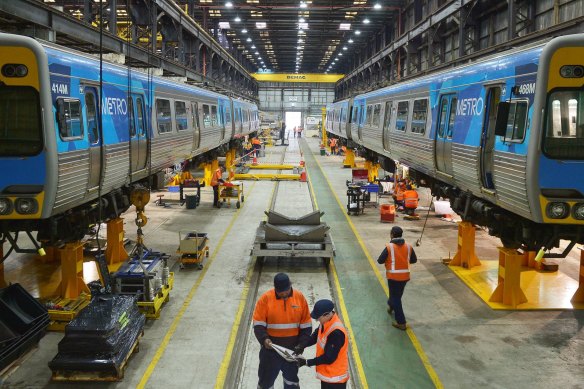 In February, despite its woes, Downer was named the preferred supplier by the Queensland government to deliver its $7 billion train program, which includes 65 trains and related infrastructure.
In its utilities business, Downer has contracts with power, telecommunication and water companies. For example, it has contracts to provide the maintenance and decommissioning of power and gas stations, and it does work for the NBN, looking after the latter's network performance and sites.
In its facilities business, Downer has contracts for work that includes cleaning and mowing for large government departments, including defence, health and education.
On a sum of the parts basis, those divisions are worth more separated than together under the Downer umbrella. And this is why there has been talk of a potential break-up.
"There has been a lot of talk around that potentially there could be suitors circling," says Fitch analyst Kelly Amato, but adds such discussion was before changes were made at board and management level.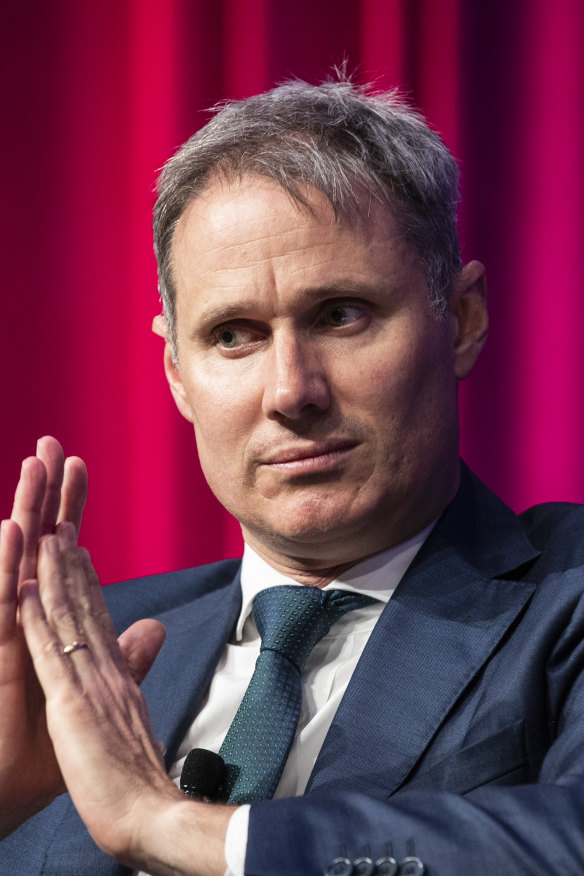 JPMorgan's analysts calculate that Downer's transport division is worth $2.27 billion based on a sum of the parts' valuation. Whereas, UBS, a long-term adviser to Downer, has a much lower valuation of $1.39 billion. Either way, that transport business is worth half or almost all the market capitalisation of Downer at the moment. While JP Morgan values the facilities business at $2.2 billion, UBS says it's worth $2.81 billion.
Simon Mawhinney, the chief investment officer at Allan Gray, which has a 7 per cent stake in Downer, would prefer that there is no split up of the group. "If the company, culturally, could set itself on a more sustainable path, I think shareholders are probably better off with management turning the company around the good old-fashioned way, rather than spinning it off and cutting it up into bits and pieces. But it's hard to know what the future holds."
The Business Briefing newsletter delivers major stories, exclusive coverage and expert opinion. Sign up to get it every weekday morning.
Source: Thanks smh.com