Andrew and Nicola Forrest donate $5 billion in Fortescue shares
Andrew "Twiggy" Forrest, Australia's richest man, and his wife Nicola have donated 220 million Fortescue shares worth nearly $5 billion to their philanthropic foundation, Minderoo.
The former Fortescue boss and his partner gave one fifth of their shareholding in the iron ore miner to the foundation, bringing its endowment to about $7.6 billion.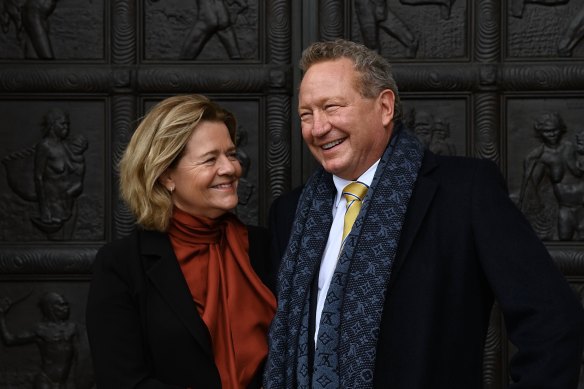 The Minderoo Foundation was established by the Forrests in 2001 and is aimed at supporting initiatives including ocean research, ending slavery and supporting cancer and community projects.
In 2013, the Forrests were the first Australians to sign Bill Gates' and Warren Buffett's The Giving Pledge, through which they committed to give away most their wealth in their lifetimes.
Andrew Forrest said the foundation's wealth would be used to deepen its focus and make a greater impact in the face of looming global challenges, such as climate change and economic disruption.
"As our world faces enormous challenges, we have elected to continue to use our material wealth to help humanity and the environment meet these existential risks," he said.
'If you happen to be good at accumulating wealth, then I believe in using that skill for the greater good.'

Andrew Forrest
As of May, Forrest was the second-richest person  – after Gina Rinehart – in Australia, worth $33.3 billion.
"Accumulating wealth should only be a small part of a person," Forrest said. "Their contribution to their family and society is way more important. If you happen to be good at accumulating wealth, then I believe in using that skill for the greater good."
In 2020, the couple donated $520 million to support the purchase of health equipment during the pandemic, tackle plastic pollution in oceans and provide bushfire relief, which brought their total donations to the foundation to more than $2 billion.
Nicola Forrest said it was a tough time for many people, and the latest donation would help provide more significant, focused support, and ignite purposeful action to help vulnerable communities, protect the oceans and promote gender equality.
"I believe we all need to do what we can with what we have, so I am pleased that the transfer of these shares will escalate our efforts to help those who need it most," she said.
"From the outset and over the past 22 years, we have remained focused on supporting families to ensure every child has the opportunity to thrive and reach their full potential – as children are our future."
Source: Thanks smh.com