Wall Street drifts as central banks keep cranking interest rates higher
The Australian sharemarket is set to edge lower on Friday after stocks drifted to a mixed finish on Wall Street overnight as central banks around the world keep cranking interest rates higher in their fight against inflation. ASX futures were down 7 points, or 0.1 per cent, around 7am.
The S&P 500 rose 16.20, or 0.4 per cent, to 4381.89, even though the majority of stocks fell. A rebound for technology stocks helped to overshadow losses elsewhere in the market and keep the benchmark index afloat.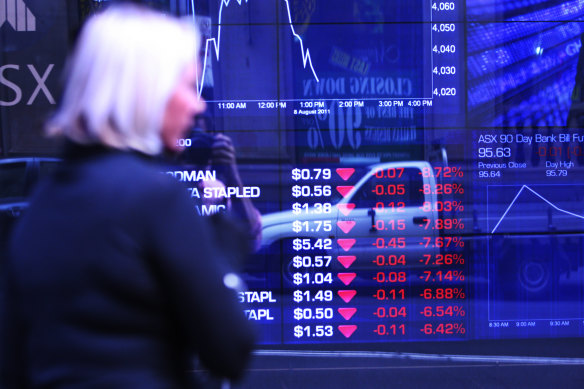 The gains for high-growth stocks also drove the Nasdaq composite to a market-leading gain of 128.41 points, or 1 per cent, to 13,630.61. The Dow Jones Industrial Average fell 4.81, or less than 0.1 per cent, to 33,946.71.
The Bank of England raised its main interest rate by a bigger margin than expected to a 15-year high. Central banks in Norway, Switzerland and Turkey also raised borrowing rates.
In the United States, meanwhile, Federal Reserve chair Jerome Powell reiterated his belief that inflation is still too high and that further increases to rates may be necessary.
The Fed held interest rates steady at its last meeting after raising rates aggressively throughout 2022 and into 2023 to tame painfully high inflation. Inflation has cooled somewhat since last summer, but the Fed has signalled it may raise rates two more times this year as it tries to push inflation down to its stated goal of 2 per cent.
Powell testified before a Senate committee on Thursday, a day after appearing before a House of Representatives committee.
Federal Reserve chair Jerome Powell reiterated his belief that inflation is still too high and that further increases to rates may be necessary.
Central banks worldwide have been raising interest rates to make borrowing more difficult and slow economic growth to stifle inflation. The strategy risks going too far in stalling growth and dragging economies into a recession. Economists and analysts have been warning that the US could slip into a recession before 2023 ends, but resilient consumer spending and a strong jobs market have been bolstering the economy.
High interest rates, though, have already slowed manufacturing and other parts of the US economy. They've also helped cause three high-profile failures in the US banking system. The banking industry remains under pressure, even after the federal government acted quickly to provide support.
Bond yields rose. The yield on the 10-year Treasury rose to 3.79 per cent from 3.73 per cent late on Wednesday. It helps set rates for mortgages and other important loans.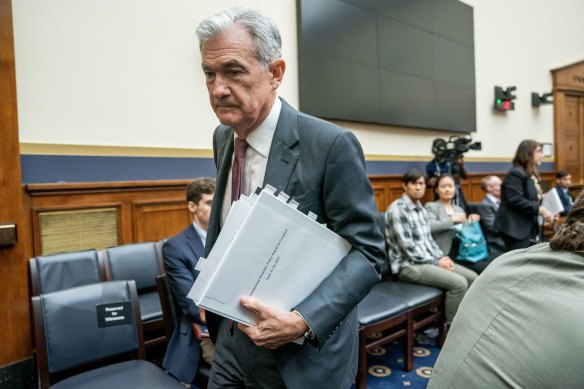 Stock indexes in Europe fell following the most recent rate increases. Britain's FTSE 100 slipped 0.8 per cent. The latest interest rate increase from the Bank of England marked its 13th increase in a row in its effort to combat stubbornly high inflation.
France's CAC 40 shed 0.8 per cent and Germany's DAX fell 0.2 per cent.
Markets in Asia were mixed. Hong Kong and Shanghai were closed for the Dragon Boat Festival, a national holiday.
The US stock market has been "taking a little bit of a breather" following a five-week rally, said Chris Zaccarelli, chief investment officer for Independent Advisor Alliance. The big focus in the coming weeks will likely be any economic data, including a big report on inflation next week, that could give investors a better sense of how the Fed will proceed.
"The Fed is pretty close to done, if not done already," he said. "The stock market is in a holding pattern waiting to see new economic data and the Fed's reaction."
The US Labor Department reported on Thursday that the number of Americans applying for unemployment benefits remained elevated last week, a possible sign that the Fed's rate rises are beginning to cool a surprisingly resilient labor market.
In the housing industry, sales of previously occupied homes strengthened last month to top economists' expectations for a slide.
Several companies made big moves on a mix of news. Spirit Aerosystems, a major supplier to the world's largest aircraft manufacturers, slumped 9.4 per cent. It is suspending operations at a critical Kansas plant after union workers there rejected a proposed four-year contract and authorised a strike.
Office furniture maker Steelcase rose 8.1 per cent after reporting stronger financial results for the latest quarter than expected.
AP
The Market Recap newsletter is a wrap of the day's trading. Get it each weekday afternoon.
Source: Thanks smh.com