Bottling success: How cult favourite coffee cup company Frank Green went viral
Reusable cup company Frank Green has built a social media following that businesses usually only dream about. Founder Benjamin Young can comfortably rattle off its TikTok metrics: the #frankgreen hashtag has 300 million views on the app. That's about the population of America, he points out.
Young would also have you believe that the cult brand's TikTok popularity came about almost by accident.
"The truth is that I was with my favourite nephew, and he was going, 'Why don't you have a TikTok account, Uncle Ben?' So we made me one, and then I sent it to the social media team, [and] they got on with it," says Young.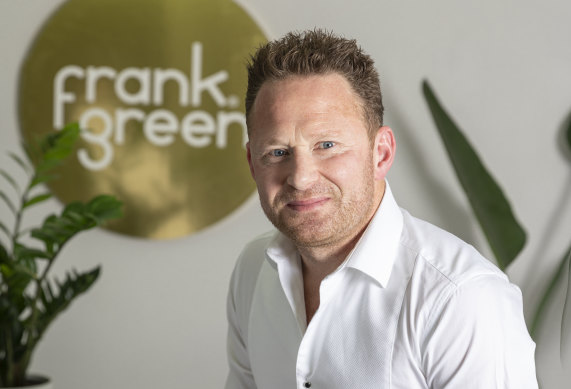 In 2021, Frank Green sold a "lucky bag" product. Some customers filmed videos of it being unboxed and their reaction, winning the brand exposure, popularity and new customers.
"From there, we then started to really lean into it."
Since starting the business in December 2013 with the reusable coffee cup, Young has expanded the Frank Green range to include bottles, bowls and plates, lunchboxes, cutlery, wine bottle coolers, and more recently, pet products.
However, the success of the sustainability-focused brand isn't just down to good fortune and opportune timing. Instead, it's the result of a strategy of taking customer feedback to heart. The reusable cup's lid alone has had 19 modifications since its launch.
"That's basically where we come up with the products. We get so many inquiries on the daily [feedback] about what features and benefits they want to see. And we have a really formal – because it needs to be, and we take seriously what we're doing – process for analysing and ranking, prioritising what are the next things that we're doing."
This reciprocal relationship bore fruit this year after videos emerged of some creative customers, frustrated by their one-litre Frank Green water bottle not fitting in their car cup holder, who came up with a clever Bunnings solution involving a PVC pipe.
Frank Green saw the problem and released its cup holder expander that, at the time of publishing, remains unavailable in every colour.
"Bunnings leaned into it; everyone leaned into it," says Young.
'The last resort is ever taking any money from someone'
Frank Green may be Young's first foray into entrepreneurship, but he is no greenhorn when it comes to business nous. Young left behind a decade-long career in corporate mergers and acquisitions that helped him form strong ideas about what shape the business would and wouldn't take.
"I did the internal strategy for those businesses [in utilities, transport, waste]. Part of that is buying and selling businesses," says Young. "I was lucky that I had exposure to marketing, sales, finance, all the requisite things. If you're an entrepreneur, you can't be one thing, you've got to be really good at everything … That gave me a great grounding about all the tough situations that you get in business."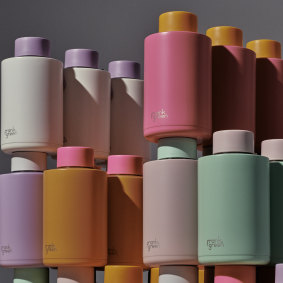 That corporate background is also the reason why he has never accepted a single dollar in investment money.
"If you can, the last resort is ever taking any money from someone. Just don't do it. I've seen with lots of businesses, they take all this money and they have a big party, right? And they pay themselves lots of money, and then the money dries up," Young says. "Frank Green was profitable from day one. I made it like that."
That doesn't mean the road has been free of speed bumps: Frank Green was part of the first wave of redundancies that followed the arrival of the pandemic. Ten employees were laid off in March 2020 after cafes stopped accepting reusable cups.
Young is now determined to create more Australian manufacturing jobs; only about 30 per cent of Frank Green's products are made in Australia.
"We're going to use our success to try and re-invigorate and re-invent a lot of manufacturing in Australia," he said.
As Frank Green grows – Young declined to share turnover or profit figures but describes the 300-strong company as "large" and assures that revenue is in the "hundreds of millions" – so too do Young's ambitions. Frank Green products are already sold in 50 countries, with a presence in the UK, the US, Canada, and a number of Nordic countries, where sustainable living is high on the agenda, but Young is hoping to use the company's popularity in Australia to deepen the brand's international presence.
"For us to be impactful, we need to be super-successful in those countries. And that's the next journey for Frank Green: taking new products to new markets," he said.
"We just need to be really respectful of those consumers in those markets. They are very different."
The Business Briefing newsletter delivers major stories, exclusive coverage and expert opinion. Sign up to get it every weekday morning.
Source: Thanks smh.com