Uber backs pollution caps to slash electric car costs in Australia
Ride-hailing giant Uber says Australian drivers are at risk of being left among the last in the world to be able to buy an electric car for the same price as a petrol car unless stronger rules force manufacturers to boost imports of greener models.
Australia is the only developed country apart from Russia that does not impose mandatory pollution caps, which has contributed to carmakers supplying fewer electric vehicles domestically in favour of higher-polluting models that they are unable to sell elsewhere.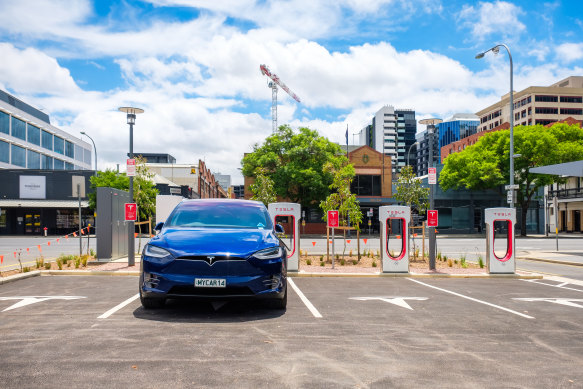 As the Albanese government prepares to set mandatory pollution caps on new cars for the first time, Uber has added to mounting pressure from some of the world's top automakers for Australia to commit to standards that are "ambitious and robust", and introduce them as soon as possible.
In a submission to the government, Uber says electric vehicles are expected to reach cost parity with petrol vehicles by as early as the mid-2020s in some markets. "However, we can expect that whatever this global date may be, cost parity in Australia will almost certainly be later unless more is done to encourage vehicle manufacturers to prioritise their greener technologies for our market," it says.
There are 1250 electric cars currently operating across Uber's fleet of 150,000 Australian drivers and couriers.
Dom Taylor, Uber's general manager for Australia and New Zealand, said the company's surveys had found two-thirds of non-electric Uber drivers were open to or were considering switching to an electric vehicle, but "only one in 10 thinks they are going to make that change".
"It's pretty clear why when you ask them," Taylor said. "The high upfront cost of electric vehicles is the main aspect stopping that decision."
Uber's submission said its experience across the 10,000 cities in 71 countries in which it operates suggested fuel efficiency standards were the best way to drive volume and variety of low- and zero-emissions vehicles. Fuel efficiency standards limit average emissions, measured in grams of carbon dioxide per kilometre, produced by the overall fleet of vehicles sold into the market by a manufacturer to encourage them to sell more electric vehicles.
"Lack of affordable electric vehicle models, especially affordable long-range models, is a global challenge but is particularly acute in Australia," Uber said. "We need to ensure, as more affordable models become available in the coming years, we are prioritised as a market."
Uber has set a target to phase out carbon-polluting vehicles from its platform in Australia by 2040, a decade later than in other jurisdictions, including the United States, Canada and Europe.
While ride-hailing cars are newer and have better fuel efficiency than the wider vehicle fleet, the industry has faced scrutiny in some cities in the United States, where studies suggest it contributes to urban congestion and emissions because of the amount of time drivers spend driving around between jobs.
Ride-sharing platforms, however, believe they can have an outsized impact when it comes to emissions-reduction targets if they can encourage more electric vehicle uptake. A ride-share driver in an electric vehicle can realise four times the emissions savings than the average car owner, Uber said.
Last year, Uber Australia announced $26 million in incentives aiming to encourage uptake, including cutting fees by half for drivers who bought an electric vehicle.
The Federal Chamber of Automotive Industries has backed mandatory fuel efficiency standards, but questions if Australia can afford to be as ambitious the US. However, the EV Council said that without strict pollution limits that match the ambitious goals set by the US and EU, carmakers would have to target countries with more attractive policies, the council says.
The Business Briefing newsletter delivers major stories, exclusive coverage and expert opinion. Sign up to get it every weekday morning.
Source: Thanks smh.com