Virgin and Boeing join up for sustainable aviation fuel partnership
Seattle: Virgin Australia and The Boeing Group have joined forces to advocate for the development of a local sustainable aviation fuel industry as part of a broader venture to achieve five core environmental and social governance goals.
Virgin and Boeing signed a memorandum of understanding in Seattle on Wednesday which they say will result in both companies leveraging their positions in Australia to influence government policy on SAF, billed by the global aviation sector as the only way for the high-emitting industry to achieve net zero by 2050.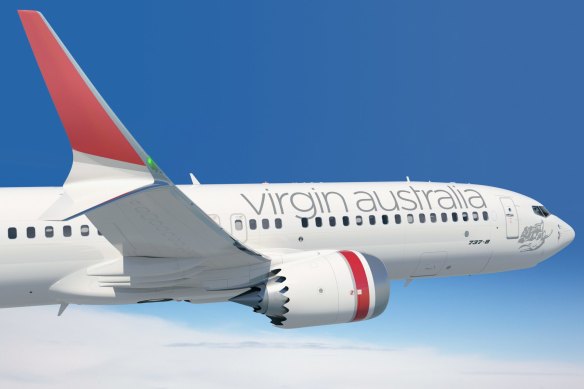 In addition to the establishment of a local SAF industry, the partnership will focus on bettering the inclusion of First Nations people and women within aviation, advancing the ambitions of the Australia and US compact on climate, critical minerals, and clean energy transformation as well as creating "robust" carbon offsetting within the sector
Virgin sustainability chief Christian Bennett said the venture would capitalise on the technology relationship between the two businesses. Virgin streamlined its fleet to exclusively Boeing narrowbodies as a cost-cutting measure following its stint in administration in 2020.
"We know this will not happen overnight, but we are committed to accelerating our effort in a responsible and credible fashion. High-quality partnerships like this MoU with Boeing will be an important enabler of that acceleration," Mr Bennett said.
It's the first time Virgin has unveiled a swathe of environmental and social governance focuses since the airline was plucked out of administration by Bain Capital for $3.5 billion in 2020. Bain is expected to relist the airline on the ASX later this year.
The partnership was announced as Virgin received its first of 33 Boeing 737 Max-8s in Seattle on Wednesday, 12 years after it submitted the order. The Max-8 is expected to reduce Virgin's emissions by 15 per cent per flight when compared to the previous iteration, the 737-80 NG. The first leg of the aircraft's flight to Brisbane, scheduled for Thursday after a mechanical check delay, will be carried by 30 per cent sustainable aviation fuel.
Made from crops, household waste, animal fat and other biomass, sustainable aviation fuel (SAF) produces about one-fifth of the emissions of conventional jet fuel. Currently, there's only enough SAF being produced to replace less than 1 per cent of the global aviation industry, at more than double the price of conventional jet fuel. The fuel bill of Australia's biggest airline Qantas exceeded $5 billion last year, despite reduced flight capacity.
The Virgin and Boeing partnership follows a SAF specific joint-venture between Qantas and Airbus, which have committed to investing a combined $307 million to develop a local SAF industry and have lobbied the federal government to do more to create the necessary policy framework and incentives needed to properly boost investment. So far, this has resulted in plans to open Australia's first ethanol biofuel refinery in Queensland.
Bennett said Virgin's Boeing partnership did not have a similar investment structure but credited Qantas for its early efforts to establish the local industry.
"We don't have a business case that makes SAF investible in Australia at this time. It's not a technological problem around SAF. We don't need to invest $1 in repairing the technology, this is more of an economic and political policy challenge for Australia," Bennett said.
This reporter travelled to Seattle as a guest of Virgin Australia.
The Business Briefing newsletter delivers major stories, exclusive coverage and expert opinion. Sign up to get it every weekday morning.
Source: Thanks smh.com