Wagering, TV bodies slam proposed gambling ads ban; AFL wary of impact
Some of Australia's biggest bookmakers have decried a potential ban on gambling advertisements as an ineffective and short-sighted way to remediate gambling harm, after a parliamentary inquiry report recommended the Albanese government commit to a comprehensive ban across all sectors within the next three years.
Responsible Wagering Australia (RWA) is the body that represents gambling giants including Sportsbet, PointsBet and Ladbrokes. It said the proposal, one of 31 recommendations raised by the House of Representatives standing committee on social policy and legal affairs, was a step too far and jeopardised the future of sporting codes and local broadcasters.
"Other more measured options which could be considered by the government include capping the numbers of gambling ads to be shown," RWA chief Kai Cantwell said on Wednesday.
"By doing this, the expectations of the community to see less advertising would be met, while also maintaining the crucial support to sporting codes and local broadcasters."
Tabcorp, which is not a member of RWA, welcomed the proposal after previously joining advocates in supporting a total ban on gambling broadcast advertising.
Tabcorp chief Adam Rytenskild said the report's release marked an important moment for the sustainability of the wagering industry, reiterating a point from the inquiry's hearing that the proliferation of gambling advertising is excessive.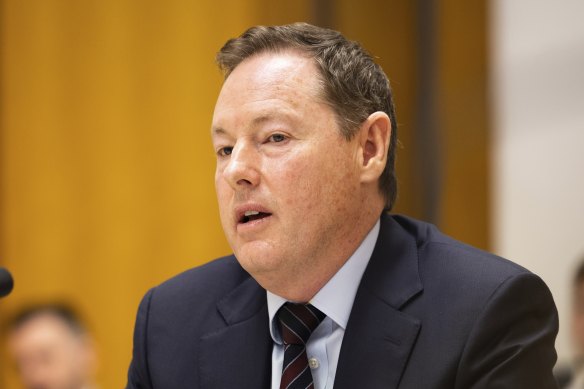 "Tabcorp welcomes the committee's recommendation for a nationally consistent regulatory framework. All wagering operators should have to adhere to the same regulations."
Tabcorp's stance is motivated by a keenness to protect its market share, according to rivals, and Rytenskild's comments offer a stark contrast to RWA chief Cantwell who said the recommendations fail to consider the evidence from the committee hearings earlier this year.
"RWA recognises community concerns around online wagering advertising and there are more effective ways of meeting community expectations," Cantwell said.
RWA and Free TV Australia, which has acted on behalf of Seven, Ten and Nine (the owner of this masthead), have argued for frequency caps on the number of ads shown across different channels, rather than a blanket ban.
Cantwell said by capping the number of ads, the community's expectations to see less advertising would be met, while maintaining the support to sporting codes and local broadcasters.
He added a blanket ban through a phased roll-out was "short-sighted, ineffective and not the answer", and could lead to more Australians turning to illegal offshore markets.
The AFL's chief financial officer and general manager of broadcasting and clubs, Travis Auld, said on Wednesday it was too early for the league to have a response, and it had been consulting with the federal government about changes that could work.
"Any changes we make and the consequences of those changes need to be well thought through and well understood. There are some significant decisions within there that have impacts potentially on our industry," Auld said.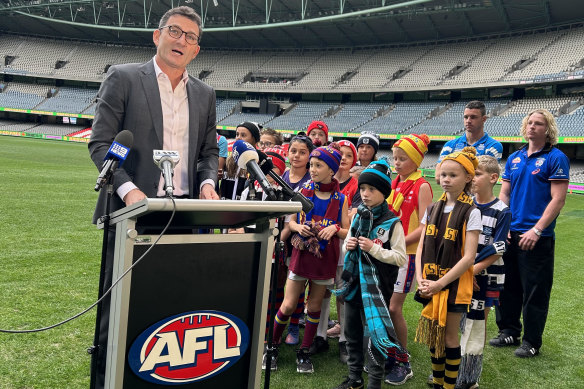 He said that money from wagering firms was part of the AFL's infrastructure, helping the competition keep its prices low, as well as invest in the game at a grassroots level. The AFL has an $8 million a year deal with Sportsbet.
"Of course money is part of it. It's what allows us to keep our prices where we are, it's what allows us to invest in boys and girls playing football at this level," said Auld.
Despite a record $4.5 billion broadcast agreement signed with Seven Network and Foxtel in 2022, Auld said the AFL and both of its partners would represent themselves independently in any conversations around potential financial impacts.
"The commerciality from their point of view will remain known to them. I think we've been clear on the impacts on us."
Free TV Australia's CEO, Bridget Fair, warned a "kneejerk move" to implement an outright ban "will ultimately hurt viewers and the television services they love".
"Many of the sports broadcasting deals have been agreed to beyond the three-year phase-out
period for advertising," Fair said.
An NRL spokesperson said it recognised the significant stakeholder and community interest in gambling, saying it is committed to ensuring the NRL's approach reflects this interest, "while also encouraging a holistic, evidence-based approach to mitigate the risks of gambling harm more broadly".
A report earlier this year from the Australian Gambling Research Centre found most Australians (64 per cent) believe governments should play the biggest role in how wagering is advertised.
Dr Kei Sakata, the research centre's acting executive manager, welcomed the report's recommendations, saying it is a crucial step in reducing gambling harm.
Sakata also welcomed the committee's recommendations of a national classifications scheme and effective warning labels for simulated gambling games and loot boxes, as well ongoing funding for gambling research.
The Business Briefing newsletter delivers major stories, exclusive coverage and expert opinion. Sign up to get it every weekday morning.
Source: Thanks smh.com