ASX set to slip as Wall Street drifts
Stocks are mixed on Wall Street, and indexes are drifting between small gains and losses.
The S&P 500 fell 0.1 per cent in afternoon trading. The Dow Jones was down 0.3 per cent, while the Nasdaq composite rose 0.2 per cent. The Australian sharemarket is set to retreat, with futures at 5.01am AEST pointing to a slide of 9 points, or 0.1 per cent, at the open. The ASX bounced 1.1 per cent higher.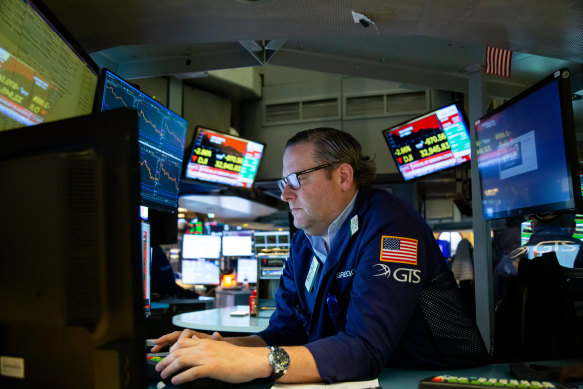 General Mills fell to one of the market's larger drops after the maker of Cheerios and Haagen-Dazs reported weaker revenue for the latest quarter than analysts expected. It sank 4.7 per cent despite reporting stronger profit than expected and giving a forecast for upcoming results that was close to Wall Street's.
Other food companies also fell, including drops of 4.3 per cent for J.M. Smucker, 3.5 per cent for Conagra Brands and 2.1 per cent for Kellogg.
On the winning side of Wall Street was AeroVironment, which rose 3.8 per cent. The maker of unmanned aircraft, tactical missile systems and other equipment used by the U.S. military and in Ukraine reported stronger profit and revenue for the latest quarter than expected. It also gave a stronger forecast for upcoming results than analysts expected amid what it called a record backlog.
Cruise operators were also steaming ahead, continuing a strong year built on hopes for strong demand for vacations. Carnival jumped 7.6 per cent for the biggest gain in the S&P 500 and has more than doubled so far this year. Norwegian Cruise Line Holdings gained 6.7 per cent.
A day earlier, other travel-related stocks helped lead the market after Delta Air Lines said it's still seeing pent-up demand from fliers looking to make up for lost time during the pandemic.
Elsewhere in markets, trading was relatively quiet. Stock indexes rose in Europe and were mixed in Asia. Treasury yields fell.
The big question for markets worldwide is whether economies will continue to be able to avoid falling into recession despite the weight of much higher interest rates meant to bring down inflation.
Federal Reserve Chair Jerome Powell reiterated Wednesday that stubborn inflation means interest rates will need to stay high. The Fed has said it expects to raise rates one or two more times this year, while the European Central Bank and others have sounded even more aggressive.
But heads of Western central banks speaking at a conference in Portugal also said their economies have been more resilient than expected and they don't foresee a contraction.
For now, the U.S. economy has been holding up better than expected thanks in large part to a remarkably resilient job market. Strong reports on consumer confidence, sales of new homes and other areas of the economy on Tuesday helped lead to a 1.1 per cent rally for the S&P 500. Earlier this month, the S&P 500 reached its highest level since April 2022.
"Following some early week jitters, we've now seen a return to business-as-usual in global equities. Markets are taking some comfort from U.S. economic indicators which are showing no signs of an imminent 'hard landing' with regard to growth," Tim Waterer, chief market analyst at KCM Trade, said in a report.
Economists are increasingly hopeful a recession may be avoidable, delayed, or that contraction may be limited to specific sectors and not the entire economy.
In the bond market, the yield on the 10-year Treasury slipped to 3.71 per cent from 3.77 per cent late Tuesday. It helps set rates for mortgages and other important loans.
The two-year yield, which moves more on expectations for the Fed, dipped to 4.71 per cent from 4.76 per cent.
In Europe, stock indexes were rising, with France's CAC 40 up 1 per cent.
Japan's Nikkei 225 jumped 2.0 per cent as the weakening value of the Japanese yen benefits exporters from the country. Stock indexes elsewhere in Asia moved more modestly and were mixed.
AP
The Market Recap newsletter is a wrap of the day's trading. Get it each weekday afternoon.
Source: Thanks smh.com