The $1.1b fortune of Rupert Murdoch's former son-in-law is trapped
By
Ben Stupples

and

Nishant Kumar
Crispin Odey, on paper, is a billionaire — commanding a vast wealth built over decades that's unlikely to unravel as fast as his tenure atop Odey Asset Management.
There's a catch, though: Much of his roughly $US710 million ($1.07 billion) fortune remains trapped in funds at the investment firm where he was just sacked after multiple allegations of sexual assault were levelled against him. Odey denies the allegations.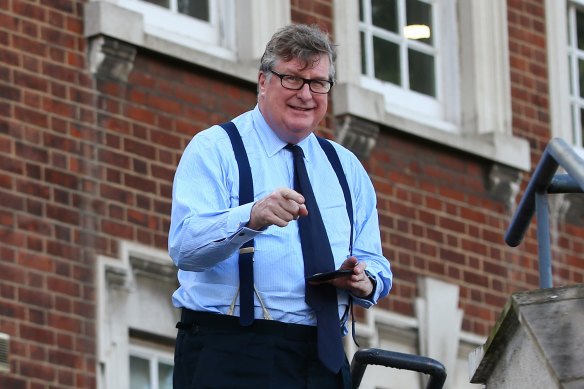 Odey, 64, still has about $US670 million in the funds, the Bloomberg Billionaires Index estimates, based on an analysis of regulatory filings, performance data and investor documents. Extracting it will be harder after six funds were suspended and the UK's financial watchdog, the Financial Conduct Authority, imposed restrictions on the movement of cash and assets by Odey Asset Management, saying the firm must cease withdrawals and transfers outside of the normal course of business.
Odey didn't fully respond to several emails, calls, messages and a letter seeking comment. Reached by phone on Friday for comment, he offered a single word before hanging up: "No." A representative for Odey Asset Management declined to comment.
Odey was removed this month from the firm he founded in 1991, with six funds suspended, including two hedge funds he ran until his defenestration. The remarkable turn of events for the famed investor, who built his fortune by making contrarian bets and leveraging those positions, did little to stem the bleeding at the firm whose future is hanging in the balance.
On Thursday, Odey Asset Management said it was shuttering the LF Odey Portfolio fund, which was one of the six money pools suspended this month. The closure is the second for the firm, which said June 13 it would shut down the Odey Swan fund.
The unravelling for Odey was triggered by the publication of a Financial Times investigation into his treatment of women over a 25-year period that included claims by 13 women of sexual harassment or, in eight of those cases, assault. The fallout was sharp. In the hours after the June 8 report, banks reviewed their relationships with the firm and investors moved to yank their cash.
The situation leaves Odey facing a choice of remaining a major client or pulling out his money, a move complicated by the fund suspensions. His removal may also trigger legal fights.
Variable performance
Odey became one of the UK's best-paid fund managers in his tenure at the firm, where he openly scoffed at the notion that money managers should hedge their risks.
In the middle of the financial crisis, when the representative of a family office asked about risk management, Odey called him a "jerk" and a "crappy" investor. In an interview with Bloomberg in 2019, he pointed to hundreds of millions of dollars of his personal wealth that he invests alongside clients. "That's the risk management," he said at the time.
Some of his most lucrative years came in the period before and after the financial crisis, when he profited hugely from shorting banking stocks. Odey received about £110 million ($210 million) between 2008 and 2011, helping to turn him into a major donor to the UK's ruling Conservative Party and pro-Brexit campaigns. Along the way, his net worth peaked at more than £800 million.
"When the crash happened, we started really making money," Odey told Bloomberg in a 2013 interview.
After multiple years of losses between 2015 and 2020 in his flagship hedge fund — now controlled by co-manager Freddie Neave — Odey's bets started paying off again in 2021. Last year was his best ever with a 152 per cent gain.
His share of Odey Asset Management's profits and dividends totalled roughly £330 million in the past three decades from his majority stake in the firm, according to data compiled by Bloomberg.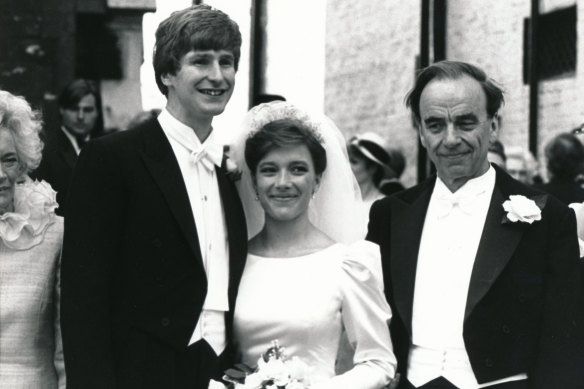 Side bets
Odey's side bets outside the hedge fund sector also helped to expand his fortune, albeit to a lesser extent.
He was an early backer of Ruffer, a London-based asset manager founded in 1994 that today manages about £25.2 billion for pension funds, charities and wealthy families. A Ruffer holding entity for the firm's early investors paid out more than £50 million in dividends over the past two decades, with Odey receiving a chunk of that total through an indirect minority stake.
Odey also bought a stake during 2006 in ICP, an investment fund focused on the Lloyd's of London insurance market. He's since received at least £1 million in dividends from ICP's holding company, which increased its net assets just over 50 per cent to £9.2 million from the end of 2006 through 2021.
Odey stepped down in February as a director of Ruffer's then-controlling entity, two months after Tortoise Media followed Bloomberg News and the Times of London in publishing sexual assault allegations against him. Odey, who no longer holds a stake in Ruffer, also resigned this month as a director from ICP's holding company, though he remains an investor, based on latest filings.
A Ruffer representative said the firm and its co-founder Jonathan Ruffer, 71, a former Odey Asset Management director, didn't have any knowledge of the sexual harassment allegations until they emerged in the UK media and courts.
A representative for ICP didn't respond to requests for comment.
Lots of misses
Not all Odey's side bets have been a success, especially outside finance.
He's owned a stake since at least 2018 in Soultime Media, the maker of a Christian mediation app endorsed by the Archbishop of Canterbury that accumulated losses of almost £1 million through July 2022. A Soultime representative didn't respond to a request for comment.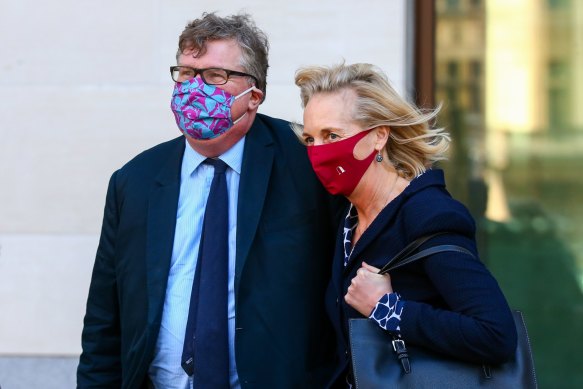 Odey's recent divorce also led to a reduction in some holdings.
His former wife, Nichola Pease, 62, is keeping the countryside Gloucestershire estate the pair shared during their three-decade marriage before they parted ways in 2021, after Odey was trialled and later acquitted of sexual assault charges.
The Grade II-listed mansion, where Odey built a £130,000 temple-like chicken coup in its grounds dubbed "Cluckingham Palace" by tabloid newspapers, was registered during January in Odey's ex-wife's sole name with a value of £1.5 million.
Odey and Pease also shifted assets in early 2018 to their three adult children. That included their holdings in Ruffer, where the younger Odeys are now passive investors, as well as two other companies with unidentified net assets totaling £19.8 million through early April 2022, filings show. Gifted assets aren't subject to UK inheritance tax from seven years after the transfer date.
Odey, who was first briefly married to Rupert Murdoch's eldest daughter Prudence in the 1980s, now lives with his third wife, Diana, in a Chelsea home neighbouring a fine-dining restaurant, art gallery and one of London's oldest botanical gardens.
Visitors to the £4.5 million home must wait before entering in front of a dark-blue door matching the colour palette of Odey Asset Management, which removed its founder's regulatory approval for managing outside money on June 12.
On Friday, no one answered the door and most curtains and blinds were closed. But some say it's unlikely Odey will lie low forever.
"Once a trader," said Bruno Schneller, managing director at Swiss-based INVICO Asset Management AG, "always a trader."
Bloomberg
The Business Briefing newsletter delivers major stories, exclusive coverage and expert opinion. Sign up to get it every weekday morning.
Source: Thanks smh.com