Sir Bob Geldof on returning to radio and why Rupert Murdoch is a genius
Rock legend Sir Bob Geldof says his recent stint in Melbourne as a breakfast host on Australia's newest start-up network Disrupt Radio is a return to his "primary media love".
Despite several media investment and television production ventures under his belt, Geldof says he has always been drawn back to radio because of its ability to "conjure conversation, music, images and pictures solely through sound", unlike television which he called "empirical".
"What you see is what you're meant to see."
Disrupt was founded by West Australian "radio nut" (Geldof's words) Benjamin Roberts, and was launched last week with Geldof in the breakfast host chair alongside Libbi Gorr. The digital-only radio station also includes Nazeem Hussain and Jules Lund as hosts.
Disrupt gets a tick from Geldof for its attempt to challenge Australia's media conglomerates, including News Corp and Nine Entertainment Co (the owner of this masthead). Geldof says he has much respect for News Corp owner Rupert Murdoch, whose fourth wedding he attended in 2016.
Geldof describes Murdoch as "one of the great businessmen" in the modern establishment. "He's a genius," Geldof says on Murdoch. "There's just no question that he's one of the greatest businessmen of our time."
A calculated risk-taker, Murdoch plays a "high stakes" game, says Geldof, marvelling at the rare personality type audiences were given an insight to in "Succession and that sort of thing".
Geldof rationalises Murdoch's aggressive approach to building his empire, which has included extensive attempts to diminish the role of public broadcasters in both his native Australia and in the United Kingdom.
"Murdoch is out to secure his businesses, amplify them, expand them, and box very clever. He will use any means of doing that," the former Boomtown Rats frontman says.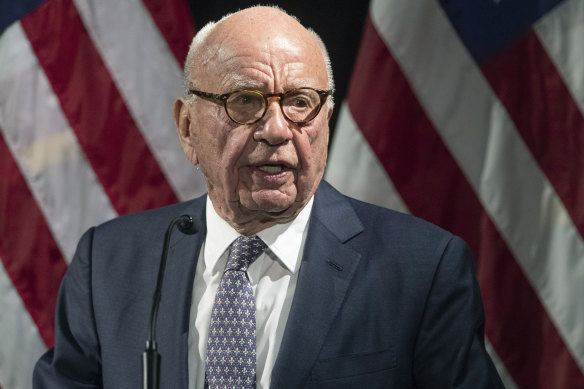 "His opposition is a publicly funded, trusted organisation."
While it's not personal, he says, taking aim at both the ABC and BBC suits his business agenda.
Geldof says public service broadcasting is essential, particularly in the face of the "forces" that attack it because they want it "out of the way", such as Murdoch.
"It's absolutely a public common good, and it has to remain."
Geldof says his week hosting breakfast with Gorr has been fun, noting her smarts and quick wit, though a late-life tilt as a full-time radio jockey appears unlikely.
"I don't like getting up at five, and I don't like being in Melbourne in winter. It's dreary and too cold."
The Business Briefing newsletter delivers major stories, exclusive coverage and expert opinion. Sign up to get it every weekday morning.
Source: Thanks smh.com