End in sight for Australia's fossil fuel revenue boom
Australia's coal miners and gas producers are facing sharp falls in commodity prices this year, ending their extraordinary run of record profits, as a historic global supply crunch continues to ease and an economic slowdown dampens demand.
Shipments of fossil fuels led the nation's minerals and energy export revenue to an all-time high of $460 billion for the 12 months to June 30 – up from $290 billion in 2019-20 – as the war in Ukraine choked supplies, unleashed a scramble for spare cargo to keep lights and heaters on and boosted prices for a second straight year.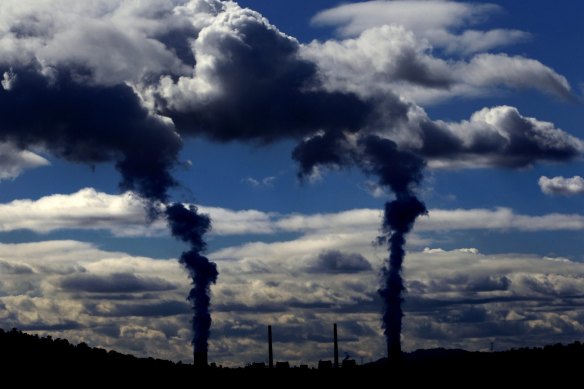 However, the federal government's latest export forecasts, to be released on Monday, suggest the decline in the value of fossil fuel exports over the next two years could be severe.
The government cites the impact of rising interest rates on global economic growth, an improvement in supply conditions, and a weaker-than-expected economic recovery in China, the biggest market for raw materials, as savings amassed by Chinese households during the pandemic appear smaller than in Western countries.
"Australian energy export earnings are set to fall noticeably," the Department of Industry, Science and Resources says in a report.
Sales of Australian thermal coal, the type burned in power stations, reached $64 billion in the past 12 months but are now likely to face the sharpest decline of Australia's resource exports. The government is assuming a 40 per cent fall in thermal coal's earnings to $38 billion in 2023-24.
Metallurgical coal, which is used to make steel in giant furnaces, is tipped to bring in 30 per cent less revenue, dropping from $60 billion to $42 billion.
Exports of liquified natural gas, which hit $92 billion in the past year on the back of record-high prices as Europe raced for alternatives to Russia's pipelines, could fall 26 per cent to $68 billion, according to the forecasts.
Because Russia was a globally significant supplier of coal, oil and gas, the fallout from its invasion of Ukraine has had far-reaching consequences for world energy markets. Russia curtailed gas flows to Europe last year, while Western nations imposed rolling sanctions on Russian energy supplies to starve Moscow of the revenue it needs to fund the war, boosting demand and prices for spare cargoes across Europe and Asia.
Despite accelerating global pledges to reduce fossil fuel consumption and help avert catastrophic climate change, the world's coal use reached a record high last year, while Australian gas exporters, including Santos and Woodside, made more money than in any year in their history.
However, as short-term supply disruptions ease, the significance of powerful forces clouding the coal sector's longer-term outlook will "resume focus", the Industry Department says. "These factors include labour and equipment shortages, declining deposit quality, finance and insurance issues, and the ongoing global clean energy transition".
In Australia and around the world, banks and insurers are increasingly abandoning the thermal coal sector because of the financial and ethical risks of contributing to global warming, pushing the cost of capital for coal miners higher.
The benchmark price of high-quality thermal coal traded at the Port of Newcastle is expected to fall by up to 66 per cent by 2025, from $US360 a tonne last year, to $US120 a tonne, the report says. Global supply and demand for thermal coal has passed its peak, it adds, while most proposed coal-fired power stations are being cancelled across the world.
Resources Minister Madeleine King said the Australian resources sector "continues to power the nation's economy", setting an export revenue record across the past financial year.
Australia's mining sector contributes 13.6 per cent of gross domestic product, and directly employs more than 250,000 people.
King pointed to the bright outlook for Australia's exports of many of the sought-after raw materials that will be needed in increasingly vast quantities in coming years to produce renewable energy, batteries and electric cars.
"Australia is well-positioned to supply long-term demand for base metals and critical minerals such as lithium, which are crucial components of clean-energy technologies," she said.
Export earnings from metals used heavily in the energy transition have doubled since 2021-22, and are expected to remain above $40 billion a year.
Globally, Australia ranks among the top three countries by share of known reserves of copper, cobalt, lithium and nickel.
The Business Briefing newsletter delivers major stories, exclusive coverage and expert opinion. Sign up to get it every weekday morning.
Source: Thanks smh.com