Taylor Swift won't worsen inflation, we'll just shake it off
She may be a mastermind in the music industry but concerns that Taylor Swift will fuel inflation are overstated.
That's coming from a Swiftie who failed to secure tickets to the Eras Tour. As much as I'd love a reason to bring down those who beat me in the luck of the draw with the claim they're worsening our inflation problem, it's just not true.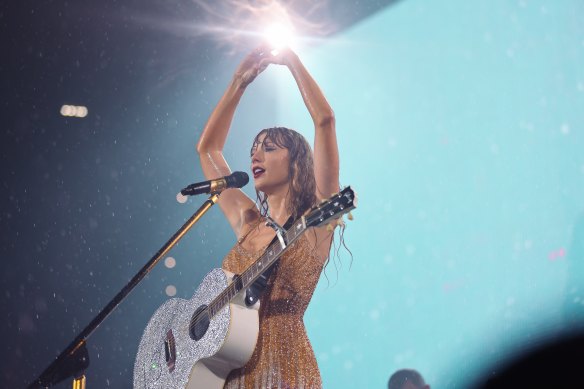 For the past few weeks, commentary has focused on the economic and inflationary shock the singer will deliver with her tour and how much Swifties – including myself – might spend on tickets priced up to $1250 a head, accommodation and flights to the two cities that will host her.
After all, greater demand and spending on goods usually translates to greater economic activity. And when demand begins to outstrip supply, as we've seen with Eras Tour tickets in the US, that tends to drive up prices. To the fury of fans, scalpers have been cashing in on Swifties' desperation to secure tickets, too, pushing prices up even further.
But will there really be more economic activity than if Swift had skipped Australia entirely? And will her presence lead to a surge in inflation? The answer is yes, but the magnitude is probably much smaller than the frenzy around her tour would suggest.
I'll admit I was one of those fans who signed up for the pre-sale, with my laptop, work monitor, phone and tablet set up to snag those tickets before 10am on Wednesday. I watched all the TikTok videos, read countless articles and brainstormed extensively with friends to strategise ahead of the big day.
The commitment of eager Swifties seems to fly against the economic principle of "rational" decision-making. What idiot would spend hours scheming to secure a ticket and hundreds of dollars for the ticket itself? Me, I'm the problem, it's me.
While many of us like to believe we're fearless, fear-of-missing-out, driven by a scarcity of tickets (on the supply side) and the sheer force of Swifties (on the demand side) might be partly to blame. FOMO can strengthen purchase intentions by boosting consumers' anticipated elation and lead to decisions fired up by emotion that might not necessarily be in our best interest.
But I like to make myself feel better by rationalising my way out of that guilt, the same way I rationalise any unnecessary purchases I make as a generous act to stimulate the economy. Sorry, Dr Lowe.
Here's the thing. In economics, there's a thing called "opportunity cost". It refers to the loss of other alternatives when one alternative is chosen.
Most of us, except maybe Swift herself, have a ceiling on how much we can spend. If I buy a $1250 ticket, then I'll probably rein back my spending on other things for the next few months. Maybe that means skipping coffee for the next 250 days or dancing around the kitchen in the refrigerator light instead of going clubbing. The barista may then see a decline in the demand for coffee and the nightclub may miss out on the entry fee and revenue from drinks they could have otherwise earned from me, balancing out the inflationary pressure from spending on seeing Swift – at least from a demand perspective.
The upshot of this is that for a swift period, those in Melbourne or Sydney in particular might see a spike in the price of hotels and airfares might take off. But that's likely to be offset by a pullback in spending on other things, meaning overall it's unlikely the inflationary pressure will be much greater than what we otherwise would have seen. In short, it'll jump then fall.
It's the same reason other major events such as sporting finals, or the spike in spending around Christmas, don't worry the Reserve Bank. People tend to save up for significant purchases or reduce spending in the following months. It's a trend the Australian Bureau of Statistics often reports in their retail spending data: go back to December and you'll see a spike in spending followed by a month when consumers realise they need to calm down.
In Sweden, where Beyonce began her world tour in May, some economists said her shows "probably" accounted for 0.2 of the 0.3 percentage points added to the monthly inflation figure by the lift in hotel and restaurant prices in the country. But that was partly a function of overseas fans taking advantage of favourable exchange rates against the Swedish currency, and the inflationary boost will likely be a temporary blip over the coming months.
If we see a big influx in overseas tourists because of Swift, there might be some additional spending we can attribute to her arrival (assuming those tourists wouldn't otherwise have come and spent as much as they will). Air New Zealand is certainly expecting a couple of thousand Kiwi Swifties to fly across to Australia, but in the grand scheme of things, tourists' effect on inflation in this case is likely to be negligible.
It may be a cruel summer for Swifties like me, but once the brief spike in inflation passes, there's more than enough hope we'll be able to shake it off.
The Opinion newsletter is a weekly wrap of views that will challenge, champion and inform your own. Sign up here.
Source: Thanks smh.com