ASX jumps after Reserve Bank holds rates steady
Welcome to your five-minute recap of the trading day, and how experts saw it.
The numbers
The Australian sharemarket lifted on the back of the Reserve Bank's decision to hold rates steady at 4.1 per cent on Tuesday as energy and financials companies climbed.
The S&P/ASX 200 was up 32.9 points, or 0.5 per cent, to 7279.0 at the close, even as industrials, iron ore companies and the information technology sector finished weaker.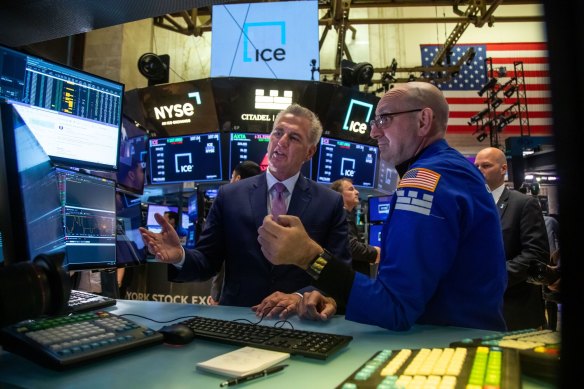 The lifters
Energy (up 1.2 per cent) was the strongest sector on the local bourse as coal miners Whitehaven (up 2.4 per cent) and Yancoal (up 1.7 per cent) both lifted.
Financials (up 1.1 per cent) also strengthened following the rate decision with all four big banks trading in the green including CBA (up 1.3 per cent), NAB (up 1.3 per cent), Westpac (up 1.2 per cent) and ANZ (up 1.2 per cent).
Real estate investment trusts (REITS, up 1 per cent) gained ground following the rate pause, led by LendLease (up 1.8 per cent), Charter Hall (up 2.5 per cent) and Mirvac (up 2.2 per cent).
Lithium miner Pilbara Minerals (up 2.2 per cent), Lynas Rare Earths (up 4.2 per cent) and Meridian Energy (up 4.2 per cent) were the biggest large-cap advancers, while gold miners were also stronger, including Evolution Mining (up 1.8 per cent) and Northern Star (up 1.6 per cent).
The laggards
IT (down 0.1 per cent) was one of the worst-performing sectors with Xero shedding 0.6 per cent, although the sector pared back some losses following the Reserve Bank's decision.
Iron ore companies dropped, including Rio Tinto (down 1.2 per cent) and Fortescue (down 0.9 per cent) following a 0.5 per cent fall in iron ore prices.
Industrials (down 0.2 per cent) was the weakest sector with Reece (down 1.3 per cent), Brambles (down 1.3 per cent) and Seven Group (down 1.1 per cent) among the biggest large-cap decliners.
The lowdown
RBC Capital Markets head of equities Karen Jorritsma said markets traded higher on the back of a strong start to the financial year on Monday and the Reserve Bank's decision to press pause on its rate increases.
"Markets had a very good start to the financial year yesterday, and today they were trading around the edges, waiting for the 2.30pm decision," Jorritsma said. "It was a small positive that the Reserve Bank held rates."
Jorritsma said rate-sensitive names performed better following the Reserve Bank's announcement, but it was likely "short-term reprieve" ahead of the rate decision in August where she said markets were broadly expecting a rate rise.
US stocks ended with marginal gains in a holiday-shortened session on Monday, helped by a surge in Tesla and strength in bank shares as the second half of the year kicked off on a sober note.
The Dow Jones Industrial Average edged up 0.03 per cent; the S&P 500 added 0.12 per cent and the Nasdaq Composite gained 0.21 per cent. Trading volumes were lighter than average as the stock market closed at 1am local time. About 6 billion shares changed hands in US exchanges, compared with the 11 billion daily average over the last 20 sessions.
"You have got a lot of people that are just not in the market," said Chuck Carlson, chief executive at Horizon Investment Services in Hammond, Indiana. "Nobody is really placing any big bets on either side of the market right now."
Tesla shares jumped 6.9 per cent after the electric vehicle maker said it delivered a record number of vehicles in the second quarter. Shares of major US banks gained after the companies raised dividends as they sailed through the Federal Reserve's annual health check.
US investors are tempering expectations for stocks in the second half of the year after megacap stocks drove strong gains so far. While central banks have kept up their hawkish rhetoric, signs of moderating inflation in the world's largest economy have fuelled big gains across technology shares. The Nasdaq posted its biggest first-half gain in 40 years, rising 31.7 per cent.
Meanwhile, on the bond market a widely watched section of the US Treasury yield curve hit its deepest inversion on Monday since 1981, reflecting financial markets' concerns about the economy. The two-year note's yield briefly exceeded the 10-year rate by as much as 110.8 basis points, according to data compiled by Bloomberg.
US manufacturing slumped further in June, a survey showed, reaching levels last seen when the economy was reeling from the initial wave of the COVID-19 pandemic.
Traders are looking to the coming earnings season and additional data, such as Friday's non-farm payrolls, for clues on the health of the economy.
"With both global and US stocks more than 20 per cent above their October 2022 lows and a more challenging second-half outlook, we believe investors should position for more lacklustre stock market performance through the remainder of the year," Solita Marcelli, chief investment officer Americas at UBS Global Wealth Management, said.
Nikolaos Panigirtzoglou, global market strategist at JPMorgan, said that "stocks have done well in the first half because a US recession didn't happen."
The tech trade, he added, has turned into "a pain trade for institutional investors, causing them to capitulate. This first-half backdrop creates vulnerabilities for the second half as it means if a US recession happens, there would be a rather abrupt market repricing."
In commodities markets, US crude prices steadied around $US70 a barrel after Saudi Arabia's state-run news agency said the country will prolong its unilateral oil production cut by one month, keeping a lid on supply even as the market is expected to tighten. Its OPEC+ ally, Russia, also announced fresh curbs on exports.
Also in focus this week will be US Treasury Secretary Janet Yellen's trip to Beijing, which kicks off on July 6, as the world's two largest economies look to mend ties after a spate of bilateral tensions.
Tweet of the day
Quote of the day
"There is no certainty that the indicative proposal will result in a binding offer or that any transaction will eventuate," said Costa Group, Australia's biggest producer of avocados, after it received a $1.6 billion takeover bid from its former majority owner, adding no deal had been struck yet.
You may have missed
Source: Thanks smh.com