Puppy love: Penny pinching hasn't hit pet treats, says billion-dollar retailer
Household spending may be under serious pressure, but the boss of online retailer Pet Circle says consumers aren't trading down when it comes to meeting the needs of their four-legged friends.
"With most of our customers, it looks like they try very hard not to downgrade the quality of food for their animals," said Mike Frizell, the company's co-founder and chief executive.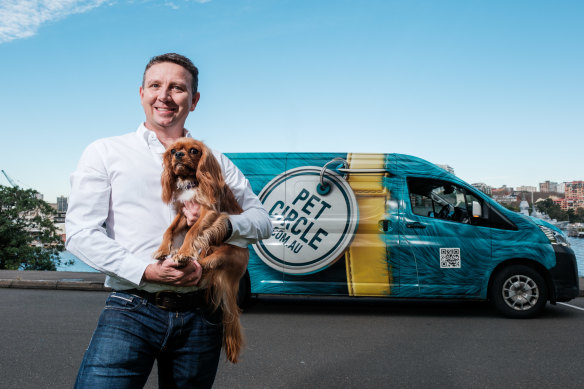 Pets are hot property in Australian retail, with giants like Bunnings and Woolworths making significant investments into pet supplies over the past year despite fears of a broader discretionary spending slowdown.
Woolworths made a $586 million investment to take a majority stake in Ballarat-founded pet supplies business PETStock last December, while Bunnings executed a major expansion of its pet goods category in March.
Frizell says it's no surprise that the retail conglomerates want exposure to the sector, which was growing strongly even before the pandemic prompted a puppy boom.
"It's a great sector. They are seeing the same macro dynamics that I do – it's still early in its evolution," he said.
Pet Circle, which was founded in Sydney in 2011, has started the new financial year with a fresh $75 million funding boost from existing investor, Prysm Capital, helping Pet Circle maintain its billion-dollar valuation.
Prysm's co-founder and partner Matt Roberts says the Australian market is still in the early stages of the "humanisation of pets" trend.
"The investment and entry by other players are evidence of this trend and a signal of the health and growth potential of the pet vertical," he said.
Frizell says two thirds of Pet Circle's consumer base use its subscription model and have set up regular automatic deliveries of supplies for their animals. "They rely on us month in, month out," he says.
Other pet services businesses have also been bullish over the past month. ASX-listed pet services firm Mad Paws has seen its shares jump by 11 per cent over the past five days after telling investors the company is edging towards profitability.
Mad Paws is expecting revenue growth of up to 147 per cent for the 2023 financial year. Chief executive Justus Hammer said the company was adding thousands of new customers every quarter, despite tough economic conditions.
Retail analysts are forecasting a further slowdown in spending over the next six months, but everyday household spending like groceries and pet goods are not predicted to be at the front of the firing line.
Instead, electronics, home goods and fashion are predicted to bear the brunt of the slowdown.
Frizell said Pet Circle has been able to perform strongly during periods of strong economic growth as well as during turbulent conditions.
"That is what makes the pet industry so attractive and why you're seeing a lot of interest," he said.
Source: Thanks smh.com