'All things goat': Bubs Australia unveils China strategy overhaul to sway investors
Embattled Bubs Australia has dumped its previous trade and distribution partners in China and will attempt to gain Beijing's regulatory tick for its Melbourne manufacturing site as it seeks to assure shareholders it has the winning formula ahead of a motion to spill the board.
Bubs Australia announced the plans on Thursday as part of its strategic review, which newly installed chairperson Katrina Rathie launched after deposing founder Kristy Carr and former executive chairman Dennis Lin.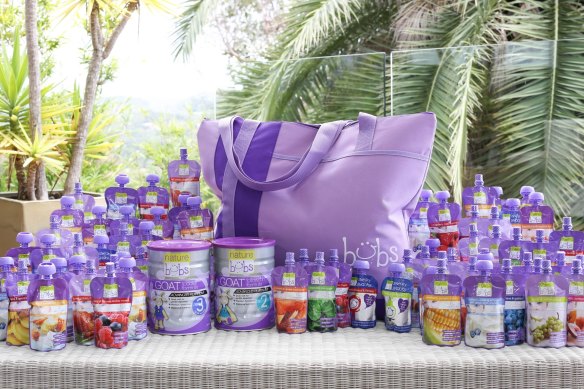 "Clearly our China strategy has failed," said independent non-executive director Reg Weine in an online presentation of the strategic review to shareholders on Thursday morning.
The company did not have the right go-to-market plan, distribution partners, or the right pricing architecture, he said. "Our daigou business was overly reliant on rebates and discounts."
Bubs Australia said it would appoint new distributors and trade partners and review its joint-venture agreements in China. In a statement to this masthead, a Bubs spokesperson said it had secured new trade partners and two new Australian daigou distributors but did not name them. Daigous are shoppers who buy and export premium goods to customers in China for a profit.
"We expect to onboard more partners as things settle down and we accelerate the reset," the spokesperson said.
The company's management also confirmed on Thursday that it would work to secure "state administration for market regulation" (SAMR) registration in China for its Deloraine manufacturing facility in Melbourne. Gaining this regulatory approval would give Bubs direct access to China's general retail market, where the majority of infant formula is sold.
Bubs has abandoned plans under previous management for a joint venture to manufacture its products in China. The Heilongjiang joint venture is a key point of contention in a legal dispute between Carr and Lin, and the company. The company claims the then-CEO and chairman ignored instructions not to visit the factory site or open a bank account in relation it.
Responding to a shareholder question about Alibaba's role in Bubs' future distribution strategy, Weine said the business was very fortunate to have the support of "one of the most sophisticated e-commerce players in the world".
"I think as a business we need to leverage that relationship much harder to our advantage," he said. "But that is just one channel and one go-to-market open to us."
Meanwhile, Weine described the US market as its "growth engine" and said the strategy was "going better than expected". US sales are expected to double in the 2024 financial year.
The strategy for the US market that the board outlined for investors was similar to that outlined by ousted chief executive Kristy Carr and former executive chairman Dennis Lin, with the company highlighting that the US market was performing "better than expected".
Other changes outlined in the review include a focus on streamlining food products to higher margins, consideration of co-manufacturing and private label products, and drumming up Bubs' position as a "clear market leader" in the goat segment within infant formula.
"You can expect us to now focus on our competitive advantage and double down on all things goat," Weine said.
The company is hoping the strategic review will convince shareholders to vote against spilling the current board at the coming extraordinary general meeting (EGM), initiated by a group of dissident investors led by Carr and Lin and backed by Chemist Warehouse chair Jack Gance.
Bubs Australia is operating without a chief executive officer since terminating Carr from her position. Weine said the board would announce a chief executive "shortly after the EGM".
"The significant fall in shareholder value is ultimately why we are here, why the significant intervention was necessary, and why the governance at Bubs had to change," said Weine.
"I think it's fair to say there was a complete lack of focus and accountability."
Bubs shares declined in morning trading but have since recovered, and were up more than 2 per cent in late afternoon trading.
Shareholders in the company will have to vote on July 27 on whether to keep Bubs' board of directors, made up of Rathie, Weine, Jackie Lin and Paul Jensen, or to replace them with a new team including Peter Nathan as CEO, former Elders deputy chair James Jackson as chairman, and manufacturing expert Rupert Soar as a non-executive director.
The Business Briefing newsletter delivers major stories, exclusive coverage and expert opinion. Sign up to get it every weekday morning.
Source: Thanks smh.com