ASX declines as mining heavyweights BHP, Rio fall
Miners weighed down the Australian sharemarket on Thursday after Wall Street declined, with traders poring over the Federal Reserve minutes to gauge what action the US central bank will take later this month.
The S&P/ASX 200 was down 54.4 points, or 0.8 per cent, to 7198.8 in early trade as all sectors traded in the red.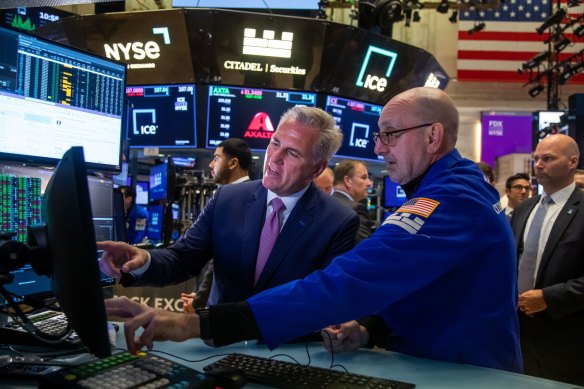 Miners (down 1.5 per cent) were among the weakest companies on the local bourse, with iron ore heavyweights BHP falling 1.6 per cent and Rio Tinto down 1.1 per cent. Lithium miners Pilbara Minerals (down 2.5 per cent), Liontown (down 2.3 per cent) and Allkem (down 1.6 per cent) also declined. Gold miners were weaker amid a 0.5 per cent drop in gold prices, with Newcrest shedding 2.3 per cent and Evolution Mining slipping 1.8 per cent.
Healthcare (down 0.2 per cent) was the strongest sector as Fisher & Paykel Healthcare (up 0.7 per cent), ProMedicus (up 0.4 per cent) and Sonic Healthcare (up 0.1 per cent) advanced.
Meridian Energy (up 3.2 per cent), infrastructure investment firm Infratil (up 0.7 per cent) and toll roads operator Atlas Arteria (up 1.2 per cent) were the biggest large-cap advancers.
On Wall Street, the S&P 500 slipped 0.2 per cent following the release of the minutes of the Fed's last policy meeting, while the Dow fell 0.4 per cent and the Nasdaq gave back 0.2 per cent.
The June gathering threw Wall Street for a loop as officials paused their rate-hiking cycle after 10 consecutive increases. The Fed's minutes released overnight showed division among members of the Federal Open Market Committee, where some would have preferred another hike in June amid a tight US labour market.
"This adds to the high probability the Fed hikes again on July 26," Ian Lyngen, a strategist with BMO Capital Markets wrote. "The FOMC minutes deliberately left investors with the impression that June's pause was a close call and that a July hike is the committee's base case scenario."
Investors will be closely watching America's June employment report coming out on Friday for signs of a cooling labour market.
"Our view is that the recession won't strike until next year," said Benjamin Kirby, co-head of investments at Thornburg Investment Management.
The yield on policy-sensitive two-year Treasuries was little changed at 4.94 per cent, while the 10-year advanced to 3.94 per cent. That inverted yield curve is often read as a sign of a coming economic slump.
The Fed has forecast two additional rate increases this year, which could further weigh on economic growth and corporate profits. The Fed's next rate decision is due in three weeks.
"I am the most bearish I have ever been on the economy without being in a recession, and it's because of the yield curve, the contraction of money and QT at the same time they are hiking rates," Ed Hyman, founder and chairman of Evercore ISI, said on Bloomberg Television.
Source: Thanks smh.com