ASX a sea of red after Wall Street tumbles on threat of higher rates
Australia's sharemarket took a dive on Friday after Wall Street's main indexes ended sharply lower on Thursday in a broad sell-off, after data showing a strong labor market boosted bond yields and fanned fears the Federal Reserve will be aggressive in raising US interest rates.
The S&P/ASX 200 was down 127.7 points, or 1.8 per cent, to 7035.7 in early trade as all sectors traded firmly in the red.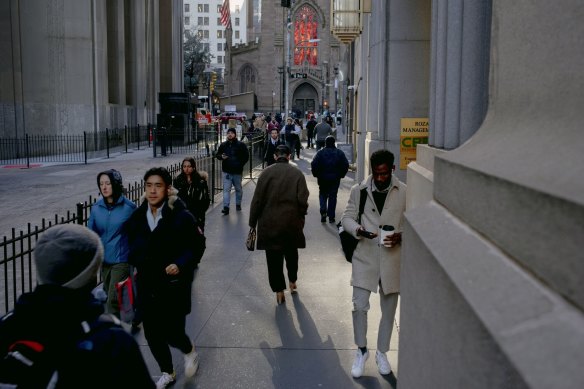 The energy (down 2.5 per cent) and mining sectors (down 2.2 per cent) were the heaviest weights on the index, as iron ore heavyweights BHP (down 2 per cent) and Rio Tinto (down 1.9 per cent) declined along with Woodside (down 2.2 per cent) and Santos (down 2.2 per cent).
All four big banks were also weaker, with CBA down 1.7 per cent, NAB down 1.2 per cent, Westpac down 1.5 per cent and ANZ down 1.3 per cent, along with interest-rate sensitive sectors including technology (down 2.1 per cent) and real estate investment trusts (REITS, down 2.2 per cent).
Communication services (down 1.3 per cent) was the sector with the least decline.
Packaging company Amcor (up 1 per cent) and Argo Investments (up 0.1 per cent) were among the few large-cap advancers.
The S&P 500 lost 35.23, or 0.8 per cent, to 4411.59. The Dow Jones Industrial Average dropped 366.38, or 1.1 per cent, to 33,922.26, and the Nasdaq composite gave up 112.61, or 0.8 per cent, to 13,679.04.
While a sturdy labour market keeps the US economy out of a long-feared recession, it could also push the Federal Reserve to keep interest rates higher for longer in its campaign to defeat high inflation. That in turn could mean more pressure down the line on the economy and financial markets.
A report from ADP Research Institute suggested hiring by private employers was much stronger last month than economists expected, with nearly twice as many jobs created than forecast.
The ADP report can be volatile and "isn't necessarily a good predictor of the monthly jobs report", which is more comprehensive and due from the US government on Friday, said Mike Loewengart, head of model portfolio construction at Morgan Stanley Global Investment Office.
But it also paired with a separate report showing the number of US workers applying for unemployment last week remained low relative to history, even if it was a bit higher than expected.
Other reports on Thursday offered a nuanced picture. One said employers advertised fewer job openings in May than expected. That could mean less upward pressure on inflation. A separate report, meanwhile, said growth in US services industries remains hot and accelerated in June.
Friday's jobs report will likely have a much bigger impact on Wall Street than anything else this week. If it's strong like the ADP report, it could mean counterintuitive pain for stocks because it would push the Fed to keep the brakes on the economy in hopes of getting inflation under wraps. That would raise the risk of a recession later on, even if the strong job market is what's preventing a downturn at the moment.
"Whether it's that big of a number", as the ADP report suggested, "or even half of that, it would still be showing that the labor market is very strong and the Fed has not done enough to get inflation down," said Megan Horneman, chief investment officer at Verdence Capital Advisors.
"Even with some of this nuanced economic data, the bottom line is the labor market is always a lagging indicator" and later to crack under the weight of higher interest rates than other parts of the economy, she said. "We still expect the labor market to get weaker."
She expects a recession to hit within the next 12 months.
Yields jumped in the bond market as traders ramped up bets for the Fed to keep rates higher for longer than previously expected. Hopes for a potential cut to interest rates by early next year diminished.
'The bottom line is the labor market is always a lagging indicator … We still expect the labor market to get weaker.'

Megan Horneman, chief investment officer at Verdence Capital Advisors.
The yield on the 10-year Treasury rose to 4.03 per cent from 3.94 per cent late on Wednesday. It helps set rates for mortgages and other important loans.
The two-year Treasury yield, which moves more on expectations for the Fed, climbed to 4.99 per cent from 4.95 per cent. It's back to where it was in early March, before the failures of several US banks rattled confidence across financial markets.
Those collapses were caused in part by all the rate rises the Federal Reserve has piled on since early last year. It's raised its federal funds rate by 5 percentage points from virtually zero to try to smother the worst inflation in decades. High interest rates work by slowing the entire economy, and unanticipated cracks often appear under the pressure.
On Wall Street, Exxon Mobil was one of the heaviest weights on the market after it tumbled 3.7 per cent. It warned of a hit to its profit during the spring because of changes in gas prices and industry margins, among other items.
JetBlue Airways sank 7.2 per cent after it said it will end a partnership with American Airlines in the north-eastern United States after losing a court fight over the deal. JetBlue will focus instead on salvaging its proposed purchase of Spirit Airlines. American Airlines fell 2.4 per cent.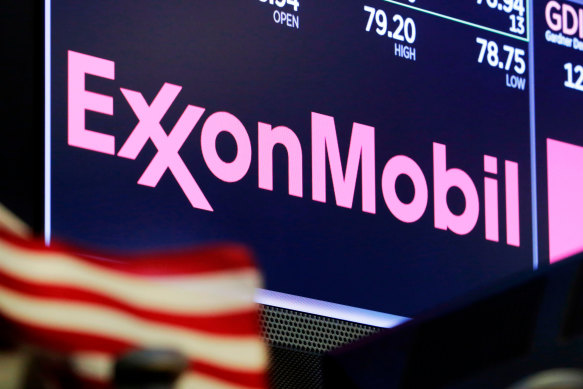 Meta Platforms, the parent company of Facebook, Instagram and WhatsApp, wavered between small gains and losses after unveiling its new app Threads, a rival to Twitter, which has had a bumpy ride under new owner Elon Musk. Meta ended the day down 0.8 per cent.
Stock markets abroad also fell sharply.
China's market has been under particular pressure as the recovery for the world's second-largest economy sputters following the removal of COVID restrictions. Tensions between China and the US have also weighed on the market, and US Treasury Secretary Janet Yellen visited China on Thursday in an attempt to improve relations.
Hong Kong's Hang Seng index dropped 3 per cent, partly due to sharp drops for Chinese bank shares after Goldman Sachs downgraded them, citing concerns about the slowing economy and lenders' exposures to debt. Stocks in Shanghai fell 0.5 per cent.
Japan's Nikkei 225 dropped 1.7 per cent after being one of the world's stars through the first half of the year.
In Europe, France's CAC 40 tumbled 3.1 per cent and Germany's DAX lost 2.6 per cent.
Source: Thanks smh.com