NAB scraps text message links in scam crackdown
At least 10,800 scams were detected among the 1 billion payments processed by National Australia Bank last year, and many of the cons were facilitated through text messages.
In the latest crackdown on scams – which cost Australians more than $3 billion last year across the economy – NAB will announce on Friday that it will stop the use of links in unexpected texts to customers.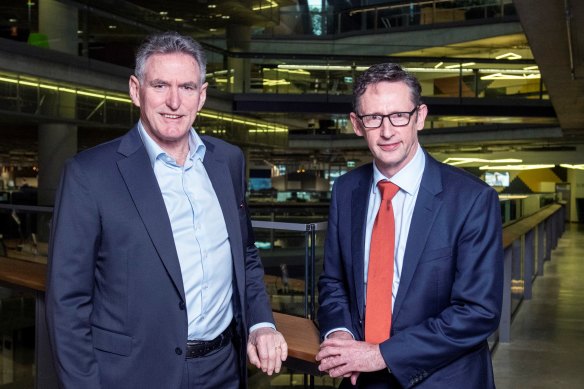 NAB chief executive Ross McEwan said the move would help make Australia a "very unacceptable place" for crime organisations.
In 2022, text messages were the most common way scammers targeted Australians, with one-third of scams distributed via that medium, according to the Australian Consumer and Competition Commission (ACCC), and cost $28 million.
Last year, NAB sent 112 million text messages to customers, of which about 40 million contained links intended to notify clients about developments such as when an account was close to being overdrawn or a new debit card had been posted.
McEwan said the initiative would cost the bank more and require it to have more people making phone calls, but that it was also finding other ways to direct customers.
"We've put on another 50-odd people just in the last couple of months to build our calling capability," he said. "And in the body of the texts we send, we might ask people to go to a website or tell them we will be sending an email with instructions to follow."
McEwan said NAB had recorded a 38 per cent increase in total customer scam reports, and that the bank needed to put "a little bit more friction" into the payments process to intercept them.
Some banks have internal policies that prevent the use of links in their communications with customers. The Commonwealth Bank, for example, has internal SMS guidelines stating links cannot be included in the bank's marketing with customers.
Assistant Treasurer Stephen Jones said everyone, including companies and individuals, had a level of accountability regarding scams, but that they needed to be made more clear.
"We're now moving onto a code of practice to set clear obligations and accountabilities to make it very clear when, for example, in a scam event, the bank is liable and when it's on the individual," Jones said.
"It would be dangerous to say the bank always pays because if you're a criminal network, and you know that in Australia we've got that rule, you've got a victimless crime and a pot of gold to go after."
NAB expects to complete the process of removing links in unexpected text messages by the end of July, and Jones said he would consult the banking industry over coming months about the code of practice.
The Business Briefing newsletter delivers major stories, exclusive coverage and expert opinion. Sign up to get it every weekday morning.
Source: Thanks smh.com