ASX eyes gains despite Wall Street slide
Wall Street drifted lower to close its week after data suggested the US job market is still warm enough to keep the economy growing but maybe not so hot that it stokes inflation much higher.
The S&P 500 lost 0.3 per cent though slightly more stocks within the index rose than fell. The Dow Jones gave up 0.6 per cent and the Nasdaq composite edged down by 0.1 per cent. The Australian sharemarket is set to claw back some of Friday's heavy losses, with futures pointing to a gain of 25 points, or 0.4 per cent, at the open.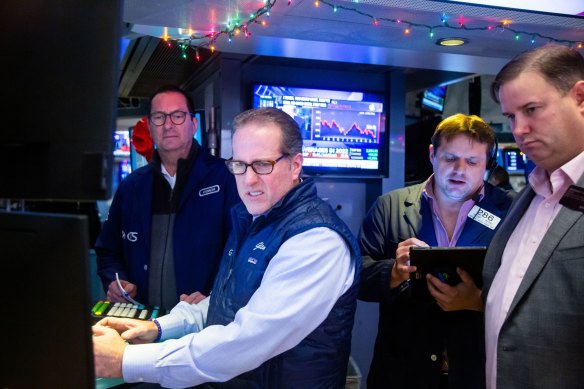 A lot is riding on whether the economy can navigate the narrow pathway to avoid a long-predicted recession. It needs to keep growing despite much higher interest rates instituted by the Federal Reserve to bring down inflation. But it can't grow so quickly that the Fed feels pressure to brake much harder on the economy to prevent inflation from spiralling higher.
Friday's report showed US employers added 209,000 jobs last month, a slowdown from May's hiring of 306,000. Perhaps more importantly, it wasn't far off economists' expectations. That's unlike a report from Thursday, which sent stocks dropping after it suggested US hiring could be much stronger than expected.
Besides the slowdown in overall hiring, some numbers underneath the report's surface also showed some loosening in the job market. More people are working part-time because their hours have been cut, for example, said Brian Jacobsen, chief economist at Annex Wealth Management.
"The job market is healthy, for now, but it's not red hot," he said.
That could keep the Federal Reserve on the course it's been hinting at recently: perhaps two more increases this year before the Fed holds rates at a high level to ensure inflation returns to its 2 per cent target. The wide assumption on Wall Street is the Fed will hike rates at its next meeting in three weeks.
Treasury yields were mixed following the much anticipated jobs data. The 10-year Treasury yield rose to 4.05 per cent from 4.03 per cent late Thursday. It helps set rates for mortgages and other important loans.
The two-year yield, which moves more on expectations for the Fed, fell to 4.94 per cent from 5.00 per cent.
Some concerning signals for inflation were also still embedded in the report.
Wage growth held steady last month, instead of slowing as economists expected, for example. While workers would rather have the 4.4 per cent gain in average hourly earnings from a year earlier than the 4.2 per cent that was predicted, Wall Street's fear is the Fed will see too-strong wage growth as keeping upward pressure on inflation.
Yields are already around their highest levels since March, which was when high rates helped trigger three failures in the US banking system that rattled confidence across financial markets. High rates have also caused pain in other areas of the economy, from manufacturing to housing.
Stocks in the energy industry were among Wall Street's strongest Friday as the price of oil rallied. Oilfield services provider Schlumberger jumped 8.6 per cent, Halliburton climbed 7.8 per cent and Marathon Oil rose 4.3 per cent.
The higher crude prices also helped stocks of solar companies, which got an added boost after First Solar announced a $1 billion credit facility from a group of banks. It's building factories and other expansions, and First Solar shares gained 3.3 per cent.
Stocks of smaller companies also rose more than the rest of the market. Not only do investors see them as moving more closely with the strength of the US economy than big multinational companies, smaller stocks are also viewed as more dependent on lower interest rates. The Russell 2000 index of smaller stocks rose 1.2 per cent.
On the losing side of Wall Street was Levi Strauss, which tumbled 7.7 per cent despite reporting slightly stronger profit for the latest quarter than analysts expected. It cut its forecasted range for earnings for the full year, as its US wholesale business remains under pressure.
Costco Wholesale fell 2.3 per cent after reporting its growth in sales slowed in June from May.
Higher yields helped pull the S&P 500 to a loss of 1.2 per cent for the week. That's its second losing week in the last eight.
In stock markets abroad, indexes continued to sink in China, where a recovery in the world's second-largest economy is slower than hoped following the removal of anti-COVID restrictions. Hong Kong's Hang Seng fell 0.9 per cent, and stocks in Shanghai slipped 0.3 per cent.
US Treasury Secretary Janet Yellen was also in Beijing attempting to ease tensions between the world's two largest economies.
She and Chinese Premier Li Qiang expressed hopes for better communication. Relations between the two economic titans have been prickly amid the US government's curbs on exports of technology to China and other tensions.
In Europe, stocks were mixed. Germany's DAX returned 0.5 per cent, and the FTSE 100 in London fell 0.3 per cent.
Source: Thanks smh.com